This Saturday, the Pageant celebrates its tenth birthday with a concert by Chuck Berry. $35 general admission tickets are still available; balcony seats are sold out. The show starts at 8 p.m. with a set from Shooting With Annie.
In the venue's lengthy history (a PDF listing its shows is a whopping 125 pages), certain acts crop up again and again: Better Than Ezra, They Might Be Giants, Cowboy Mouth, Old 97's and Edwin McCain, to name a few.
Some shows are notorious for all the wrong reasons: The Human League's 2003 appearance suffered after Phil Oakey lost his voice, Scott Weiland's 2008 solo headlining date disappointed long-time STP fans and some people are still mad that Lenny Kravitz insisted on no air conditioning in 2005.
In hindsight, other shows are more poignant: Ike Turner & the Kings of Rhythm (with Oliver Sain & the St. Louis Allstars opening!) performed in 2001. Two months before he died, comedian Mitch Hedberg appeared with Stephen Lynch. And an April 2005 Johnnie Johnson Benefit Concert featured Chuck Berry, Henry Townsend, Bennie Smith and Barbara Carr. And of course, the Pageant's support for local acts -- everyone from the Urge and El Monstero to Gravity Kills and, of course, Nelly has performed there -- is also something worth noting and commending.
In the spirit of celebration, here are ten memorable shows in the Pageant's ten-year history. A word of warning, though: A few acts (Flaming Lips, the White Stripes, the Fray and the Roots, we're looking at you) have so many good Pageant shows, choosing one was too difficult, and so they're not on the list. In no particular order:
OutKast, March 19, 2001 Opening Act: Ludacris Barely five months after Stankonia launched OutKast into the mainstream stratosphere -- and a month after "Ms. Jackson" hit the top of the Billboard singles chart -- OutKast sold the venue out. While people always moan that popular acts skip over St. Louis, this show was a case of right place, right time.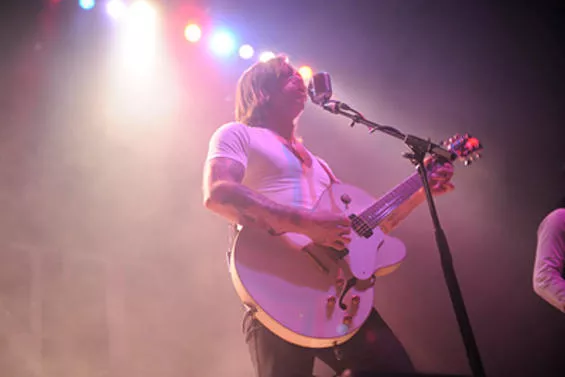 Strokes/Eagles of Death Metal, April 8, 2006 Opening acts at the Pageant are often as enticing as the main event. Take this Strokes/Eagles of Death Metal show from 2006: Thanks to Queens of the Stone Age's Josh Homme behind the drumkit -- and thanks to plenty of sleazy, feel-good sex-rock -- Eagles of Death Metal had the sold-out crowd in its pocket. The band was so good, in fact, that many in the audience left before the Strokes even hit the stage.
Sigur Ros, November 14, 2002 Opening Act: Siggi Armann In 2002, Sigur Ros was still a rather mysterious Icelandic band. Its live show -- a cascade of noise, chaos, orchestras, harmony and primal crooning -- did nothing to make the group seem less enigmatic. Unsurprisingly, the mysterious beauty -- and aching melancholy -- of its debut Pageant show kept people talking for years.
Scissor Sisters, March 12, 2007 Opening Act: Wigs on Sticks, DJ Sammy After doing a midnight show in December 2004, Scissor Sisters returned to town on a regular ol' Monday night. The sold-out crowd came ready to extend the weekend -- and the band didn't disappoint, what with its over-the-top electropop performance and joyous spectacle. (Runner-up for ridiculous spectacle: Pet Shop Boys' first area appearance since the '80s in October 2006.)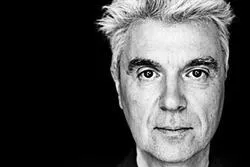 David Byrne, August 19, 2001 Opening Act: Si*Se David Byrne has been honing his live act since the late '70s -- and judging by his Fabulous Fox appearance in 2008, he hasn't lost a step. In our poll about great Pageant shows, this particular night came up several times. Seeing how the concert happened nine years ago, Byrne must have been particularly on his toes.
Bob Dylan, March 1-3, 2004 Dylan plays in St. Louis at least once a year, at venues ranging from the Fox Theatre to the Chaifetz Arena. But in 2004, he settled in for three nights at the intimate Pageant. A setlist from the final night reveals that ol' Bob was up to his old piano-playing, setlist-jumbling tricks.
Muse, September 14, 2006 Opening Act: The Like Muse is now an arena-sized band in America, just like it is everywhere else on Earth. But the band's last local appearance -- which occurred just before it exploded in mega-popularity -- demonstrated why the Pageant had become too small for the trio. An enormous, elaborate light display and crushing volume hammered home that Muse was ready for the big time.
Wilco, May 15-17, 2008 Opening Act: Retribution Gospel Choir On this three-night stand, people finally stopped whining that Jeff Tweedy moved away from St. Louis -- and instead just enjoyed three concerts by one of the best rock bands in America. Tweedy's dad showed up, men were taking off their shirts in the balcony -- and setlists spanning Wilco's entire catalog sent fans home satisfied. Review Links: May 15 May 16 May 17
Green Day, June 20, 2001 Opening Act: The Living End Sure, Green Day was huge in the '90s, thanks mostly to the adolescent pop-punk of Dookie. But by 2001, the trio just wasn't as in demand as it once was -- a dip in popularity that was a boon for fans, since they had the chance to see the band in smaller venues. This particular Green Day gig remains burned into the brain of anyone who was in attendance.
Audioslave, February 24, 2003 In 2010, it's easy to forget how much buzz Audioslave had when it formed. In fact, the project -- which featured Chris Cornell and three-fourths of Rage Against the Machine -- was hugely in demand in the early '00s. On the band's first full-scale U.S. tour, date three was at the Pageant -- and it's a night that people still wax nostalgic about, even today.
HONORABLE MENTION: Morrissey, May 22, 2007 Opening Act: Kristeenyoung Moz's birthday show lived up to expectations -- and then some, with a stellar performance. Review Link: May 22