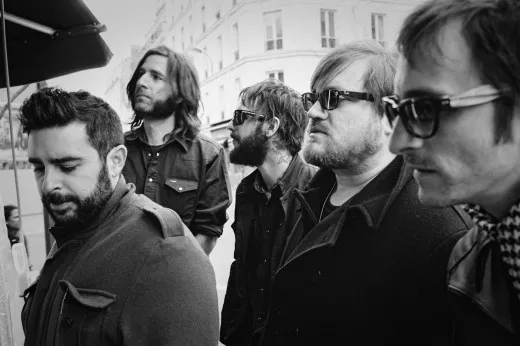 Philip Andelman
Band of Horses
Ben Bridwell's good-fortune story resonates as clearly as his echo-laden vocals do on Band of Horses' three albums. With so many people struggling to get by, it's always encouraging to hear about someone making a connection with a wide audience - and succeeding with heartfelt music - when he might otherwise be, as he puts it, "working in some bar or kitchen."
Band of Horses' newest album, Infinite Arms, builds on the band's musical foundation, with its powerful tenor howls, intricate backup vocal harmonies and snaking guitar lines. But this time, Bridwell shares writing credits and vocal duties with his bandmates -- and the resulting music has a more collective feel. Some songs rival the pop potency ("Laredo," "Dilly") of anything BOH has done before; others push the potential arrangement and experimental possibilities ("Blue Beard", "Neighbor") like never before.
A to Z reached Bridwell by phone just before Band of Horses' performance at this year's edition of Farm Aid. The band's performing at the Pageant tonight with Besnard Lakes and Brad.
Shae Moseley: I interviewed you once before, just after Cease to Begin came out. One of the things you mentioned at the time was how excited you were to play with the new line-up and eventually get back into the studio with them. Do you think establishing a more consistent line-up had a positive effect on the new album Infinite Arms? Ben Bridwell: Absolutely, it was the thing about the record. We were finally doing it as a group and taking everyone's songwriting talents into consideration and exploiting those talents.
I was particularly excited to know that you were collaborating with Tyler Ramsey on a couple of the tunes, because I really loved his solo album that came out a few years ago [A Long Dream About Swimming Across The Sea]. You can really hear his influence on a song like "Evening Kitchen." That record is actually getting re-issued later this month which is really cool. And Bill (Reynolds) and Ryan (Monroe) and Creighton (Barrett) all put their stamp on this record as well, so it's really exciting to finally have that kind of brotherhood.
What kinds of things were inspiring the songs that you wrote for the record? I heard that you spent some time up north in solitude? Around that time I had a practice space in downtown Minneapolis but the walls were thin and people could hear me singing. It's really hard to dig in vocally when you're doing these demos. So, I ended up going to cabins and stuff just so that I knew that no one could hear me whining at the top of my lungs. That way I feel like I can really get to the core of what the song needs. I don't ever want anyone to hear me trying to figure shit out.
I'm noticing that the backup vocals and textures seem really deliberate on Infinite Arms. Did you guys work together on vocals? Well, the thing is that I finally figured out how to record the demos myself this time. So I could experiment and have all of these weird harmonies and really just go overboard. But until we ended up producing it ourselves, there was no one really in there to be like, "That's maybe too much clutter," or whatever. That freedom did allow us to do whatever we wanted but we really were just trying to clean it up and still make those songs sound like the demos in a lot of respects. We did also do a lot of recording vocals together. Sometimes at the same time around one mic and switch harmonies and mess around with it. Ben Bridwell joining Pearl Jam for a cover of Temple of the Dog's "Hunger Strike" in NYC:
It seems like the pop side of what you do got even poppier and the more roots-driven, heavier side got more intense. I'm not the best judge of this stuff, because I'm way too close to it. But it seems to me that all of our records have a very bright side and a very dark side and I think that Infinite Arms has that too. Honestly though, nothing is deliberate. I don't really have a good perspective on it because I'm not trying to write an uplifting song or a sad song. They just are what they are. There were so many songs that once they started sounding done, that was when management and label people started giving their opinions and offering suggestions for tracklisting and that kind of thing.
So, you were willing to take direction when it came to the tracklisting on the album? A lot of bands would be very possessive of that. Yeah. I mean there were obvious songs that needed to be on there, but there were some surprises. Luckily, we even had the big brains like Rick Rubin who got involved. He put a tracklisting together how he heard it arranged and there were a couple of things that we didn't all agree on but in the end I think it worked out because at that point you're so confused about what sounds good and you can end up nit-picking forever. So, to have somebody come in with that knowledge and make suggestions is really great.
Mr. Rubin probably knows a thing or two. Uh...yeah. I think we knew we were in capable hands (laughs).
I recently saw a video of you singing live with Pearl Jam at one of the shows where Band of Horses opened for them. Considering where you were a few years ago, does stuff like that ever just seem surreal? It constantly seems surreal, and it's definitely not lost on us by any means. Me and Tyler (Ramsey) after a show the other night, we were talking about imagining a pie chart that shows that tiny percentage of people in the whole world who are rich compared to the people who have to struggle with money. Then we imagined the same idea, but with people who get to do what they love to do for a living and can actually feed their families doing it and we came to the conclusion that that percentage of people would be even smaller. It is absurd that we have been so lucky to be some of those chosen few. Music saved me from day one even as a listener but the fact that I get to do it and it feeds my kids is just ridiculous to me. We work hard for sure, but it's still mind blowing.