(Last weekend, Earthworms member DJ Mahf competed in the national finals of the Red Bull Thre3style DJ competition. In June, he took top honors at the St. Louis regional event at the Old Rock House. Mahf was kind enough to keep a diary of his Denver experience for A to Z. Read on below! For more coverage of the event, see our sister paper, the Denver Westword.)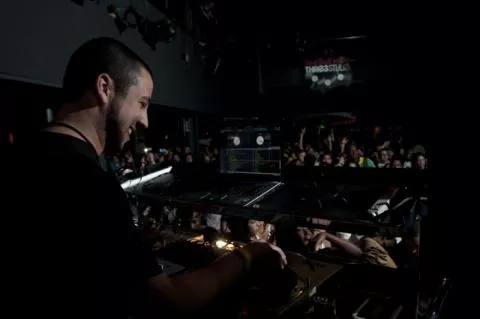 Photo courtesy of Red Bull
DJ Mahf in Denver last weekend.
For those who don't know, Thre3style is one of the biggest DJ competitions ever assembled, with twelve participating countries and fourteen qualifying cities across the U.S. Red Bull's quest is to find the top "party rock" DJs around the globe. Each participant is given a fifteen-minute set in which they have to spin three different genres of music and are judged based on technical skill, stage presence, originality and crowd response. Judges included the incredible drummer/producer of the Roots, Questlove, the turntable legend Jazzy Jeff and a few local music critics.
In early June of this year I was crowned the St. Louis Thre3style Champion, closing out the U.S. tournament with a narrowed-down ten competitors going head-to-head for a chance to represent the United States at the world finals in Paris. Over the last couple of weeks, I have spent a majority of my time constructing a routine that would not only represent my style of DJing, but get the crowd moving as well. No easy task! With fifteen minutes being such a short amount of time, I put together a set that explored a full range of BPMs, genres, and flavors. Hip-hop bangers, electro, house, classic rock, alternative, funk -- it was all there.
The finals were held at Denver's most prestigious club, Beta, which has an amazing sound system and unbelievable layout. The night before the competition, we all picked out of a hat to see what slot we would perform in. I picked second, which definitely wasn't what I was hoping for. My set started at ten and I was a little bummed out that people were still walking through the door and getting their first drinks. That being said, the crowd was still a few hundred deep and ready to get down.
L.A.'s Morse Code set the night off right with one of my favorite sets of the evening. I launched into my set by mixing high-energy beats by Daft Punk with an array of tunes ranging from James Brown to the White Stripes. I placed a number of crucial tracks in my routine that required the participation of the crowd and they did not disappoint. Singing, dancing, laughing, shouting out signature lyrics, the swarm of music lovers at Beta had my back! My time on stage ended with an explosion of applause and even a MAHF chant. [I] was on cloud nine at that point.
Now that my work was done, I was able to grab drinks and really enjoy the other DJ performances. Each contestant put on highly entertaining routines that would satisfy music heads of all types.The contest ended with M-Squared of Orlando being crowned the 2010 U.S. Champion. I wish him luck in the finals, where he will battle top contenders from Japan, Brazil, the U.K., etc. With the contest in the bag, Jazzy Jeff and Questlove took the stage doing a drummer and DJ combo set that kept the crowd rocking til 2 a.m.
I was honored to represent St. Louis and the Midwest this past weekend. Thre3style was one of the most amazing musical events I have ever been a part of, and it's safe to say that I won't soon forget it. I want to thank my Indyground crew and label mates Steddy P, Mathias, Farout, Abe, Magic8 and DJ Who for all traveling great distances to support me. Red Bull does an amazing job at showcasing talent from both the music and art scenes and I hope they continue to provide these incredible outlets for us to shine. Lastly, I want to thank all my friends, family, and everyone in the local music scene for showing me mad love throughout this entire experience. I will continue to hold the St. Louis flag high in all my ventures to come.