Menomena packed the house last night at the Luminary Center for the Arts, with a three-act bill that was damned close to perfect.

It's rare that two relatively unknown opening acts are treated with more than casual disinterest, especially when opening for a band that commands repeated listens like Menomena. But each band was engaging in its own way. The Globes opened and delivered metal-edged math rock with scaled-back vocals and impressive instrumentation, despite its members' tender ages. The Seattle band's insane guitar gluttony was still resonating when Tu Fawning took the stage with a lone guitar and a shitload of tricks up its collective sleeve.
The crowd seemed divided between overt dislike* and newfound love for Tu Fawning during its set. The quartet opened with a smash, with all four members of the band playing tambourine down-tempo for "Multiply a House." Tu Fawning's adventurous style went beyond genre-bending to downright bizarre, something like spiritual dirges from an alternate future -- a future so retro, phonographs are in style instead of vinyl.
Diana Benanti
Tu Fawning.
Joe Raege's effects on his mic sounded like an old radio program from the '30s, while expressive lead vocalist Corrina Repp shone on the sweltering hymn, "I Know You Now." Keyboardist Liza Reitz provided creamy harmonies and mechanical drum blasts from her synth. A drum machine, sample loops and an array of unexpected instruments -- an amplified violin, extra-long trumpet, melodica and a number of percussive toys (yes, one cowbell) -- lent Tu Fawning's songs a sepulchral hollowness.
And then came Menomena. As expected, the majority of the set was devoted to material from 2010's Mines, but the band also played crowd-pleasers such as "Evil Bee," "Muscle N' Flo" and a diabolical rendition of "The Pelican." No matter what your opinion of Mines, it was impossible not to enjoy Menomena's gentle raging and understated bombast.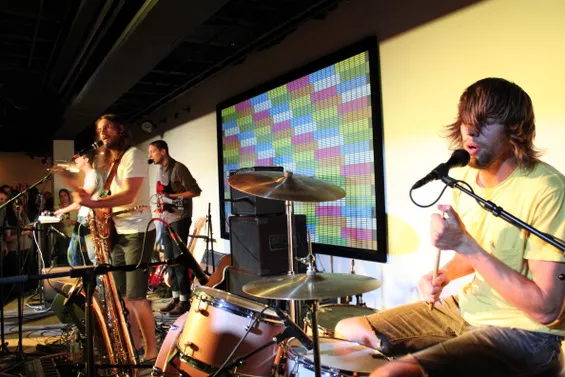 Diana Benanti
Menomena.
The band played every song fairly straight, save for drummer Danny Seim's occasionally jarring off-octave harmonies. To his credit, though, he shone on "his" songs, like the melancholic opener "Tithe." Some people were just born to hold drum sticks, and Seim is clearly one of them. He plays with his eyes closed as if in a meditative trance; the fact that he delivered his vocals (almost) flawlessly even while beating out complicated rhythms is a testament to his talents.
Menomena gets beaucoup points for difficulty, but the band made its Byzantine arrangements seem absurdly simple, with all but Seim handily trading instruments. Brent Knopf handled keys and glockenspiel, while Justin Harris played guitar, baritone sax, loops and a bass note pedalboard.
Seim introduced "Dirty Cartoons," saying, "And now for a song about suicide," which only furthered my belief that it's ripe for a cinematic death scene. "Queen Black Acid," the killer first single from Mines, was similarly funereal They joked about enemas before playing it; Harris quipped "Consider this next song an enema for your soul." "See, don't you feel cleansed?"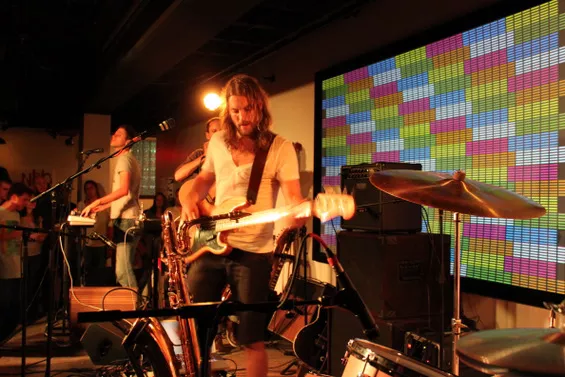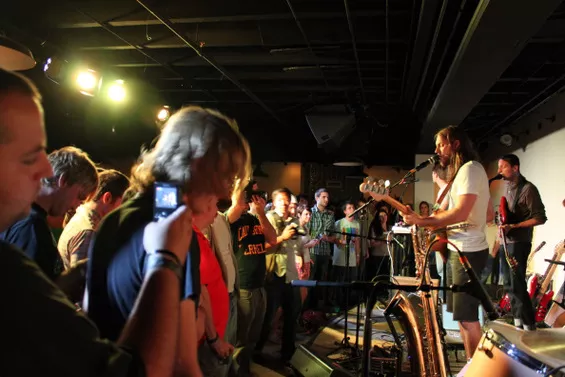 The shared vocal duties almost made the set feel like we were being treated to three different concerts at once. Knopf's moony, swoony tenor floated through "Killemall" and soared over his airy piano lines. Harris has a powerhouse rock voice that explodes with urgency, while Seim's sleepy tones came off bittersweet. The set was tight, but each song was only marginally different from the album versions. That isn't that surprising: Menomena's compositions are so frigging dense that one meandering digression might have thrown the whole set. While it's nice to learn something new about a band by watching it live, there's no law against merely cementing its reputation as a group of appallingly talented art rockers.
Life-affirming despondency is Menomena's forte. The lyrics are cerebral and wobegone -- "Oh to be a machine/Oh to be wanted, to be useful" -- while the music is awe-inspiring.
Harris broke his sax on tour and had to borrow one from an obliging fan, who was thanked repeatedly throughout the set. (Thanks Mike!) Harris mentioned the Billiken Club show they played in 2007 and complimented the Luminary; "That was fun. This is better. This is actually a pretty amazing venue, you guys are really lucky to have this cultural hotspot."
Critic's Notebook: Personally, I dug Tu Fawning. I don't know who the hell told them they could make sultry hymns with inorganic and organic sounds, but I'm glad they did. I wish I had video of the last few Globes songs. Their closing number was nothing short of hellish, and it totally ruled.

Random Detail: There were at least three people in the crowd last night who have likely been Social Security eligible for the better part of a decade, maybe even two. And they were seeing Menomena. On a Monday. This, folks, is the level of awesomeness we should all be aspiring to.
Overheard: "That was the best fucking $12 I've ever spent in my life." -- Crowd member to Seim.
"This is art rock; we have to be serious."--Seim
Menomena Setlist
Tithe
Taos
Weird
Killemall
Muscle N' Flo
Five Little Rooms
BOTE
Queen Black Acid
Wet & Rusting
Dirty Cartoons
The Pelican
Sleeping Beauty
Evil Bee
Encore
Strongest Man in the World