Twelve producers went head to head last night in front of a packed house at Pop's Nightclub in Sauget for the Red Bull Big Tune nationwide competition. Now in its fourth year, Red Bull Big Tune is the hunt for the one producer that can wow the crowd.
Red Bull Photo Files/Carlos Cruz
The final two producers: winner Trifeckta and Em80 will both go on to the national Red Bull Big Tune final in Chicago on November 18.
"I've been trying to get in this for three years," says the winner of the event, Trifeckta. "I finally made it, and I exceeded expectations."
Trifeckta took out Kansas City's Em80 in the last round and will go on to compete in the national final in Chicago on November 18. Trifeckta was exhausted but thrilled, and said he was impressed by all the producers that competed: J. Rhodes, They Call Me Bo, C-los, Foxx Starstrukk, D-Que, Tech Supreme, Bennie D, Nodzilla, Em80, Rio and Abnormal.
"Em80 really came with it. I've heard his name before, he did excellent," said Trifeckta, still reeling from his win. "He was entertaining, and it was soulful. Needles, my brother in the Force, he held his own. He was a last minute entry on the fly--the rest of us knew for a while, he only found out yesterday and he came with it. He was in that first round against Rio, it was the longest because the crowd was so torn."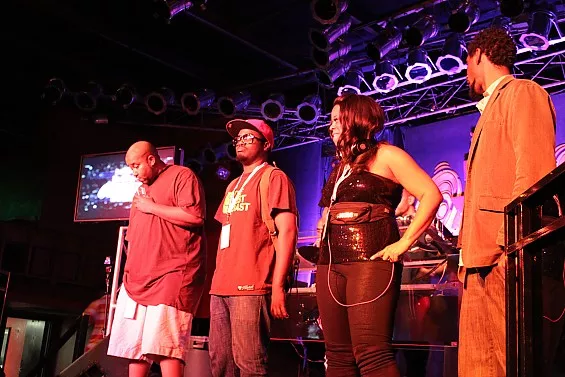 Diana Benanti
Semi-finalists and crowd favorites Tech Supreme, Nodzilla (aka DJ Needles), and Foxx Starstruckk.
Though he's a producer and not used to being a hype man, Trifeckta knew how to curry favor with the audience. He drew from a wide range of tunes -- Isley Brothers, Bobby Womack, Phil Collins -- and repped the hometown with a few from Rockwell Knuckles, and a song from a videogame called Metal Gear Solid. In the final round against Em80, Trifeckta pulled multiple trump cards: First, he took off his "Make Dope Shit" t-shirt and revealed a second t-shirt that read "St. Lou Is Doin the Damn Thing" and the crowd erupted. But that joyful noise paled in comparison a few minutes later when he busted one of the tracks he produced for Rockwell Knuckles, "Government Name," the song you'll want to be stuck in your head the rest of the day. Em80 and one of the emcees looked seriously confused when Trifeckta took a risk and cut the song short, but the crowd continued chanting the chorus, hands in the air.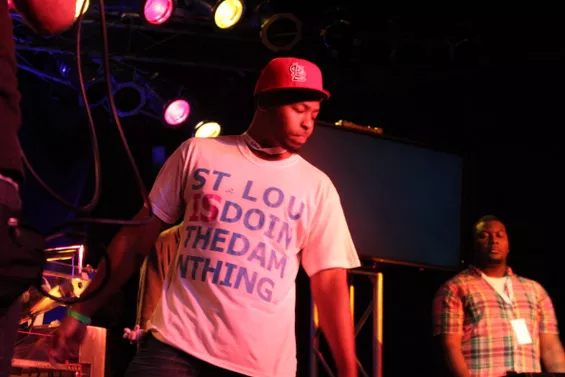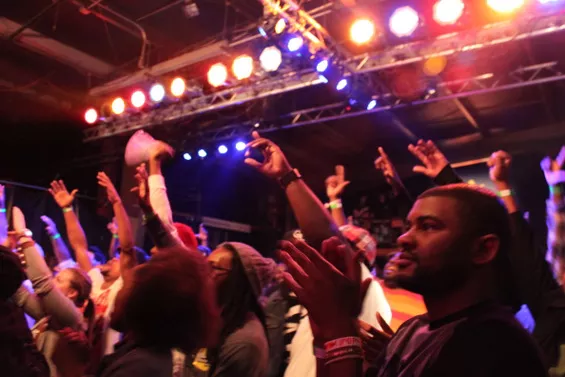 Diana Benanti
Hands in the air for Trifeckta.
"St. Louis is known as that city next to Chicago," Trifeckta says. "It's that city on the way to Kansas City, or not too far from Memphis. I wanna try to build off this and show that we can do stuff and people need to come check us out. Why should we put our dreams on the line in some other place when they're dealing with their own inner city situations in the hip hop community? But here, we have what it takes. We have everything here."
John Harrington of the Midwest Avengers was impressed by the turnout. "It's cool that Red Bull can put some money behind it; DJ Who of the Frozen Food Section Basement Soundsystem has been doing producer battles at the Foxhole for two-and-a-half years, and he doesn't get this kind of support."
Trifeckta is realistic about his chances in the nationals and on the home turf of Chicago's top producers.
"Man, I don't even know. I guess I have to wait and see who else is in it, and listen to what they have," he says. "Like, Chicago, whoever won in Chicago is coming home for the championship, I'm pretty sure they don't want their guy to lose. I just want to be entertaining. When I leave, I want people to know my name, know that I'm from St. Louis and that St. Louis has a lot of stuff that's worth listening to, worth spending the time to get to know. Anything beyond that would be phenomenal."
Whoever wins in Chicago will have the opportunity to record with the artist of their choosing at Red Bull Studios in California. Previous winners of Big Tune have recorded with Nas, Young Buck and Ghostface Killah.
"I'm just trying to get known through Red Bull," Trifeckta concluded. "Black Spade, he's like the godfather of the Force, Red Bull asks him to show up places. He has his own Pandora channel. Who does that? Alchemist does that, Jake One does, Black Spade does that. To be on the same stage; I played beats right before Alchemist played beats. When I walked off, Jake One congratulated me. I respect them to the fullest and they showed me congratulations." He shook his head, incredulous. "When the Red Bull wears off, I'm gonna sleep good."