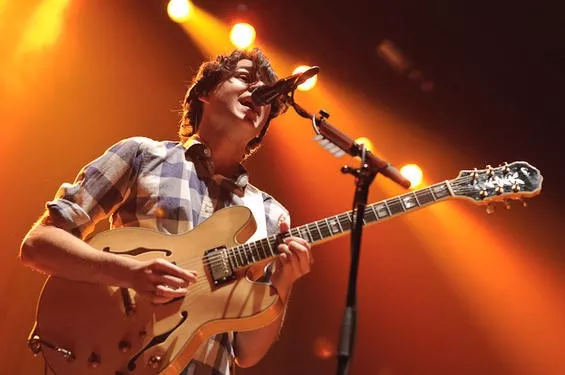 Jason Stoff
Vampire Weekend performing at the at Chaifetz Arena.
Click here for a full set of photos from the show.
It's extremely difficult to write about a band that does everything right, as Vampire Weekend did last night at Chaifetz Arena. Even the band's ghastly novelty songs about punctuation and chateau roofs were hard to dislike. (Save for "Horchata," which, frankly, was impossible to like. The crowd, which unanimously loved the shit out of that song, will surely disagree with me here.) There was nary a misstep in their 75-minute set, which was arranged just so for maximum energy from the crowd.
Everything about Vampire Weekend is deliberate, but their equation is a winning one. Despite getting sued for the photo on the cover of Contra, which was allegedly used without permission; despite being dubbed the "whitest band" by the foremost authority on all things cracker, Christian Lander of Stuff White People Like; despite being Carles' whipping boy-band of choice on Hipsterrunnoff; they have the formula, and now they're just raking it in. They refer to their sound as "Upper East Side Soweto" (ugh) but it's a disinctly premeditated fusion of Talking Heads' new-wave/Barenaked Ladies (forgive me) nerd-out, plus some ska and classical tossed in for extra credit. It sounds like a lot, but it never strays from the combination that's made them famous: surfy and Afropop-inspired, with an unmistakable smack of collegiate pretension.
The Very Best, the project fronted by Malawi-born singer Esau Mwamwaya, opened. He impressed with his intelligent blend of mixtape-ery and lyrics sung in his native Chichewa. Mwamwaya started the Very Best in 2008 with producers Radioclit, after selling Etienne Tron a used bike in London, and he's since collaborated with the likes of M.I.A., Yeasayer and Architecture in Helsinki. Unlike the latest glut of artists practicing the remixology of their indie forebears, Mwamwaya's voice and style could stand up alone, without the long list of Pitchfork-approved collabs. His sunny style and kwaito beats lent themselves to the equally sunny and Afropop cribbing of Vampire Weekend.
Beach House was up next. The band took the stage in front of three light pyramids, a decidedly modern set design that was initially surprising, given the yellowed-hued organ and cobweb-covered guitar lines. "This is our arena rock debut," was their simple introduction. "Anyone happen to be at that food court last year?" Alex Scally said, referring to the band's 2009 St. Louis debut at the Billiken Club. The prismatic opening bars of "Norway" and "Zebra" garnered the most applause, and the sparkling light wall jived perfectly with the glittery song.
Devotion is all broken chandeliers in a bombed-out mansion that's stood silent for decades, and while 2010's Teen Dream has the same penchant for heartsick slowcore, it held up to the arena test better than their earlier stuff would have. "Gila" was the lone cut from Devotion, and they seemed to think overdoing it on the bass drum was the only way to translate those submerged riddims in such a massive space. It boomed in bottom heavy, but still spectacular. "Silver Soul" screamed for a slow dance.
"Who's played sports in this place?" they asked. "Everybody pretend like they're playing sports. Sports." Victoria shot an air basket and gave herself "three points."
Scally asked, "Anyone hear that amazing sound?" and Victoria answered, "Cheese-grater." They said the Billiken Club show was meaningful for "secret reasons," and they'll always have a soft spot for St. Louis.
"Take Care" was so moving, it caused the man sitting next to me to mirror the bass drum with his foot. This was a guy who was stone cold throughout the two opening sets; the kind of guy who probably regularly uses words like "circuit training," the guy you'd ask to kindly lift a car off you if you happened to find yourself underneath one. If Beach House can move that guy, they're doing something very right. They closed with a galloping rendition of "10 Mile Stereo;" Scally's airy guitar soaring to the firmament and Victoria's voice eclipsing the sun.
When Vampire Weekend came out, the crowd in the reserved seats stood up at once, like it was time to say the Pledge of Allegiance in grade school. The band opened without comment, letting the bouncy "Holiday" speak for itself. Some generous soul in the back of the audience started chucking glow sticks into the crowd -- they must have brought over 100 -- and before long there was a mini-rave on the pit floor.
Jason Stoff
Vampire Weekend performing at the Chaifetz Arena. Click here for a full slideshow.
The 20-song set was tight as a drum; Vampire Weekend raced through their catalogue, keeping the energy high and delivering each song with the kind of precision that most acts this green simply aren't capable of. If there's one thing these boys learned in private school, it's that practice makes perfect.
It would be an exercise in futility to try to determine a crowd favorite or even dissect the set properly. Even "Diplomat's Son" was redeemed by the 8-bit digression in the middle. Keyboardist Rotsam Batmanglij (I hope his friends call him Batman for short) provided the plinking backdrop, eliciting a number of sounds from his keys, the baroque spinet on "M79, " lullaby scales on "Taxi Cab" and trampoline-synth on "Run." Bassist Chris Baio high-stepped around the stage when the mood struck him, trading his bass for a stand-up bass (also known as a CONTRAbass, get it?!) for "Taxi Cab," while drummer Chris Tomson pounded jungle beats on his kit. Koenig's cherubic pipes and informed instrumentation were beyond reproach.
The biggest relief in the set came from a Springsteen cover, "I'm Going Down." While the cover was all but completely lost on the vast majority of college-age people in the pit, it was as refreshing as a cool Cape Cod breeze. Take it from Bruce: Repeating the same simple chorus is okay. Koenig writes lyrics like he's running a polysyllabic marathon -- the man isn't happy unless he's spewing $5 words. A taste of the lyrics for the uninitiated: "madras," "trophy," "sweater," "callous," "Alps," "private schools," "fake cheesesteak," "Spanish brownstone."
And, again, that stupid "Horchata." It's a delightful beverage, but c'mon. We get it. You went to college. You know what horchata is, which means you're totally unique, just like the 615 million people in Latin America and Spain who grew up drinking it. But they're not pretentious enough to try rhyming it with "balaclava." Koenig could only be more college if he were singing about late night Jimmy Johns and Northface.
Lyrical masturbation aside, you can't fault the guy for much else. Every song was predictably good, and Vampire Weekend stayed true to the albums without becoming rote. Koenig's elastic voice bounds and reels, and is really quite beautiful; the rhythm section was sterling; and the show was pretty much fantastic.
SETLIST

Holiday
White Sky
Cape Cod Kwassa Kwassa
I Stand Corrected
M79
Bryn
California English
Cousins
Taxi Cab
Run
A-Punk
One (Blake's Got a New Face)
I'm Going Down
Diplomat's Son
I Think UR a Contra
Giving Up the Gun
Campus
Oxford Comma
Encore:
Horchata
Mansard Roof
Walcott

Critic's Notebook: For all my bitching, I left that dang arena with a new respect for Vampire Weekend. They put on a show. They made people happy. They caused a teeny cadre of folks to blow their penny pitcher monies on glow sticks for the pit. They were fun. Have I heretofore been a victim of requisite hipster derision -- as in, if these kids were poor, or at least less privileged, I might be defending their kitschy ingenuity?
Also, very sad Beach House didn't bust their slo-mo cover of Gucci Mane's "Lemonade."
Random Comment: After Beach House's set -- "Oh yeah, there's another band, right?" It's okay. I almost forgot too.
The Crowd: YOUNG. Real young.