Todd Owyoung
Jerry Cantrell performing at the Scottrade center. Click here for more pictures from the BlackDiamondSkye tour.
Fans got a great value last night at the Scottrade Center as three different acts put their spin on the hard rock/metal genre to give the crowd a good head-banging time.
Named after a word from each of its bands' most recent album title, the BlackDiamondSkye tour features Alice in Chains, Deftones and Mastodon. The bill is well chosen as each act works in the same territory but is distinct enough to provide variety. Each group followed through on the promise of the lineup and the transitions between acts moved efficiently, thus providing one of the more satisfying concerts in recent memory.
Mastodon opened with a short but sweet set to an audience that would roughly double for the following acts. The quartet's prog-metal attack has been sharpened through years of touring, to the point where the group can whip through complicated arrangements of epic songs, frequent time signature changes and dazzling technical riffs and solos without breaking a sweat. Mastodon did all of that last night, but they always played as a group in service of the song, which made their show a thrilling display of both musical talent and craftsmanship, even if some of the intricacies were lost in the loud sound.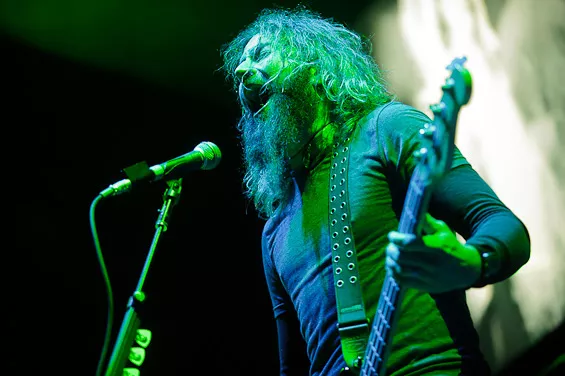 Todd Owyoung
Mastodon performing at the Scottrade Center. Click here for more pictures from the BlackDiamondSkye tour.
Of course, Mastodon is also smart enough to get out of the way of a bitchin' riff and lay down some simple, brutal grooves. Some of these moments accounted for their set's highlights - "Crystal Skull's" punishing triplet fills and "Blood and Thunder's" pounding main three-chord riff stood out as especially heavy. The eight-song set was over all too quickly, but Mastodon pleased its fans and successfully primed the pump for the rest of the night.
After a quick break, Deftones took to the now revamped stage (featuring a wall of lights and a ramp at the center edge for frontman Chino Moreno to climb so as to lord over his fans). Blasting off with "Rocket Skates" to the accompaniment of strobe lights, Deftones turned in a crowd-pleasing mix of new songs and old favorites that showcased the group's alternately dreamy and menacing sound.
Todd Owyoung
Chino Moreno performing at the Scottrade Center. Click here for more pictures from the BlackDiamondSkye tour.
The setlist's balance was pretty much perfect for the casual Deftones fan. Just about every one of their radio hits was covered, yet the group still found time for the best moments from Diamond Eyes. Moreno was in fine form, leading the group with energetic running and jumping and looking awfully happy for a man who writes such angst-ridden lyrics. Perhaps he was excited that he could pull off detached, spacey singing as well as he could tackle cathartic shrieking. Or maybe it was because guitarist Stephen Carpenter's detuned, distorted tones and drummer Abe Cunningham's cutting high-pitch snare and his aggressive attack still pack a wallop. Whatever it was, Moreno was in good spirits and it was infectious.
Although all of their songs came out well, a few were noteworthy for their change in style. The group brought out a disco-ball for the slow jam "Sextape," which served as a welcome change of pace in the set. "You've Seen the Butcher" likewise broke from the norm with its swing feel. Still, the big hits went over best. "Change (In The House Of Flies)" and show-closer "7 words" got the biggest response in an overall solid set.
Todd Owyoung
Alice In Chains prepares to take the stage at the Scottrade Center. Click here for more pictures from the BlackDiamondSkye tour.
Alice in Chains entered the stage with a bizarre introduction involving a grey heart beating over the BlackDiamondSkye Zelda Tri-Force logo that was projected onto the curtain concealing the group. Any sense of puzzlement was erased as the curtain dropped to the strain of "Them Bones." Singer William DuVall made an immediate impression by strutting, pointing and in general being a charismatic frontman and also by his voice's uncanny resemblance to deceased former AIC singer Layne Staley. It's really about as close a match as you can get. Needless to say, this helped Alice's signature harmonies retain all their otherworldy power (save perhaps for the first few songs where Cantrell's vocals were too low). Alice stayed in hard rock mode for its first five songs, transitioning neatly from "Them Bones" into "Dam that River" and continuing its sludgy metal-meets-classic rock attack. Guitarist/vocalist Jerry Cantrell fired off several squelching solos to the delight of the crowd, and Alice in general sounded tight and powerful. The band lightened up for the one-two acoustic punch of "Your Decision" and "No Excuses," illustrating their skill at writing ballads and more pop-oriented material.
No matter which mode AIC was in, the group was always mobile. It was somewhat comical seeing a four-piece band have a stage armed with five mics so that they were always within reach of one when roaming with their wireless instruments, but it helped DuVall motion to and engage every part of the crowd. Bassist Mike Inez and drummer Sean Kinney mostly stayed in the background, always supplying a steady rhythm and letting the guitar solos and harmonies take center stage. Kinney did get to shine on the involved beat of "No Excuses," however.
Throughout the night, Alice mixed songs from last year's comeback album Black Gives Way to Blue with old material to mixed effect. The newer songs are cohesive with the rest of the band's catalog, and none of them are bathroom-break worthy (single "Check My Brain" received a pretty good response), but it was obvious which songs the crowd came to see. This was most evident during a stretch of Black songs bunched together toward the end of the night that included the good but overlong "A Looking In View" in which the audience seemed attentive but less enthused than before. All was forgiven though with last song "Rooster," in which the crowd sang nearly as loudly as DuVall and the band did justice to the song's epic scope.
The strong finish carried over to the encore, as a solid "Angry Chair" segued into the can't-miss grunge classic "Man In The Box" that had the crowd going nuts. "Would?" closed things out nicely, its stirring coda bringing an air of finality to a quality night of hard rock.