The number of chain record stores nationwide has dwindled. However, St. Louis has become an unlikely safe haven for indie record shops as well as for DJs who prefer to spin the black circle instead of scrolling their iPods. In this weekly column, we'll focus on personal portraits of St. Louis' record aficionados and the rooms where they store their treasures. Meet the last collectors standing. (Know a collector who deserves the spotlight? E-mail us. Miss any previous ones? Read 'em all here!)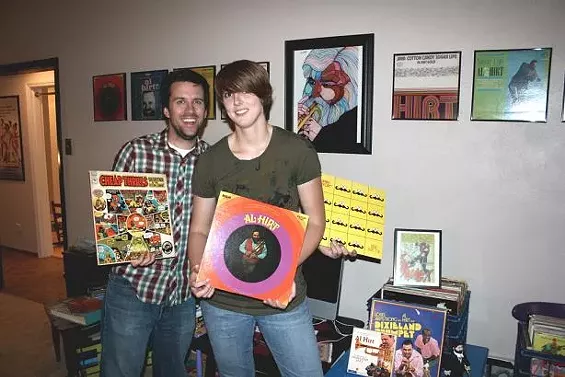 This weeks Last Collector Standing collection was discovered entirely by happenstance. I've recently been working on editing a Walking Dead commercial for Star Clipper with Brian Spath, the Operation Supervisor of the St. Louis International Film Festival. While at his south-city home, I noticed his wife Kara had quite the unlikely collection of Al Hirt records displayed on their living room wall. I returned the next night for an interview and between a playful back and forth with the couple and their dog Moose pining for attention, we talked a great deal about Al Hirt records, RX Bandits and a urine-soaked thrift store experience.
Last Collector Standing: What's with all the Al Hirt records on the wall? Kara Spath - I just think he is funny. He's an obese, hairy....
Brian Spath - He's not obese.
Kara - He is obese.
Brian - He is just a big man.
Kara - Fine. He is a fat, hairy trumpet player and he had a lot of records. The album covers are funny.
I went to Mizzou. I was living in my friend's house and we wanted to decorate one of the walls with album covers. We were going around to different thrift stores and I saw this one record with this fat guy with a beard in the middle of all these colorful circles.
I said to my friend, "Hey look at this one. It's Al Hirt. Isn't this funny?"
I walked away from it, but it kept calling back to me. I got it because it was [only] twenty-five cents. One weekend when I was home from Mizzou, I went to a different thrift store and there was another record that I found and it just said, "Hirt." I thought, "That's the same guy I bought in Mizzou." It just spiraled out of control from there.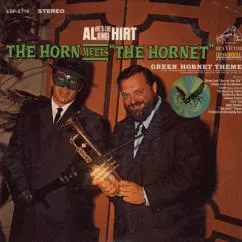 How many Al Hirt records do you have in total? Kara - I just counted. I have 87.
Brian - Seriously?!
Kara - I have duplicates. I have 62 different ones.
Brian - How do you have 25 duplicates?
Kara - I don't know! It gets to the point where I can't find new ones anymore, but I'm like, "This ones nicer than the one I already have. Maybe I'll just get it." It's really difficult to give them back to Goodwill.
How much do you think you've spent on Al Hirt? Kara - Does that include everything? I have artwork, a couple hurricane glasses, an ashtray. If you just consider the record part of it, the most I've spent was on the Green Hornet one The Horn Meets The Hornet. That was twenty bucks at Euclid Records. I looked at it for a year and then I finally got it. Besides the twenty dollars, a lot of them were ten cents. A lot were twenty-five cents. I probably spent no more than sixty bucks.
Would having an Al Hirt collection on your iTunes mean the same thing to you as having a collection of records? Kara - Definitely not. I feel I'm displaying his albums as art. I like trumpets, but I feel like a lot of it is for the album art. In the electronic age there is a disconnect with the music and the art that comes with it.
We have a Christmas Al Hirt CD and we've listened to it, but it doesn't feel the same. I feel like I'm dishonoring him a little.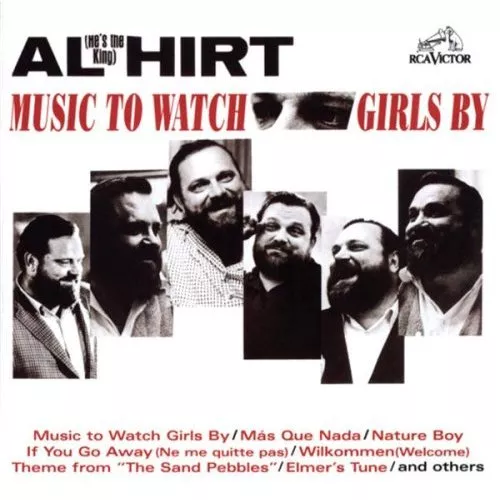 How do you feel about the Al Hirt collection, Brian? Brian - (Laughs) It's very infectious. Besides the Green Hornet album, there might be five albums that we actually bought at record stores. Everything else has [been bought at] thrift or YMCA book sales. It's easy to go into a record store and it's organized nicely and very simply to find what you're looking for. If you're at a book fair, you are digging through piles of garbage just to find something that will excite you. If your intent is to find an new Al Hirt album, especially at this point when it's something that she doesn't have. (Laughs). It's exciting.
Kara - I feel my collection might be the most comprehensive that I've found (Both laugh). Wikipedia only has 35 albums [on the Al Hirt page]. I know there are more than 60 because I have more than 60.
In talking about the thrill of the hunt, what's your favorite record searching experience? Kara - We were on vacation in Michigan and were at a thrift store. The woman [who owned the store] was a hoarder.
Brian - It was disgusting.
Kara - It was awful. Just stuff piled everywhere. I'm going through the records and I find an [Al Hirt record] I didn't have. I open it and it's signed by Al Hirt. You can see the indentations. It's not just part of the [sleeve]. A little dog is peeing on the carpet right next to us. I slowly closed [the record] and went straight to the counter. It was a buck. I was like, "Let's get the hell out of here."
Brian - For me, I use to work at the South County Antique Mall. I would come home with buckets... tubs.... You can't really fit a record in a bucket. I would come home with tubs of records because people would just give stuff away and I would say, "I'll take it." We had gobs of albums for the longest time before we decided we had to clean some of the stuff out.
What's a record or band you both bonded over? Brian - RX Bandits. When we met it was 2001, we had work-study together at Lindenwood University. I had a RX Bandits sticker on a notebook and she asked if I liked RX Bandits.
Kara - That's a good one. I like that. Working for the St. Louis International Film Festival, do you think all entertainment media is going to face the major transition that the music industry has recently faced? Brian - I think about kids now who are like, "I'm into the Evil Dead" or say their favorite movie is some obscure film like Suspiria. Ten or fifteen years ago, I didn't know what that was. I wasn't reading obscure movie magazines because where I grew up that type of stuff just wasn't available. Now, with a click of a button, you can find anything about movies or music or TV. It doesn't seem to hold the same quality to me. It's not as mystical. You can say any movie or any band is a cult band now, but what does it mean now as opposed to twenty years ago?
Kara - With iTunes it's become about singular songs. It's an emphasis on the most popular song on the album, so that's what people will download. It's hard to create a cult if it's just one song that's really popular.
Do you collect anything else? Kara - How much time do you have? (Laughs) I collect Al Hirt records. What do you collect, Brian?
Brian - There really isn't much else I collect... besides comic books. What else is there?
Kara - Action figures.
Brian - Yeah, action figures.
Kara - Baseball cards.
Brian - No. That's things I've collected in the past, not things I collect currently.
Kara - But you still have them. Movie cameras.
Brian - Yeah , okay movie cameras.
What would you say is your greatest collection?
Brian - Definitely comic books. I really enjoy Green Lantern and The Incredible Hulk. I have pretty significant runs on both of those characters.
Kara - How many comics do you have?
Brian - Unimportant. We're talking about collecting records.
Kara - No. We're talking about collecting.
Brian - Definitely over 9000 comics.
What does owning a physical copy of something mean to you?
Kara - I feel it's real. It's tangible. I have a connection with it.
Brian - Al Hirt is unique to Kara. She gets upset about Herb Alpert. (both laugh) They were contemporaries but Herb Alpert is still pretty well known today. Whereas, older people will remember Al Hirt... much older people. The unique way that Kara's interest built in Al Hirt is more of a genuine discover [through vinyl records].
Kara - If you have a downloaded song it's just a bunch of zeros and ones in your computer with all your other music. If you have an album... I think it's neat that someone who is kind of fading away with the past can live again in [your] house. (Laughs)
[Writer's note - After the interview I was sent home with a copy of the fascinatingly creepy Al Hirt record Music to watch girls by.]