Let's just get this out of the way now: pigeon shit, pigeon shit, pigeon shit. No rock concert has been stigmatized by bird feces as much as last evening's Kings Of Leon performance at Verizon Wireless Ampitheater. The show served as a make-up date after a literal shitstorm made the band cancel its July 23 show three songs in.
KOL singer Caleb Followill, a frontman of few words, handled the necessary banter earnestly. "I don't know what to say," he admitted during the band's encore. "I don't want to stand up here and try to be funny. Whenever we have to cancel a show, it's not funny. We're just glad you had us back." Fair enough.
View an entire slideshow of Kings of Leon photos from the Verizon Wireless Amphitheater
With no protocol to follow, Kings Of Leon chose to push through the show unapologetically and use the power of rock and roll to transcend any potential drama. Yet there was a disconnect between the approach and the results; KOL looked, acted and sounded tired throughout its set. The band nailed the "less talk" part, but missed the mark on "more rock."
Sonically, Kings Of Leon was spot-on. The band did as much justice to the songs as it did when it recorded them. "Closer" still sounded like the Cure, for instance, and "Fans" still sounded like John Cougar Mellencamp, and Caleb Followill's gutsy voice filled the unwalled venue without sacrificing his signature creaks and cracks. Other elements of the band's records -- Jared Followill's crunchy bass melodies, Matthew Followill's southern-fried guitar leads and Nathan Followill's dynamic backbeats -- were intact. A fifth King tucked away near the drum kit filled out the songs with additional keyboards, guitars and percussion. The band also got by with a little help from its friends at the mixing board, who loaned Caleb some vocal distortion on "My Party" and drenched the snare drum in reverb for opener "Crawl."
These aural accuracies were impressive but unnecessary, as if making up for the lack of visual interest. Jared pulled off some token bass player moves (turkey necking, power stance) and Caleb turned towards the drum kit exactly twice for some moderate head banging. Otherwise, KOL was far from animated, an act which came off as boredom rather than too-cool apathy a la the Strokes (or even Oasis).
Grainy black and white live video projected on the jumbotrons only amplified the still life shtick, with extreme close-ups of bass strings and tambourines. The video failed hardest on "Revelry," wherein slow fades between Caleb's doe-eyed delivery and the sleeveless, long-haired drummer recalled a lost Guns 'N Roses power ballad video best left in the pre-grunge time capsule.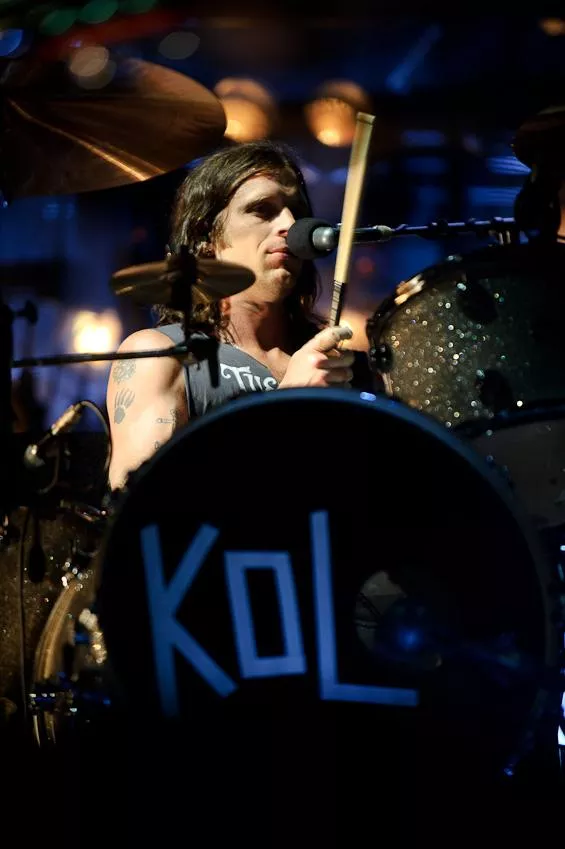 Blame it on exhaustion (the rescheduled show was tacked on to the end of the band's lengthy tour), the weather (cold air invaded the venue in sharp, quick bursts all evening), or the maturation of the band's writing (Jet + U2 = Southern Coldplay), but Kings Of Leon seemed entirely uninspired. Caleb couldn't have instilled less sexiness into "Sex On Fire." Matthew seemed almost annoyed to have to walk all the way to his pedal board for the solo of "Molly's Chambers" and an inopportune camera close up caught the gum-chewing Nathan blowing a bubble during ballad "On Call."
Still, the band still commanded adulation from the crowd. Any acknowledgement of the audience's existence from Caleb Followill's lips caused an eruption, and the amphitheater cheered as much after unheard songs from upcoming record Come Around Sundown as they did for hits "Use Somebody" and "Manhattan."
The unconditional love offered from the thousands of concertgoers highlighted KOL's most impressive trait: accessibility. The band stays safely within the rock canon; its members are just cute enough to please the eye but avoid pretty-boy status; and its songs aren't so catchy that they warrant radio saturation. The band's success is an anomaly; Kings Of Leon is amazing at being just okay.
The band's encore opened with "True Love Way.""Knocked Up." Caleb Followill interrupted a lengthy instrumental section by singing, as if aimed directly towards the band's detractors, "I don't care if you don't care." Point taken.
SETLIST:
Crawl Molly's Chambers My Party Mary* Fans Revelry Closer 4 Kicks The Bucket Notion Radioactive* Sex On Fire On Call Back Down South* Trani
ENCORE
True Love Way Knocked Up (thanks for note, commenters -- AZ) Manhattan Use Somebody Black Thumbnail
*New songs, titles taken from KOL fansites
By the Way: Reviews of the band's last two full shows in St. Louis...
*Kings of Leon at the Scottrade Center, September 30, 2009
*Kings of Leon at the Pageant, November 3, 2008
*And yes, apparently Kings of Leon was booed at the Rams game.