Annie Zaleski
Sharon Jones!
The tragedy of Sharon Jones and the Dap-Kings: Only once can you see them for the first time. Judging by a show of hands last night at the Pageant, many in attendance were having their initial experience with the soul dynamo and her crack backing band. No doubt their minds were blown - after all, it's an overwhelming, emotional thing seeing Jones in person. She shimmies and shakes like she's dancing atop a bed of hot coals; the funky chicken, the mashed potato, the train and "riding the pony" are a part of her dancing repertoire during an early song. Her voice, so emotive and honeyed on record, draws from the audience's energy and transforms into a primal soul-banshee howl. The stoic Dap-Kings - eight strong onstage - unleash their horn, guitar, bass, sax and drums parts with wicked, devastating precision.
Last night's setlist focused mostly on this year's I Learned the Hard Way. A timeless pastiche of Motown, Stax and Philly soul, the newer songs felt right at home next to older catalog songs such as "100 Days, 100 Nights" and the band's take on Woody Guthrie's "This Land Is Your Land." The Way album-closer "Mama Don't Like My Man," introduced as an homage to Sam Cooke, was a highlight. Jones and the Dap-Kings' two female backup singers sang their harmonies a cappella, as guitarist Binky Griptite plucked out an understated melody. The dance-fomenting strut "Better Things" was another standout; its high-stepping funk was propulsive and empowering.
Anyone who caught Jones and the Dap-Kings at the Duck Room in 2008 -- or their appearance at the Pageant later that same year -- knows that anything can happen at their shows. Tonight's surprise was the appearance from a quartet of kids from Northbrook, Illinois, who play in a band called Northbrook Garage. Jones traded lyrics with impressive vocalist Elenna Sindler on "She Ain't a Child No More" and then ordered the Dap-Kings to surrender drums, bass and guitar to the rest of the band so they could perform the song. "The babies are bringing back soul! Ain't that something," Jones exclaimed after the rousing performance.
Annie Zaleski
More Sharon Jones!
She was just as pleased when a dude jumped onstage and exhibited some show choir/musical theater/gangly-drunk smooth moves with Jones on "I Learned the Hard Way." (Obviously tickled by his performance, Jones giggled and imitated his moves several times after the song.) She brought up a gaggle of women during "How Do I Let a Good Man Down?" - and since it was near the end of the show, a few were obviously extremely inebriated. One barely rhythmic dancer didn't want to leave the stage; another lady took great pleasure in shaking her booty in the general direction of the crowd for the duration. (Everybody was having fun, however.)
These rituals are a staple of a Sharon Jones and the Dap-Kings show. But they never feel like shtick - and they don't feel stale or perfunctory. Credit Jones' bottomless energy and infectious stage persona. She's the type of performer who finds the silver lining in any situation and seems completely ecstatic to be onstage sharing music with other people. (In fact, near the start of the show, she said, "Every night is an adventure for me," and later she gave Northbrook Garage some advice about how to win over an audience: "Make 'em feel like a part of you.") She only sat down once: to take off her heels so she could be freer to let loose and headbang, stomp, run in place, high-step in a mad display of fancy footwork. And this was 90 minutes into the show.
Annie Zaleski
The Dap-Kings from afar.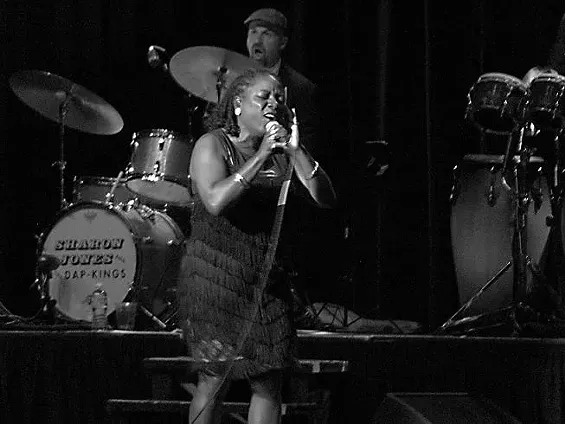 Annie Zaleski
Sharon Jones.
The packed pit in front of the stage grooved and bobbed along to the music all night, like a quivering beehive. The only complaint about the show - and it's a minor quibble - is that because Way is rather mid-tempo, the setlist could've used a few more raucous, upbeat moments. But the band's restraint was always well-timed: For instance, Jones guided "100 Days" from a horn-squiggled strut down to a slower tempo, and built suspense and seduction with some well-placed hip thrusts and flips of her fringed dress. Above all, Sharon Jones and the Dap-Kings show up every night to make sure the audience gets its money's worth. Last night was no exception.
L.A.'s Orgōne opened the night with a tight, 45-minute disco-funk set. The moments when vocalist Fanny Franklin joined the band to sing were its finest. She shimmed like escaped quicksilver and belted out her leads in a strong voice reminiscent of Donna Summer. The mid-set instrumental break was technically impressive and forceful - percussionist Stewart Killen and guitarist Sergio Rios were flamboyant powerhouses - but a bit monotonous. The set picked back up again once Franklin came back onstage and assumed vocal duties, and it ended strong - perhaps because the dance pit in front of them had finally filled in. Here's hoping Orgōne comes back to a smaller venue in town (perhaps the Gramophone?) soon.
Critic's Notebook: Mind-blowing display of rudeness: During "This Land Is Your Land," a group of early twentysomethings very loudly did a round of shots together near the bar - and then resumed their very loud, very rowdy picture-taking. Hope those Facebook shots came out great.
The Crowd: Older couples, hipsters, NPR junkies, drunk college kids -- and everyone in between.
Annie Zaleski
The Dap-Kings' stage sign
Very rough setlist that needs some help - can anyone fill in the blanks? ?? "If You Call" "Give It Back" "The Games Get Old" "She Ain't a Child No More" ?? "Money" "I Learned the Hard Way" "Mama Don't Like My Man" "This Land Is Your Land" (Woody Guthrie) "Better Things" "How Do I Let a Good Man Down?" "Window Shopping" ?? "100 Days 100 Nights"