Sleepy Kitty is never short of crazy endeavors. Guitarist/keyboardist/vocalist Paige Brubeck and drummer Evan Sult's next gig is following the sold-out Flaming Lips show at the Halo Bar tomorrow night. In celebration of the Lips gig, the pair has also come up with a clever plan of playing the Zaireeka experiment through their art studio loft and home to the entire 2700 block of Cherokee Street, just a few hours before doors open at the Pageant.
Between performing as Sleepy Kitty and designing screen prints during the day, both Brubeck and Sult also find time to collect records. They can even occasionally be seen DJing at the Royale's vinyl spins. We met at Sleepy Kitty Studios to talk about what attracts them to vinyl and ended up waxing philosophical about Budgie's If I Were Britannia I'd Waive The Rules.
Last Collector Standing: As artists who make a living off of screen printing and graphic design, is it upsetting to see the decline of the album format? Paige Brubeck: Definitely. One of my favorite parts about records is that the art is bigger. When I started doing work for my own bands I really liked that, because it was a way of combining all the things I loved about painting and all kinds of visual arts with the other thing I love making music. Getting a vinyl record is like twelve inches of art, and it's double sided.
Evan Sult: I honestly experience it as more of a resurgence than a decline, because by the time I was making art that related to music, records were already not a [format] that I was buying. It's since become something that I buy. Once I held up a CD I owned next to a record that a friend owned of the same thing [and] I really, keenly felt a loss. In the last five years, I am more likely to see a vinyl version of an album I would want to buy than I was ten years ago.
The [designers] that I really liked in Seattle, like Art Chantry who designed for Estrus Records, [made covers] that always looked great on vinyl. Even a seven-inch is two and a half inches larger than a CD. Pavement's Westing cover is a perfect example of something that is so gorgeous on vinyl and is lost on a four-and-three quarters format.
What was the first album you ever bought? Sult: I think the very first vinyl album I bought was Pyromania by Def Leppard, probably because the artwork looked so cool to my young '80s brain. Now it looks cool, but in a completely layered way. A layer of silliness, a layer of reference, a layer of times passed. I went to a record store called Dusty Trails in Corvallis, Oregon with some friends when I was a freshman in high school. They went right for the '70s stuff. I remember someone left with Jimi Hendrix, Are You Experienced? . [My friends] had these record collecting parents who were still active collectors, and they had this collector's mindset about things. I just wandered through the record store lost but excited.
We had a bunch of records at my home, but I had never connected myself to buying them. I bought cassettes. Pyromania was my first album. Playing it on my dad's record player was completely different than playing it on my cassette player in my room. In the life I had, record players weren't personal units they were family units. I think I blushed the first time I played it [Brubeck laughs] just because it was inappropriate for a family room. That's a stand-in-your-room and air guitar and hairbrush-singing album.
Brubeck: The first album that I consciously remember that started my CD and album buying was Jagged Little Pill by Alanis Morissette. There were other things before that, but it ended up being whatever soundtrack was marketed to me. The first time I was like, "I like this music" was with Jagged Little Pill. I'm a little embarrassed about it, but that's the first record I ever learned to sing harmony to. I started getting into vinyl by discovering my parents collection and discovering the Cars record, I don't even know what the name of it is. It had the girl on the cover with the steering wheel [Editors note - Cars' self-titled debut]. I remember buying Dance Hall Crashers and being really excited I had that on vinyl.
Why is it exciting to have something on vinyl? It feels way more intentional [to listen to vinyl]. I love how you can hear a record with the stereo turned down. You can hear the hiss.
Sult You can make out the song...
Brubeck ...From this tiny sound coming off of your record player. I really like that it's actually sound being put into the world instead of a digital representation of sound. It feels more like a tube amp than a solid-state amp.
Sult: When we do screen-printing, we deal with the beauty of the fundamentally reproduced item. There is no original screen-print. There are only multiples. We think about multiples a lot and the value of those things. When CDs came along they where burnable. MP3 really are indistinguishable [between] what somebody makes in there practice space and what somebody makes on Atlantic records.
One of the things I realized about vinyl is that it is not something I could make in my living room. It's not something I could even fake in my living room. That requires a record plant. If you make a record and it's on record, it's amazing. It's a real accomplishment. I think especially these days, it represents some sort of marker. Bound Stems, my last band, got to put out a 12-inch called The Familly Afloat and that feels rarer and thus more of a conscious accomplishment. Getting any record done is an accomplishment but getting it done on vinyl is gorgeous.
Brubeck: It's more of a belief in the product. The band has to believe in the album so much that they will all put money into it, or someone else has to believe in the band enough to say they are going to put them out on vinyl. There is more financial commitment and just more commitment to the idea.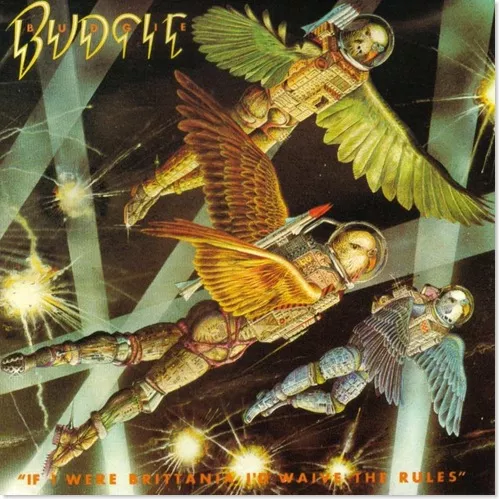 At one point the only format you had, regardless of if you were an arena rock band or a punk band, was to put an album out through a label on vinyl. Now that formats have changed, how has the culture of releasing vinyl also changed? Sult: We're still figuring that out for ourselves. As an observer, I'm super impressed whenever anyone gets something further than a burned copy. The furthest from a burned copy is a record.
We're really enamored with the idea of a record label, of whatever size, participating in what Sleepy Kitty makes. That's exciting to us, having someone back us and show support and deliver something to us that we couldn't do. We can do the other parts of our job -- making music, making the art for our music, touring for the music. Culturally, I would say the record label is getting more endangered than the vinyl record.
Brubeck: Sleepy Kitty still values the idea of the label, but I like that you're not tied to it. You have other options if a label is not going to put out your record. My previous band Stiletto Attack put out an EP. That was the document of that band. I would rather have that and be able to say, "I was in this band for a few years and here's what we made." I also think because I started listing to music in a time before iTunes and MySpace, there is still the dream of the record label and getting signed. Somebody else believes in you and it helps you and other people have confidence in a project.
Do you have an album that you bought specifically for the art?
[Both get excited and run over to their record collection]
Brubeck: We do!
Sult: [talking amongst themselves] Oh, that's a good one!
We actually buy tons of albums because of their artwork for us to use in our artwork, but we specifically had to buy Budgie If I Were Britannia I'd Waive The Rules because it was too bizarre looking.
Can modern online music buyers have the same experience of buying an album for its artwork? Brubeck: I don't think it's a thing of the past, but I don't think that it can happen online. One thing we talk about when we're sending off the proofs from designs we're working on is, "Would I click on that?" It's so different than flipping through records and seeing this, [points to Budgie album] a bunch of dudes with parakeet heads and spacesuits. Even if you see that online, there are so many weird things online. This would be less exceptional online. When we talked about the record label putting that financial commitment [into artists], I mean the record label approved this and sent this to print! [points to Budgie record again] There is so much weird stuff online, but the significance of someone printing thousands of copies of this record out because they thought it was awesome, and I found one of them; it is just so much more significant.
Sult: The thing that has definitely suffered the most, which is a huge importance to us, is album artwork. I use to review records for various magazines. One of the reasons I stopped was because I would get promo copies of CDs with no art. That's like getting a single channel. From my experience, [the album] didn't find its borders and its shape until you could see the colors of the record. For example, if you try to review an album without the name, you are affected. If you review an album without the artwork, you are affected. The idea of somebody experiencing multiple albums without the artwork, I feel you mine as well experience the album without the drums or song titles. The artwork is a part of the audio.
So you would go on the record to say that Sgt. Pepper's Lonely Hearts Club Band would not be the same experience if not for the cover?
Brubeck: Hands down!
Sult: I don't see an argument you could make against it.
Brubeck: It's the same with Magical Mystery Tour.
Sult: Yeah. Magical Mystery Tour without the graphics, who in the hell is the walrus? [Laughs]
Evan, when you were in Harvey Danger and put out Where Have All The Merrymakers Gone? in 1997, was there consideration to release it on vinyl?
Sult: I don't think we ever seriously considered putting out the album on vinyl.
Do you think it is more or less common for a band to do a vinyl release now? Sult: I think almost certainly someone would put the album out on vinyl now. Harvey Danger never put out any vinyl. However, when we sold five-hundred thousand CDs they gave us a gold record, not a gold CD. I've always wondered what was on that record. It's almost certainly not Harvey Danger music. I think it's still interesting that the gold or platinum record still stands as the insignia of success, even though we sold zero records. One of the reason records survived is that the record industry maintain some vestigial respect for records, even after they stopped producing them.
Brubeck: It's still iconic.
Living on Cherokee Street and having two record stores in walking distance, what do you think that says about the current state of the music industry?
Brubeck: One of the things about St. Louis is it's a good place to do anything you want. If you want to set up a record store, St. Louis is a great place to do it because there is a lot of space and lots of records.
Sult: We have lots of love for Cherokee Street. I think it's amazing that a bookstore just opened down the street when all you read about bookstores is how they're closing. A record store just opened right when people are saying you can't run a record store, much less open a new one. It feels out of time as far as cities go.