(New albums are typically released on Tuesdays, i.e., today. What can you spend your hard-earned pennies on this week? Find out below.)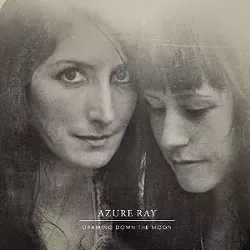 Azure Ray's Drawing Down the Moon
*Azure Ray, Drawing Down The Moon Orenda Fink and Maria Taylor of Azure Ray put their solo projects on the back burner and terminated an indefinite hiatus to record this new album. Download the first single, "Don't Leave My Mind," via Saddle Creek.
*Bilal, Airtight's Revenge The Allmusic Blog calls the Soulquarian's latest effort "one heavy, messy, dynamite album -- one that could take a decade to be fully processed." Stream Airtight's Revenge in its entirety via NPR's First Listen.
Blonde Redhead's Penny Sparkle
*Blonde Redhead, Penny Sparkle NME says of the new album, "Deft production lends this album space and stateliness at a time when everyone seems content to scuff their feet along to lo-fi, and begs the question, why? Though lacking standout tracks, this is an icy masterclass in how synths should sound." Listen to Penny Sparkle in its entirety via NPR's First Listen.
*Michelle Branch, Everything Comes And Goes [EP] Listen to Branch's new six song EP via MySpace Music.
*The Charlatans UK, Who We Touch "This time, I consciously didn't want us to sound like anyone else, I just wanted it to be a descriptive quite wordy, emotional album. I wanted to keep it real," Tim Burgess of Charlatans UK told NME of the new record. Sample Who We Touch via Amazon.
*Chilly Gonzales, Ivory Tower Ivory Tower is not only Gonzales' latest album, but also the title of a film he wrote and starred in. The video below for "I Am Europe" seems to be related to the film - chess is a theme - as the IMDB page describes the plot of Ivory Tower to largely revolve around a game of chess.
*"I Am Europe" by Chilly Gonzales
Chromeo's Business Casual
*Chromeo, Business Casual "Though some audiences may label tunes steeped in four-on-the-floor disco beats as cheesy, Chromeo's tightly crafted songs display rare talent. Business Casual showcases some of the best pop sounds of the '80s, a decade that's often the brunt of musical mockery. But Chromeo unabashedly invites listeners to a big, bright, neon-lit dance floor, and there's never anything wrong with that," says NPR's LIndsay Sanchez. Business Casual is streaming via NPR's First Listen.
*The Drums, The Drums Check out the Pitchfork.com review, which includes an MP3 for "Let's Go Surfing," a beach-pop song omitted from the band's debut.
*The official video for "Best Friend" by The Drums
Justin Townes Earle's Harlem River Blues
*Justin Townes Earle, Harlem River Blues Elena See says of the album in the NPR review, "He changes things yet again with some Johnny Cash-esque sounds and a nod to his hero, Woody Guthrie, as the album progresses. ("Workin' for the MTA" is a modern-day railroad story that would make Guthrie proud.) Throw in some solo piano and a ballad that sounds as if Bruce Springsteen might have written it in the late 1980s ("Rogers Park"), some virtuoso harmonica playing and a 30-second reprise of the title track that hints at a different path he might have taken with this new album, and you've got Harlem River Blues -- proof that Justin Townes Earle will be around, making relevant and interesting music, for a long time to come."Harlem River Blues is streaming in its entirety via NPR's First Listen.
*Brandon Flowers, Flamingo The Killers' frontman debut solo venture isn't receiving the best reviews. Spin's Barry Walters gave it a five out of ten review and wrote, "Most tunes lack his usual group's catchiness; wordy, self-consciously mythic lyrics convolute what melodies there are. The Lou Reed-y final track "Swallow It" flirtatiously underplays what's often overstated elsewhere, and suggests a path otherwise not taken -- a much more fun one."
*The official video for Brandon Flowers' "Crossfire"
*Grinderman, Grinderman 2 Stream the entire album by the Nick Cave project via its Myspace page, and check out the video below.
*The official video for "Heathen Child" - NSFW, but you owe it to yourself to watch this video.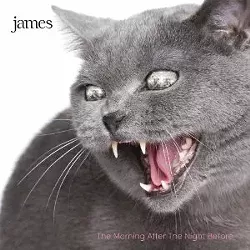 James' The Morning After the Night Before
*James, The Morning After The Night Before The Independent review says of The Morning After, "This companion-piece to this year's The Night Before mini-album is a far superior effort, a homogenous collection of subtle songs about devastation which packs a powerful punch." The album was released as a single disc called simply The Morning After in the UK, but is being released as a double album with a longer title and significantly more awesome album art (pictured) in the US. There's a sample of the new album streaming here.
Les Savy Fav's Root For Ruin
*Les Savy Fav, Root For Ruin Pitchfork gave Root For Ruin a 7.2, saying "There's not many surprising moments on this record; if anything, it feels like the first Les Savy Fav album that sounds more comfortable in its own clothes than twitching to tear apart its own skin. This isn't necessarily a bad thing: LSF still excel at constructing miniature explosions of songs, even if they sound a bit tidier now." Stream the new album via Myspace Music.
*Linkin Park, A Thousand Suns Stream the entire album via MySpace Music.
*Lonely Drifter Karen, Fall Of Spring The Drowned In Sound review claims it would "take a heart harder than the wicked witch's not to melt slightly at a track like 'Russian Bells', with Frinta singing excitedly about waiting "to meet you at the station" before the strings and chorus lift you like the first sight of a long-lost friend stepping off the train. Admittedly, there are occasions when Lonely Drifter Karen's sunniness simply becomes oppressing, 'Show Your Colours' not only has cheese-laden lyrics about cycling through Paris but then over-eggs everything even further with bells and whistling. However, too picture postcard pretty as it initially seems, a darker tone passes over the latter stages of the album like a cloud creeping over the hazy childhood summer." Stream Fall of Spring via Myspace Music.
*Megafaun, Heretofore Slant reviewed Heretofore, saying "Megafaun's latest effort, Heretofore, is the band's most ambitious set to date, a collection of six songs that clocks in at just over half an hour. Unfortunately, it's also the first project on which their ambition at times exceeds their grasp." Read the rest of the review here.
*A live performance of "Volunteer" by Megafaun.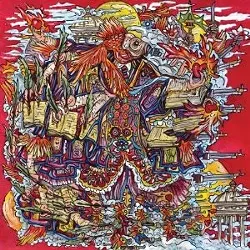 Of Montreal's False Priest
*Of Montreal, False Priest According to NPR's review, "The latest release from Of Montreal can be summed up in a word: bonkers." Read the rest of the review and stream False Priestvia NPR's First Listen.
*Ólöf Arnalds, Innundir Skinni This is the second release from Arnalds, a longtime touring member of Múm. Listen to "Vinur Minn" via Myspace Music, and check out her video below.
*The official video for "Crazy Car" by Ólöf Arnalds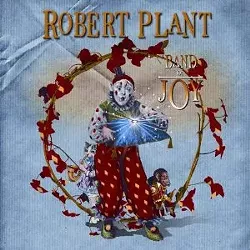 Robert Plant's Band of Joy
*Robert Plant, Band Of Joy "There's restraint here that you wouldn't often hear on Led Zeppelin albums, but there's also power in that restraint. That discipline and prudence brings a feeling of welled-up emotion, of sadness and joy that unfolds brilliantly in the ears of the listener. This isn't the hammer of the gods; just a decent gut punch that's profound, earnest and perhaps even longer-lasting." Stream Plant's new album and read the rest of this review via NPR's First Listen.
*Trey Songz, Passion, Pain And Pleasure Stream the new album in its entirety via Myspace Music, and check out Trey Songz' new video below.
*The official video for "Can't Be Friends" from Passion, Pain and Pleasure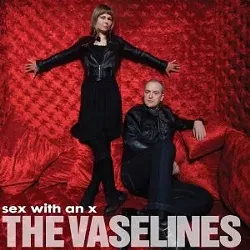 Vaselines' are back with Sex With an X
*The Vaselines, Sex With An X SPIN says of the Vaselines' return, "A whopping 23 years since their last album and with a competent new drummer in tow, the Vaselines have lost the wide-eyed wonder and ragged edges that made their brief, late-'80s run an indie-rock legend endorsed by Nirvana. But staying true to their party platform (sex, God, kissing, etc.), songwriters Eugene Kelly and Frances McKee remain the Ramones of sunbeam, patty-cake pop -- even if they sound less like awkward twentysomethings singing about cats and bikes, and more like the countless post-'90s alterna-rockers who owe them gratitude." Stream the entire album via Guardian.
*The Walkmen, Lisbon Listen to three tracks from Lisbon via Myspace Music.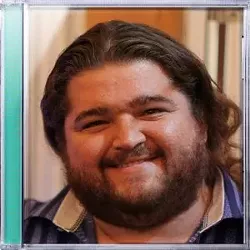 *Weezer, Hurley Listen to Weezer's latest release via Myspace Music. If that's not Weezery enough for you Vintage Vinyl is hosting a Superfun Yeah Yeah Rocketship Weezer covers set to celebrate the release of Hurley tonight at 8 p.m.