Corey Goodman, also known as Superfun Yeah Yeah Rocketship, loves Weezer - a lot. So much so, in fact, that he had to do something to keep himself occupied in the weeks leading up to the release of the band's new album, Hurley. "Well, I used to listen to only Marilyn Manson and heavy metal and be all gothy, then I heard Weezer and my whole life changed," he explains. "Weezer is my favorite band in the whole wide world. They can make me laugh, make me cry and they rock me harder than any other band out there."
He decided to do a Weezer cover show at Vintage Vinyl on September 14, the day of the album's release, to celebrate it -- and perhaps to inspire onlookers to pick up the new album and give Weezer another shot. "A lot of people have given up on them and think that their new material isn't as good as the old, but I'm still a fan 100 percent," he enthusiastically explains.
Goodman recently played a release show for the sixth and final volume of the Scott Pilgrim comic series, for which he wrote a Scott Pilgrim-themed song (and also directed and starred in a music video for said song). If that release party is any indication, tomorrow's set will have lots of dancing, a very happy crowd and Weezer-themed treats. "I'm going to be playing with a small choir of people singing along," Goodman says. "We're going to be playing some songs from every album, along with a couple random b-sides. It's gonna be rad all over!"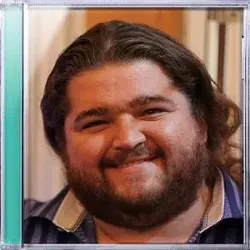 Lost's Hugo Reyes - his friends call him Hurley.
The cover of Weezer's celebrated eighth studio album, Hurley, is a close-up of Jorge Garcia, who played Hugo "Hurley" Reyes, a primary character on ABC's recently concluded series LOST.
Although some of Weezer's most successful songs have been named after people (Jamie, Susanne, Buddy Holly, Mykel and Carli, My Evaline) this choice of title seems a bit out of the blue (pun intended). If you're wondering how the lovable LOST character came to inspire the title and cover art for the album - and really, you should - Rivers explained it all in a recent Spin interview:
As usual, we struggled super hard trying to come up with an album title, trying to find some kind of phrase that summed up the whole aesthetic behind the album: Heavy Mental, Smaller than Life -- I was coming up with all kinds of stuff. But ultimately, we just went with some random word that doesn't really have anything to do with anything. I met and took a photo with Jorge Garcia who was Hurley from Lost; he just has this amazing vibe and his expression in that photo seemed so right, so we just called it Hurley.
With a new album comes a supporting tour. Rivers has been talking about the possibility of a Blue album/Pinkerton ("Blinkerton") tour. If the proposed tour happens, the band will play two concerts in each city - one night featuring Blue in its entirety, and the other dedicated to Pinkerton. If/when the tour is made official, it will be a nerd-rock dream come true.
In the meantime, celebrate Hurley's release with a career-spanning covers set and treats emblazoned with flying Ws. Considering the chilly weather as of late, you may even want to wear your Weezer Snuggie.
*Rivers' MTV Interview