The number of chain record stores nationwide has dwindled. However, St. Louis has become an unlikely safe haven for indie record shops as well as for DJs who prefer to spin the black circle instead of scrolling their iPods. In this weekly column, we'll focus on personal portraits of St. Louis' record aficionados and the rooms where they store their treasures. Meet the last collectors standing. (Know a collector who deserves the spotlight? E-mail us. Miss any previous ones? Read 'em all here!)
Something instinctive drives hardcore music collectors to surround themselves with tunes. Jack Probst embodies this instinct. Music isn't just a hobby for him; it's a passion. He's spent the last six years as a clerk at Euclid Records, works at the Pageant and spends nights DJing at the Halo Bar under the name DJ Jackieboy. We met at Probst's quaint home on a lazy Sunday afternoon to talk about his passions, including Cure makeup, Satanic Panic In The Attic, and mixtapes.
Last Collector Standing: Working at both Euclid Records and the Pageant, what's the most exciting band you've heard or seen this year Jack Probst: The year started out a little slow for me as far as what I was excited about. There were a few things off in the distance. The first thing I heard was the new Phantogram album Eyelid Movies. That's the best thing I've heard. It's a guy and a girl, and a lot of the beats are almost hip-hop beats to these nice, sometimes depressing pop songs. I'm going to go see them live in Madison in October.
As far as live bands, I saw Radar Brothers at the Old Rock House. There were maybe fifteen people there at the most. They were amazing. I've been listening to them since I heard them on the first Merge Survive and Advance compilation back when I was in high school. I picked that up and got into bands like Spoon, Radar Brothers and a bunch of others.
It was pretty incredible and I got to hang out with the lead guy [Jim Putnam] after the show. I let him know that I worked at a record store and had been bringing his albums in and playing them as long as I've been able to. He was really glad that even though there weren't a lot of people who showed up that there was still someone there who was playing his music and getting the word out.
Do you own either the Phantogram or Radar Brothers albums on vinyl? I owned both on vinyl. The Radar Brothers album The Illustrated Garden I bought at the show because he was selling test pressings, which were each numbered. I got it signed by him.
Since I started, a lot of my vinyl buying has been going through the albums that I like the most [each] year and making sure I own them on vinyl. I've done that the last few years.
How do you go about doing that? Do you write a top 10 list? That's my favorite thing to do at the end of every year is write a top ten list. I keep track of it from January until December. I've got a list for the last six years, as many years as I've been at Euclid.
Were you making list when you first got into music? Oh yeah. I would always make lists as a kid, of stuff I wanted [or[ stuff I needed for my collection still. I used to sit in class in high school and just write out mix CDs or mixtape ideas. Just listing songs. I always carried a notebook with me to keep track of stuff like that.
I got into music a lot [as a kid] and I attribute that to my three uncles on my mom's side, Rich, Bill and Wally. They were in high school and going into college when I was a little kid. They were in bands like Give Her A Lizard with Matt Harnish from Bunnygrunt. They would all practice in my grandma's basement.
They were growing up, and CDs were real big. They always had massive CD collections. They listened to a lot of college rock. I remember my uncle Wally had a big poster of REM's Document on his bedroom wall.
They were a big influence on me. They took me to see a lot of bands when I was a little kid. When I was around five or six we saw Elvis Costello in Chicago, and we saw the Cure when I was about seven. I was the only kid at Riverport. I remember going to the show and I wanted to be cool so I thought I'd be like Robert Smith and paint my fingernails, but my mom didn't have black. So I just alternated different shades of red on my fingernails and was running around with an oversized Cure T-shirt.
My uncle Bill taught me how to make a mix tape. He used to make them for me actually. I would make him a list of songs then he would make them. Then he started to teach me how to do it with two tape decks or a deck and a CD player. The first mixtape I ever made for a girl was in first grade. I had my dad help me. I know it had Cure songs on it, and it probably had REM. Maybe U2. The second side was all of side A of the Super Mario Bros. movie companion tape. I didn't know how to fill the second side so we just put this tape of the Super Mario Bros. movie on this tape for this girl. I remember sheepishly walking up and throwing it on her desk and running away. I looked up to my uncles and I knew that's what they did when they liked a girl, but I didn't know how to communicate other than that at the time. I didn't get into collecting my own CDs until probably late grade school. Before that it was action figures but then it transitioned into music. Wally worked at Streetside in Webster back in the early '90s. One of my birthdays he bought me the Pixies' Doolittle, Jellyfish, Split Milk and Nirvana, Nevermind. The first two totally stuck. Nirvana's Nevermind never caught on for me. My earliest memories of the record store are of the few times we visited Wally. I always thought it was amazingly cool that he worked at a music store. That was a big influence on where I am right now in that I work at a really cool record store.
How did you get hired on at Euclid Records? I really got hired on because I had to do a job-shadowing project in my senior year of high school for my college comp class. My teacher asked what we wanted to do with the rest of our lives. I've always wanted to own my own record store. Her response was that she knew someone who owned a record store because her husband collects and she put me in contact with Joe Schwab.
I spent half the day with him and interviewed him for this project. I spent the rest of the day with John who used to work there. He played me Of Montreal's Satanic Panic in the Attic. That was the first thing I ever bought there. Basically, everyone ended up liking me. I sent Joe a thank you email and said if he needed any help over the summer to let me know. He said he was thinking the same thing and offered me the job.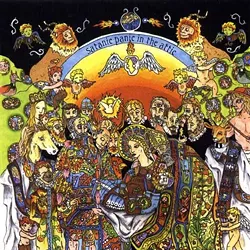 In working at Euclid Records for six years, do you have a favorite conversation that you've had as a record store clerk? One time a guy called looking for some obscure thing on vinyl. I'm helping him out and I go look for it and we don't have it. I let him know and he asked, "What kind of music do you like?"
"Oh, I don't know. Indie stuff."
"Is that that black chick who won a Grammy?"
"No. Indie like independent. Like small labels."
He thought I was taking about India Arie. [Laughs]
When John played me Of Montreal's Satanic Panic in The Attic, that changed a lot. That was the album that made me look at more things that were electronic. That album is so A.D.D. spastic, going from one end of the spectrum to the other. I had never heard anything like that. There are parts that sound like The Beatles. There are parts that sound like dance hall. It was like the perfect mix tape on one album.
What is your all time favorite mix tape you've ever made? There was a tape I made for my friend Melissa in 8th grade. I had a massive crush on her at the time. I was way too shy and had someone else give it to her. I was told that her response was that she threw it out the window. This was before we were really friends. A few years later when we actually became real friends I found out that she actually had the tape and listened to it constantly. It had a lot of funny love songs and skits from the Space Ghost Coast to Coast CD. It had Ben Folds Five's "Best Imitation of Myself." That was always a song we'd bring up in our friendship. When I started college she had me make the five-year anniversary upgrade to CD. I made one disc side A and another disc was side B. It was in the same order and I made liner notes.
From a collector's standpoint, what would happen if all entertainment media went straight to digital? My apartment would be way emptier, but when I move to my next apartment or home it will be a lot easier [Laughs]
There would be a lot of loss. There would be a lot of loss in quality in a product. It feels good to own things. With digital I could loss my entire collection and that would be heartbreaking, but if I have it there in my hands I know I can enjoy it anytime I want. I know I can have the memories associated when I first got it.
I'm proud to work somewhere that keeps this alive. I'm proud to work at a real record store instead of a store that is phasing out their music section. It's my second family. The people that are like me and know why I do the things I do. There are a lot of other cities that don't have this. It's really tough to see so many record stores across the country close, but we've got something special here. We're going to be here for a long time.