(A to Z has several writers and photographers covering LouFest. Reviews and photos of the other bands from the first day are coming in separate posts.)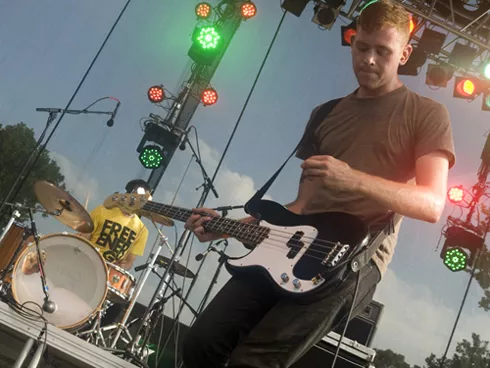 Jon Gitchoff
Titus Andronicus at LouFest. Check out our entire slideshow of LouFest Day One.
New Jersey noise-punks Titus Andronicus showed up armed to the teeth with guitars and fury. After kicking off the set with a rousing version of "A More Perfect Union," the opening tune from 2010's The Monitor, the quintet ran into some sound issues which seemed to linger for a couple songs. The glitch was eventually cured, and the members of Titus went about their business and delivered one of the most high-energy sets of the day.
Die-hard fans were treated to more of a mixed setlist compared to what the band has been playing as of late in support of Monitor. The set touched on older classics ("Fear and Loathing in Mahwah, NJ" and "Titus Andronicus"), but still managed to nail all the new heavy hitters ("Theme From Cheers", "...And Ever," "Four Score and Seven"). Perhaps the highlight was "No Future, Pt. Three: Escape from No Future" which had everyone's inner dork reeling as the band repeatedly sang in unison, "You'll always be a loser." For a few minutes, it actually felt pretty cool to be a loser.
Titus was clearly having as much fun as the crowd too, maybe more so. Singer Patrick Stickles abused and manipulated his guitar while spinning self-depreciating yarns of failure and defeat. Guitarist /violinist Amy Klein bounced around the stage donning an ear-to-ear grin, as David Robbins (keyboard, guitar) tweaked pedals, laid down E Street keys and aptly filled out the wall of guitar. Truly a rewarding set.
Jon Gitchoff
Lucero at LouFest. Check out our entire slideshow of LouFest Day One.
As Lucero ringleader Ben Nichols stepped to the microphone at the beginning of its set, he issued a fair warning that he was a little under the weather, and told the crowd that he had "a date with an IV" after the band finished. I'd suspect any longtime fan of the group wasn't really worried, though; Nichols and Lucero are infamous for showing up half-tanked, but they always churn out an enjoyable show. Unfortunately, the band's LouFest set was the exception.
The band kicked things off with fan-favorite "That Much Further West" and quickly lunged into "Can't Feel a Thing," from 2010's 1372 Overton Park. You could tell the band was playing with a sense of urgency--like it knew the wheels were about to fall off. Lucero tried to cover all of its fan favorites ("Tears Don't Matter Much," the Jawbreaker cover "Kiss the Bottle," "Drink 'til We're Gone") but it was evident that Nichols was struggling. His struggles became even clearer as the band laid into "Wasted" and Nichols couldn't come up with the proper verses. Shortly after, the singer took a spill behind the drum kit and its set was over.
It's a shame Nichols couldn't keep it together, because the band sounded great. Although some fans may have been bummed Lucero didn't have the horn section that accompanied them for much of its 1372 Overton Park tour, the band did have mulit-instrumentalist Rick Steff and pedal steel wiz, Todd Beene (of Glossary) in tow. It's unfortunate that one of the more anticipated sets of the day turned out to be possibly the bummer of the day -- but, hey, that's rock & roll.