The number of chain record stores nationwide has dwindled. However, St. Louis has become an unlikely safe haven for indie record shops as well as for DJs who prefer to spin the black circle instead of scrolling their iPods. In this weekly column, we'll focus on personal portraits of St. Louis' record aficionados and the rooms where they store their treasures. Meet the last collectors standing. (Know a collector who deserves the spotlight? E-mail us. Miss any previous ones? Read 'em all here!)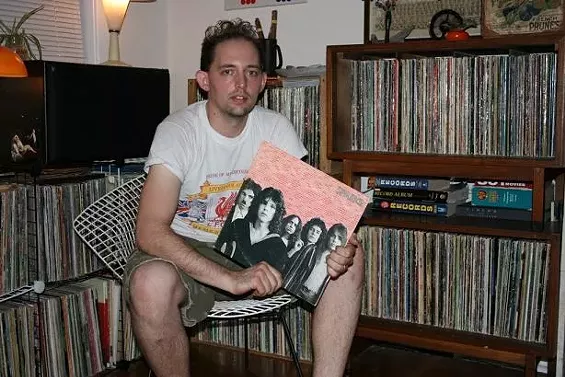 Collector Adam Newsham embraces a vinyl experience you can never find with iTunes: the thrift store culture of digging through used records. He's amassed an impressive, diverse collection of music: His records (which are alphabetized backwards) take up the living room of the Richmond Heights apartment he shares with his wife, Angie, and two-year old son, Aero (named after Eero Saarinen, the Finnish architect responsible for the design of the St. Louis Arch). Meeting late on a Saturday night, Newsham quietly put on Lou Reed's Street Hassle and chatted about the ever-present availability of Sergio Mendes records at thrift stores, Robert Crumb and "The German Liberace," Heino.
Last Collector Standing: What is the last record that you bought? Adam Newsham: Just today I bought Nancy Sinatra and Lee Hazlewood's second album. It's totally awesome! It [has] really cool production. Lots of echo vocals. I love echo on vocals. I'm itchin' to listen to it. I haven't even opened it yet. It's actually sealed from the 1970s. I got that and a Sparks 7 inch, "Something For the Girl Who Has Everything," and Lou Reed's The Bells from Vintage Vinyl.
When did you first start collecting? The first time I remember getting CDs was through Columbia House. I got Sailing The Seas of Cheese by Primus, the first Helmet album [Strap It On] and I think Sepultura, Beneath the Remains. That's when I first remember buying CDs. When I first got into music I was listening to my parents' record collection. They liked all kinds of stuff. My mom was into musicals. She did musicals in school, so we listen to a lot of that. My dad listened to classical, so we listen to a lot of that. We also listened to a lot of '60s rock.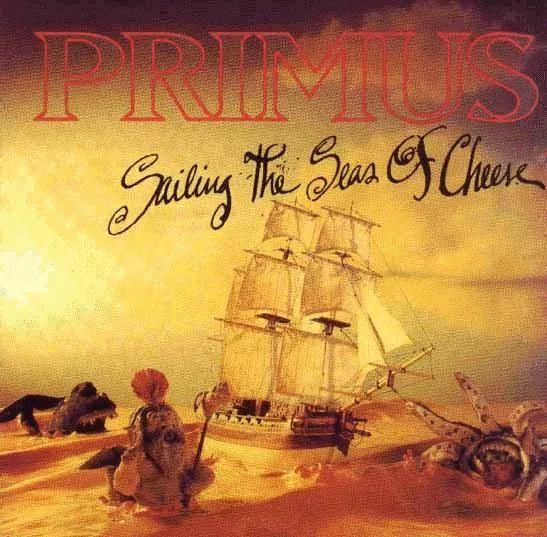 My uncle also had a big collection. I can remember being really intrigued by it when I was a little kid. He had his office, and my cousin who is my age, the two of us boys weren't allowed in his office. When we'd get in there it was really cool because he had this big wall full of records. We'd start pulling them out and see all these '60s garage bands. As a kid, that had a big effect on me.
I started collecting records right out of high school. I still lived with my parents and started looking through their stuff. I was getting more into music; more into rock and metal. I was trying to find the roots to all that stuff, and having a lot of '60s music helped.
I would basically buy [records] at garage sales or thrift stores. I didn't really go to record stores. I collect all kinds of records. I like modernism and '50s, '60s and '70s furniture. I collect records with those types of pieces on them. I have a whole collection of modernism records.
With records I have a real since of nostalgia. It's hard to describe. I grew up with it, so it just feels real natural. I don't think I've ever downloaded a piece of music. I'm still in the dark ages with [music] media. How do you think nostalgia plays into the way we listen to music and purchase music? You almost live through the record. You live through your parents listening to [records]. I go all over the board. I love new wave. Listening to it, you kind of get the sense that you were there. You listen to this music and research where all these bands were from and you put yourself in that place. I think that's really cool with records, because you actually have the thing.
A kid today downloads an album. It becomes a favorite album of their youth. Do you think they're going to have the same sense of nostalgia 20 years from now that you did from listening to a record? Possibly. I think you still get a feel for the music, but whenever I put on a record I can see the sleeve and see the art. I don't think you will necessarily get that same sense, because it's nice to have that tangible thing. I guess you get that with CDs too, but it's different.
To be totally honest I don't really know, because like I said, I've never searched online for music. When you start looking for records and you want to find that gem, they really are rare. It's hard to find.
Do you have an album cover that was highly influential in encouraging you to collect records? One that stands out in my mind from when I was a kid was Big Brother and the Holding Company Cheap Thrills, the R. Crumb cover. I remember looking at it and thinking it was so crazy. Crumb's a nut. His drawings are far out, especially for a little kid. Then you open it up, and there's the band with all this psychedelic shit in the background.
I'm real into art and photography. I'll collect records for the album art even if I don't necessarily like the record. I like foreign records, German records. Heino. His album covers are really weird. He's a really weird looking dude, but every time I see one I'll pick it up. He's like the German Liberace.
Do you have a favorite record shopping experience? One really cool one was up at the flea market in Wellston. I was flipping through some bins, and I found the first three Funkadelic albums and the first Parliament record, one right after the other. They called me the record man up there.
[Goes into funky voice]
"Ah, it's the record man."
"How much do you want for these?"
"Ah man, I'll give you a quarter a piece on them."
That was pretty awesome driving home from that. It was always really cool finding surf records. They're kind of hard to find. A couple I've paid what they're really worth because I really wanted to have them, but A couple I've found just digging in a flea market [and got them for a deal]. I found Dick Dale King of the Surf Guitar. It was in stellar condition.
You also have a sizable Bossanova collection. How did you get into that? I went to a thrift store and I was searching for records. I bought a whole bunch because they were quarter records. It's awesome when you find quarter records. So I bought a whole bunch and one of them was Sergio Mendes & Brasil 66. Every time you go to a thrift store you are pretty much guaranteed to find one. I put it on when I got home and was totally blown away. I kept getting more into it and [was] reading the liner notes on who wrote the songs. Sergio Mendes barely wrote any of his songs. He wrote a decent amount on the first few albums, but then he did like 15 albums of a bunch of standards mostly by Antonio Carlos Jobim
Do you have a prize piece in your collection? I've got a couple of them. I'm not sure if I can do just one specific album.
Okay, If you could be buried with 5 albums, which ones would you choose? Dick Dale King of the Surf Guitar. My copy of White Light/White Heat. It's one of the first pressings from the Velvet Underground. Air Moon Safari, Sparks Kimono My House and Brian Eno Here Come The Warm Jets.
Sparks!
Can it be five crates of albums? (Laughs)
Do you and your wife Angie have a song or album that you bonded over? We actually met standing over a turntable at a house party. We started talking and bonded over dance music. I actually exposed her to Air. We kind of vibed over the whole album Moon Safari. That album is pretty significant to both of us.
When do you think your going to show your son your record collection? He knows all about it. He's got his own record player already! (Laughs)
What was his first record? When Angie and I got together we decided we wanted to have a kid so we started collecting kids' records. The very first one we got was a Care Bears record. It's in his room.
As a collector, would you say records are your main passion? Totally. It's the music. I keep getting more and more into it and finding new [artists]. It's not necessarily about the records all the time. It's about the music.