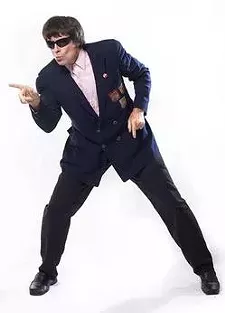 www.lynnterry.com
Beatle Bob mid-dance move
Of all the earth-shaking changes the age of internet and reality television has brought about, few have been as mystifying, fascinating, and at times, irritating as the 21st century nouveau celebrity -- people who are famous for being famous. Most of them are female and have physical assets that seem to justify the public's fascination, but they're not all Paris Hiltons and Tila Tequilas. There are also Beatle Bobs.
Bob's famous for being famous. He's everywhere all the time and when he's there, he makes his presence known. He's introduced and danced with countless bands, he was in a Guided By Voices video, he's the subject of a documentary which is currently in production and he even has his own iPhone app in the works. Most notably, he recently celebrated a string of 5,000 nights in a row of concert-going with --what else? -- a concert.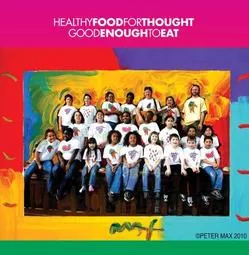 Peter Max
Healthy Food For Thought
If you're thinking, "Man, what's he gonna do next? Read poetry about eating vegetables over a blues guitar for a kids CD?" then you guessed right. Bob's latest accomplishment, contributing healthy eating themed poetry to a kids' music and spoken word compilation called Healthy Food Thought: Good Enough To Eat! is appropriately oddball.
The CD is a fundraiser for the New York Coalition for Healthy School Food (NYCHSF). It features some big names like Moby and Julian Lennon, and the artwork was created by the legendary Peter Max, famous for his psychedelic painting style.
Here's what Beatle Bob has to say about his contribution to the project, straight from his press release:
The compilation is divided up in two CDs: CD 1: First Course - Songs. CD 2: Second Course - Spoken. It's on the Second Course CD you'll hear me reading the poem I was asked to write and record for the Spoken CD. I'm on Track 29, and my poem is called "Down At Big Greens." It's a tale about a hip-swinging eatery - Big Greens - where all the cool kids like to hang out at, where it doesn't matter how you dress and the vegan food, drinks and desserts are healthy yet mouth-watering double-delicious. And the hipster hangout also has a cool jukebox filled with out-a-site songs!
*Check out Bob's spoken word track, "Down At Big Greens." 29 Beatle Bob - Down At Big Greens by chrissywilmes