Todd Owyoung
Rush's Geddy Lee. More photos from the show here.
Rush shows are a marathon, not a sprint. They're also not for the faint of heart or for the casual fan: Over forty years into its career, the Canadian trio still plays for close to three hours. Last night at the Verizon Wireless Amphitheater, the prog innovators delivered exactly the kind of set its die-hard fans have come to expect.
View an entire slideshow of photos from Rush's Verizon Wireless Amphitheater Concert.
The show - part of what's dubbed the "Time Machine" tour -- opened with a beloved song, 1980's "The Spirit of Radio." The tune is quintessential Rush: Guitarist Alex Lifeson's beehive-quivering riffs claw at the air, as Neil Peart's clanking rhythms and Geddy Lee's helium yelps swirl around. Parts interlock where necessary or push against each other to create tension; space-rock tendencies linger but never overwhelm. From there, the band jumped eras and albums. Highlights included the Counterparts cut "Leave That Thing Alone" - an instrumental driven by Lee's chunky funk bass and airy, evocative Lifeson riffs - and a killer version of Permanent Waves' thinkpiece, "Freewill." (Much crowd fist-pumping ensued when the title popped up in the lyrics.) Peart's spotlight drum solo - which let him show off a rotating drumkit and genres ranging from jazz to "Rush rave" - was also impressive, of course. (And easily defined as "prog porn.")
Later in the night, Lifeson played delicate acoustic guitar to open a superb "Closer to the Heart," a tune functioning as an apertif for another show highlight. As 2112's iconic Starman logo sailed into view on a video screen, the crowd cheered for nerd-rock heaven: "2112: Part I (Overture)" and "2112: Part II (The Temples of Syrinx)." As the band started playing, hellmouths opened. Wizards cast spells. Black holes swallowed galaxies. Knights slayed dragons. In short, the song lived up to expectations.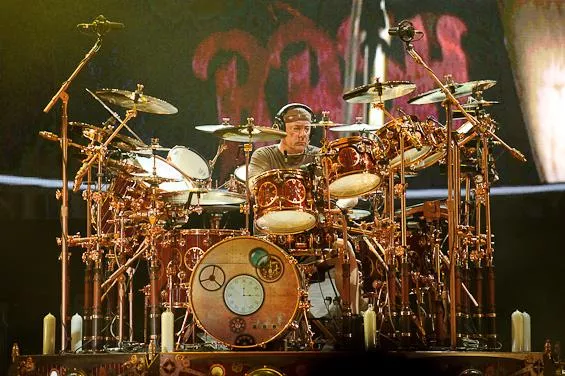 Todd Owyoung
Rush drummer Neil Peart. More photos from the show here.
As the years have progressed, Rush's music has become of the time, without trend-jumping. (Perhaps it's more correct to say that the band inhabits its own musical universe without being ignorant of prevailing trends.) The grunge-leaning Counterparts single "Stick It Out" aligned well with two songs slated to appear on a new Rush album, Clockwork Angels, which was co-produced by Nick Raskulinecz (Queens of the Stone Age, Foo Fighters). "Caravan" certainly recalled QOTSA's rumbling low-end - and had enough pyro and a gorgeous Pixar-like backdrop to keep the crowd entertained - while the dark, textured, midtempo "BU2B" recalled Faith No More's evil moments. Really, there's no reason Rush songs in 2010 should sound this good - but they did.


Todd Owyoung
Rush's Alex Lifeson, highlighted in the center. More photos here.
Besides the new tunes, the trek is also notable because Rush is playing 1981's Moving Pictures in its entirety, which it did to open the second set. (After playing about an hour, the band broke for a lengthy intermission. Or, as Lee explained: "Due to the fact that we are aging rockstars, we are taking a short break." Who are we to argue?)
The cohesion of the album came through as it was performed; so did interesting nuances and influences. The zooming stoner synths and coaxed-out riffs of the ten-minute-plus sprawl "The Camera Eye" segued into the ominous, searing "Witch Hunt" - a perfect accompaniment for the murky, suffocating summer air. Lifeson and Lee's fleet-footed melodies danced around each other in the funk-laced instrumental "YYZ," while near-ska/dub rhythms echoed with EKG-monitor keyboards on album-closer "Vital Signs." (It goes without saying that "Tom Sawyer" was entertaining.) The light show for this section of the night was particularly thrilling: UFO lights circled around during "YYZ," while "Limelight" felt like a Rush pinball game, so many colored lights dazzled and flashed. And while not every moment was transcendent - the audience seemed to feel just exactly how long "Camera Eye" actually is - the full-album-performance gimmick worked.
The "time machine" theme tied together the concert's disparate elements, thanks in large part to the stage props and video. A pre-show film gave backstory about a band named "Rash" beamed through time by a machine called the "Gefilter." (As if to create continuity and blur the edges of reality, Lee wore a shirt with the "Rash" logo for the first set and one with the "Gefilter" logo during the second.) Before many songs, short clips reminiscent of Monty Python's cut-and-paste surrealism introduced the the lyrical theme (and furthered the hot dog/sausage meme; keep reading). Lifeson's amps were modeled after primitive radios or TVs, and had whimsical scenes - tumbling laundry or fighting robots - projected in a bubble screen. Behind Lee, an old-fashioned contraption ostensibly from a factory - seriously, a steady stream of sausages poured out at the bottom -- huffed and puffed; a worker wearing a fake nose and glasses emerged occasionally to pour things into it. Someone dressed up in a hot dog costume also wandered onstage at one point.
Perhaps the most ridiculous bit of whimsy came before "Tom Sawyer." A movie short featured Lee as a stuffy video director battling with Lifeson, who was dressed up as the band Rash's boorish manager. Through clumsiness, a "time machine" button kept being pressed, which made Rash appear as different ages or species - babies, kids, chimps and cavemen. (Predicting that the band would look like wizards in 2013 was particularly hilarious and ever so apropos.) As the song started, video of three chimps miming playing the song kept playing behind the band - a lighthearted touch that enhanced the performance of a familiar song.
Todd Owyoung
Rush at the Verizon Wireless Amphitheater.
Rush's music is serious - and to be taken seriously - but the band itself looked like they were having a blast. Lee and Lifeson grinned, laughed and hopped around on the stage. Frequently, they converged in the center - chummy, but never pulling cheesy rock star moves like the "back-to-back riff battle." Still, both men seemed to become more energized as the night wore on, as if they were absorbing the audience's enthusiasm.
The show wasn't perfect, though. Peart actually dropped a drum stick during a toss - which is such a big deal that a fan made sure to mention it to me during the intermission. Other times, the musical elements just didn't click into place. Lee's vocals wobbled on higher parts or went off-key (especially early on), and Lifeson's guitar didn't quite line up with the rest of the band. "Limelight" especially wasn't as locked-in as it could have been, and it took a few songs after the show started for the band to warm up and hit a groove.


Todd Owyoung
Lifeson and Lee. More photos here.
To many Rush fans, this might have caused much consternation. After all, the band's precision is a virtue, its reliability a comfort. But it also made the band human. And even a Rush show with a mistake here or a muff there is still more precise, more entertaining and more professional than 99 percent of touring acts today.
Setlist:
1. The Spirit of Radio
2. Time Stand Still
3. Presto
4. Stick It Out
5. Workin' Them Angels
6. Leave That Thing Alone
7. Faithless
8. BU2B (a.k.a. I Was Brought Up to Believe)
9. Freewill
10. Marathon
11. Subdivisions
Set Two:
12. Tom Sawyer
13. Red Barchetta
14. YYZ
15. Limelight
16. The Camera Eye
17. Witch Hunt
18. Vital Signs
19. Caravan
20. Drum Solo
21. Closer To The Heart
22. 2112: Part I (Overture)
23. 2112: Part II (The Temples of Syrinx)
24. Far Cry
Encore:
25. LaVilla Strangiato
26. Working Man
Quote of the Night: During the first set, Geddy Lee quipped, "Well, this was the place with the pigeons, wasn't it?" As the crowd laughed, he said, "No matter if a pigeon shits on him" - and motioned to Lifeson - "we're not stopping!"
Critic's Notebook: The man sitting behind me wanted to note that he was one of the biggest Rush fans at the venue last night. Why? Well, among many reasons, he traveled from Alaska for the show, which he attended with his son. I salute you, sir!
At most shows, wearing a concert T-shirt from the band you're seeing is considered a faux pas. That rule, however, doesn't apply at Rush shows. The crowd sported an impressive array of shirts from different Rush tours and albums.
The in-concert video projections frequently zoomed in on the band members' hands as they played their instruments and parts - a nice touch for the technically minded fans in attendance.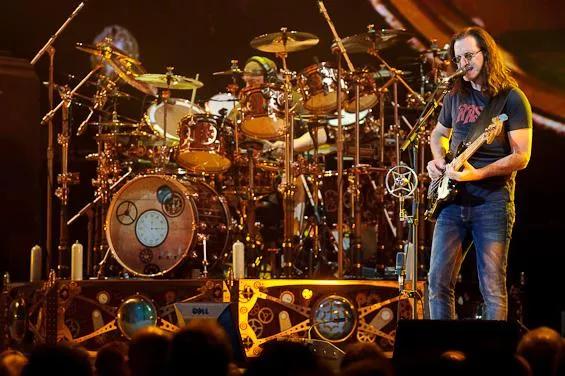 Todd Owyoung
Lee in front of Peart's massive drumkit.