The idea came to her at 3 in the morning on a Wednesday.
"I had a mindgasm," said Tatyana Telnikova. Formerly of Cabin Inn at the City Museum, she's now the proud, proud new owner of HandleBar, a bike-friendly, sustainable and -- most importantly -- local bar in the old Bar 5/Church Key spot at 4127 Manchester Avenue.
Telnikova describes her mindgasm this way: She wanted to incorporate the elements that made the Cabin Inn a great hangout, in a community-oriented place appealing to the environmentally-minded bike community -- while enriching the neighborhood and driving more bike traffic down the thoroughfare. She Googled the Grove, and was met with serendipity: a Tour de Grove announcement and a tagline -- the Grove's "halfway to everywhere."
"I was like, It's meant to be! It's a sign!" Telnikova said.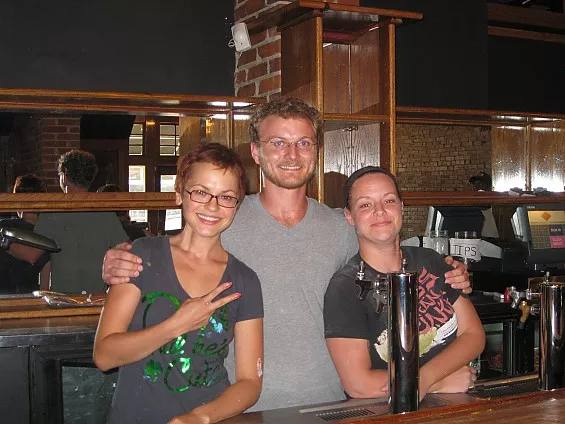 Diana Benanti
The HandleBar team: owner Tatyana Telnikova, Manager and Renaissance Man Blake LaRue, Director of Inebriation Keeley McGrew.
The formula of HandleBar is simple: bikes are a metaphor for locality. Everything from their brews to their "healthy, craveable snacks" will be local. All the art featured in the place will be by local artists, and the same goes for the music. Telnikova enlisted her artist friends to make kinetic sculptures out of donated bikes from BicycleWorks and paint murals and build custom monster bikes. She said tagging walls in bathrooms is one of her pet peeves, so she's preempting the inevitable bathroom graffitti by putting up dry erase boards, and allowing her artist friends to have their way with the walls before HandleBar opens.
"I'm not a professional bike rider at all, I don't belong to a bike club," Telnikova says. "I've been living in the city for a while and I just really like riding my bike around the city. I've noticed over the last several years, the city seems to be promoting bike riding, and I've noticed a lot more people are riding these days." She's not wrong--new bike clubs in the vein of FBC are cropping up, and the St. Louis bike mafia is more visible than it's ever been. But Telnikova isn't opening an elitist bike bar; she wants everyone to feel equally comfortable, from bike hobbyists to diehard cyclists.
Telnikova and her team from the Cabin Inn, Keeley McGrew and Blake LaRue, have several phases planned for HandleBar. They hope to open by early September, or at least in time for GroveFest on September 25. Right now it's about getting the bar ready for service, but Telnikova and crew aren't stopping at bike sculptures and local flair. They've designated an area of their large patio that will eventually become a bike tune-up shop and monster-bike building station, and they have designs on a complicated irrigation system powered by a stationary bike once they get their garden up and running next summer. Telnikova hopes to have a bike-check as well -- a pulley system that will store bikes on the ceiling so patrons can keep an eye on their beloved fixed-gear vintage Schwinns while imbibing. Keeley McGrew is the Director of Inebriation at HandleBar, and her behind-bar philosophy is simple: promote local microbreweries. McGrew said her goal is to have every St. Louis microbrewery represented at HandleBar.
"If it comes in a 12 ounce and is made in St. Louis, we're gonna have it," McGrew said. They're building a signature drink menu with cocktail names like Banana Seat, Road Rash and Holy Spokes. McGrew is still working on the menu, but clued us into what we can expect besides local craft beer: "Layers and fire--these are things I really, really like."
LaRue is the manager and Renaissance man. Telnikova said he's taking care of the seasonal menu and the "idealistic" side of things while she deals with the business aspects. LaRue said he takes his own containers to restaurants when he gets take-out, and never walks into a coffee shop without a reusable thermos, so he's very concerned with keeping the bars waste to a minimum and making sure they're sustainable.
"We could just run a bar and get people drunk, or we could accomplish other things," said LaRue.
Diana Benanti
Craig Downs' monkey-on-a-bike mural in progress.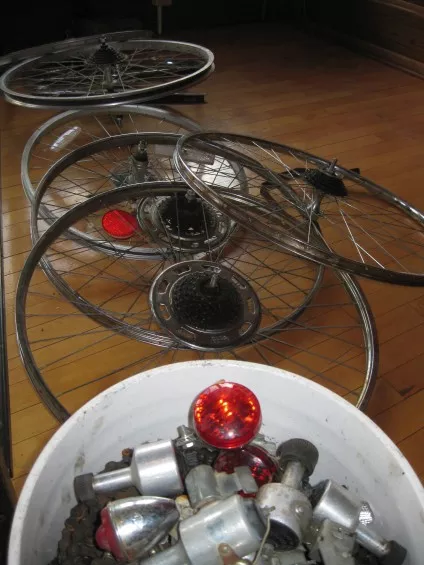 Diana Benanti
Bike parts in the post-bike, pre-art stage.
Diana Benanti
Bikes donated by BicycleWorks.