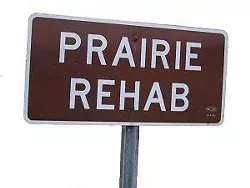 On Friday, August 13, at the Schlafly Tap Room, Morgan Nusbaum (The 75s/Bruiser Queen), Tenement Ruth and Prairie Rehab are playing a free show. The latter is the new group formed by the members of the Linemen, sans singer Kevin Butterfield. Prairie Rehab's sound is certainly a descendent of that band's sweet-spot country, but pedal steel/guitar/mandolin player Scott Swartz says the new group is "drawing on influences ranging from Emmylou Harris to the Beatles to Gram Parsons to the Jayhawks."
Partial credit for this evolution certainly goes to the band's vocalist, Texas native Lacie Engels. After Butterfield moved away in May 2009, Swartz put up an ad on Craigslist seeking a "female Americana singer."
"We had a few responses," he says. "Hers was memorable in that she did not oversell herself. In fact, looking back she undersold herself quite a bit. She was very honest about having basically no band experience, but she did have some rough vocals/acoustic guitar demos, and her voice and songwriting talent were apparent.
"We tried out a couple other singers, but it was clear to us that although Lacie needed to build experience, she had the best long term potential. After the couple of practices we had with her to that point, it was clear there was a musical 'spark' and everyone was comfortable personally, so we asked her to join."
Swartz adds that as the group's songwriting process has evolved, Engels is starting to write lyrics.
"I thought her voice was great for the direction I was hearing for the band," he says, "and her lyrics have a 'literary' flavor to them which also fit the direction."
Prairie Rehab has been recording an album (release date TBA); Swartz notes that the Feed's Dave Grelle has contributed keyboards, while Funky Butt Brass Band members Ben Reece, Adam Hucke and Aaron Chandler added horns to three songs. Other members of the band include bassist Greg Lamb and drummer John Baldus.
Hear a sneak peek of two songs below.
MP3: Prairie Rehab, "Ernest Tubb"
MP3: Prairie Rehab, "Philology"