Everybody's Talking About Cassettes This Week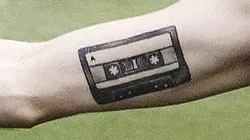 In this week's paper, Chrissy Wilmes expanded her blogpost about the St. Louis Mixtape Club into a longer feature. Unbeknownst to us, however, last week turned into "Let's Talk About The Resurgence of Cassette Culture" everywhere. Our sister paper, the Dallas Observer, published a feature talking about the rise of non-CD formats, including cassettes. This came a few days after the LA Times wrote an extensive piece centered around the city's influential tape labels such as Not Not Fun. And this morning, Alternative Press published a long article about the burgeoning popularity of the format.
Support Local Journalism.
Join the Riverfront Times Press Club

Local journalism is information. Information is power. And we believe everyone deserves access to accurate independent coverage of their community and state. Our readers helped us continue this coverage in 2020, and we are so grateful for the support.

Help us keep this coverage going in 2021. Whether it's a one-time acknowledgement of this article or an ongoing membership pledge, your support goes to local-based reporting from our small but mighty team.

Join the Riverfront Times Club for as little as $5 a month.
Euclid Media Group, LLC
Read Our Sister Publications