Diana Benanti
Get yr geek on tomorrow night out at the new Sci-Fi Lounge in Crestwood Court.
Attention toy freaks and sci-fi geeks: The Sci-Fi Lounge is back with a new location at Artspace in Crestwood Court. The lounge, arcade and toy museum will celebrate its re-opening tomorrow night with a performance by Superfun Yeah Yeah Rocketship. The event starts at 4 p.m. and goes until 10.
The Sci-Fi Lounge recently shuttered its location in the Central West End; owner Coyote G. Bynum said it wasn't doing well in its residential location next door to Joe's Cafe.
"I think there was a good amount of local artisans who were sad to hear it was closing," says owner Coyote G. Bynum. "I had people coming from South City, Florrissant, Belleville. But it's all turned out for the better."
Bynum says the new 3,000-square-foot space has afforded an expansion of what he can offer as a venue and lounge, but it also gives him an opportunity to properly display the impressive collection of Star Wars paraphernalia, monster figurines, pinball machines, Todd McFarlane toys and associated pop culture effluvia.
"I'm the guy who brought it out of the basement," Bynum says with a chuckle.
The new space will feature monthly art exhibits from local artists, as well as the type of special events Bynum had success with at the old lounge, like Draw Club and The Artful Ninja. The Sci-Fi Lounge will continue to offer music, and Bynum has plans to expand their programming. Bynum said they'll be open Fridays and Saturdays for sure, and probably during the week. (He's still hammering out the details.)
The nerding out potential at Artspace goes beyond Bynum's place -- there are two gaming places for Magic: The Gathering and D&D fanboys and girls.
"We've got some games here, but they range from Monoploy and Scrabble to Last Night On Earth. This is the middle ground here, we're intermediate til you go full-on nerdier," Bynum said. "I've been joking about changing the name from Artspace to Gamingspace."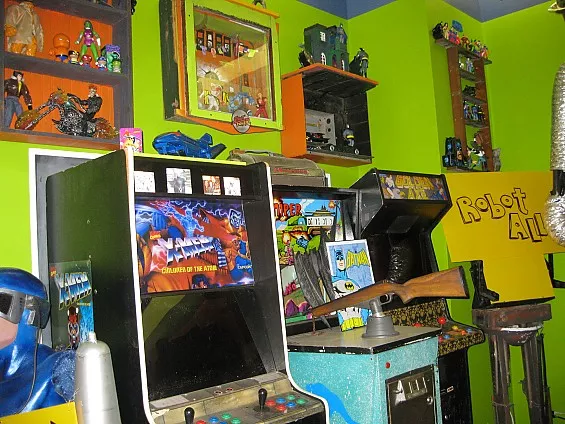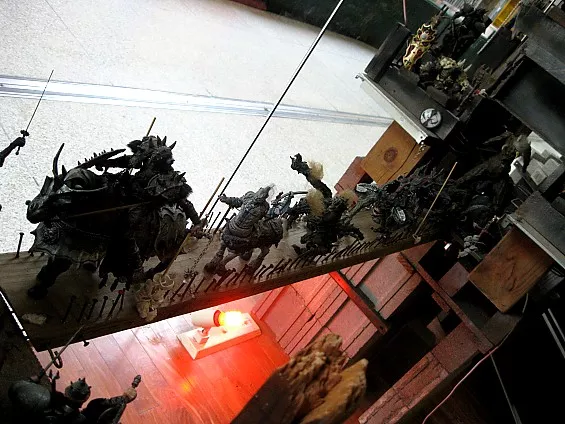 Diana Benanti
Todd McFarlane toy display.