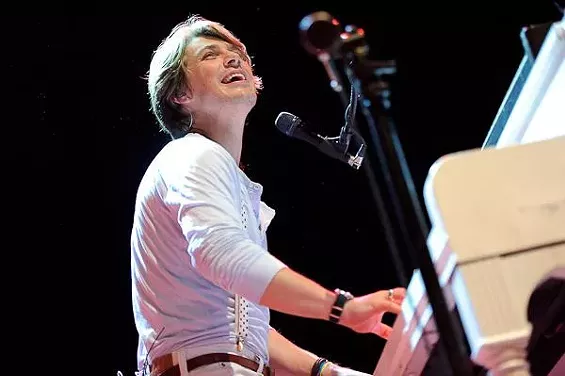 Mock Hanson's music at your peril. The fresh-faced trio is still best-known for its effervescent tween-pop days - don't front, you know all the words to "MMMBop" - but it's grown into its bubblegum-funk/soul sound rather nicely. Last night at the Pageant, the band's devoted fanbase came out in full force to pogo, sing lyrics and scream in delight.
View a slideshow of photos from Hanson's show at the Pageant
The band's touring in support of a new album, Shout It Out, which is a solid collection of pop-glazed, soul/funk/blues/rock hybrids. The set started with the album's first track, "Waiting for This," a piano-driven bounce. Taylor Hanson, sporting white pants and suspenders, was a dead ringer for Topher Grace's character, Eric, on That '70s Show. He pounded out the jaunty melody on a piano onstage, as brother Isaac wailed on guitar to his left. The extended version of the song was a bit tiresome, but it began the night in proper festive fashion.
A stripped-down version of the uplifting "Musical Ride," which found the trio stationed at the front of the stage in storyteller fashion, showcased Hanson's pinpoint harmonies, which remain one of its strengths all these years later. The disco-funk jam "And I Waited," an Out highlight featuring drummer Zac Hanson on lead vocals, was also infectious; the song channeled the best moments of Maroon 5 and moments from Hall & Oates. And the soul-rattle "Get Up and Go" had the tempo and timbre of the best Huey Lewis & the News songs (albeit G-rated Huey Lewis). In fact, much of Hanson's set felt plucked from another era, when pop music was innocent and well-crafted with an eye toward emotional warmth, not digital detachment.
As if proof of Hanson's talents, songs from its earlier days fit right in with newer, mature material. Middle of Nowhere's "A Minute Without You" lost the Jackson 5 baby fat and showcased some scorching, jangly riffs. The bubblegum-pop fave "If Only" became a jubilant excuse for Taylor Hanson and the crowd to jump around with abandon - a fizzy revival bursting with sunburst harmonies. Two auxiliary musicians added keyboards, guitars and other instruments, and helped enhance Hanson's grooves.
Rooney was the perfect opener for Hanson. Its no-nonsense 40-minute set showcased pristine, California-flecked pop full of zippy keyboards and kicky riffs. The band's latest, Eureka, was well-represented: New single "I Can't Get Enough" sailed along like a lazy afternoon spent enjoying tropical breezes, while vampy "The Hunch" and power-pop gem "Holdin' On" also stood out. A cover of Del Shannon's 1961 hit "Runaway" let vocalist Robert Carmine show off his falsetto; the title track of the band's 2007 album Calling the World also went over well.