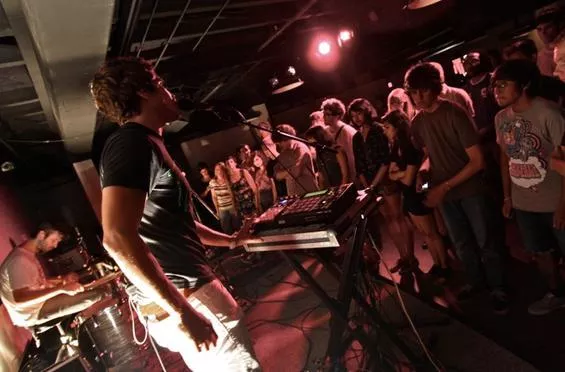 Lee Harris
Bear in Heaven at the Luminary Center for the Arts. More photos here.
Some shows are easy to describe: Throw in little bit of description about the guitars, some almost meaningless word association and compare something intangible--uh, music--to something tangible, like a fire, or something snappier, like stampede of horny bulls pounding through your tympanic membrane. Namecheck some serious musicians who will make the reader say, mmmhmm, and sprinkle some colorful verbiage -- like, say, "parsley over a piping hot plate of dog shit" -- and you have yourself a review.
In other words, some reviews write themselves. But sometimes, I have no idea what to say save for: Invent a time machine, go back to yesterday and make the decision to go see Bear in Heaven and Twin Sister at the Luminary Center for the Arts. I hope the 140 or so in attendance last night can back me up on this.
View an entire slideshow of the Bear in Heaven/Twin Sister show here.
Long Islanders Twin Sister delighted with their modern, dreamwave take on '70s disco and '80s new wave. Live, Andrea Estella's smoky vocals sound a bit like Beach House's Victoria LeGrand doing simultaneous impressions of Cocteau Twins' Elizabeth Fraser and Bjork. The way she sings seems to be an affectation, but it's compelling. Thankfully, Twin Sister didn't fall into the Beach House trap of playing everything exactly like it does on record -- the band was slightly noisy with burned-out melodies and no end to the swirling synth and fuzzy guitar. And while the band used the same sonic textures throughout the set, it managed to wrench a different sound out of every song. "I Want A House" in particular was all waterlogged melody; Estella's earnest delivery enchanted while keyboardist Udbhav Gupta punctuated the cut with an electronic beep, almost like that annoying ding when you've left your lights on in your car.
Another track that's been blogged into it's next life, "All Around and Away We Go," was reminiscent of another Andrea: Andrea True Connection's disco classic, "More More More." The freewheeling synth twinkle and and glowing vocals got a little too close to Beach House's "Norway" for my taste, though it had enough of a psych wobble to differentiate the two. Twin Sister closed with a tender "The Other Side of Your Face."
Brooklyn transplants Bear in Heaven brought the house down with its perfect execution The band was loud and awesome and Jon Philpot's voice was even more deliciously quirky live. (Bizarrely enough, his speaking voice is quite deep, a stark contrast from his higher-pitched singing voice.) Bear in Heaven's cinematic sound looms and dissolves with relentless motorik rhythms, This Heat prog experimentation and cavernous psychedelic wonderment. The band packs so many genres into every song, I'm beginning to wonder if this new decade marks the end of genre distinctions as we know them.
There's a reason why Bear In Heaven opened with "Beast in Peace": It also kicks off its sophomore effort, Beast Rest Forth Mouth, and the drums keep a tribal beat while cymbals simmer and Philpot eases us into the first of many towering choruses. They played every song off Mouth, whose title is a play on the four cardinal directions; "Bag of Bags" was the only track from 2007's Red Bloom of the Boom. Joe Stickney is an insane drummer; I'd swear the damn things smile at him, gratified to be expertly demolished by under his capable hands night after night. It's not hard to see why he tours with Panthers and has drummed for the likes of Rhys Chatham. He plays barefoot and never stops moving -- it looks like he has at least four arms and three feet and could keep a beat on his kit while drinking Earl Grey out of the Queen's finest bone china. Philpot handled the synth and effects and traded guitar duties with bassist Adam Wills. Multi-instrumentalist Sadek Bazarra seems to have recently left the band, making the fact that the band can perform at this level without a fourth member all the more impressive. Philpot is the mad genius behind Bear in Heaven -- it's obvious that it's his baby -- but the band wouldn't be half as awesome without Wills and Stickney.
"Wholehearted Mess" was surprisingly life-affirming for such a depressing song: "Don't forget to forget my name/This is the last song you'll want to sing/Just forget me/You don't know me." Bloggers have touted the single "Lovesick Teenagers" to death, and while it was stately and wonderful live, it wasn't transcendent. The crowd seemed to favor the darker stuff, such as the hypnotic textural throb of "Dust Cloud" and diabolical "Drug a Wheel." "Deafening Love" was sweeping and sinister, a death march with a sense of impending doom akin to just about every Black Angels song. Philpot's vocals grew more ominous over the crunchy guitars and rightfully deafening reverb. "You Do You" rose to crescendo amid a cascading electronic mist and the crowd went crazy for the understated driving force of "Casual Goodbye."
"Well, this has turned out to be really fun. We're used to playing in dirty bars, this place is nice. You guys in St. Louis got class and money," Philpot said as the set came to an end. The crowd tittered and didn't bother correcting him; The Luminary is probably the most immaculately maintained venue in town and by no means representative of St. Louis as venues as a whole. But we can pretend.
Like I said, you shoulda been there.
Bear in Heaven setlist: Beast in Peace Ultimate Satisfaction Wholehearted Mess Fake Out Dust Cloud Lovesick Teenagers Deafening Love Drug a Wheel You Do You Bag of Bags Casual Goodbye Lovesick--Lindstrom & Christabelle cover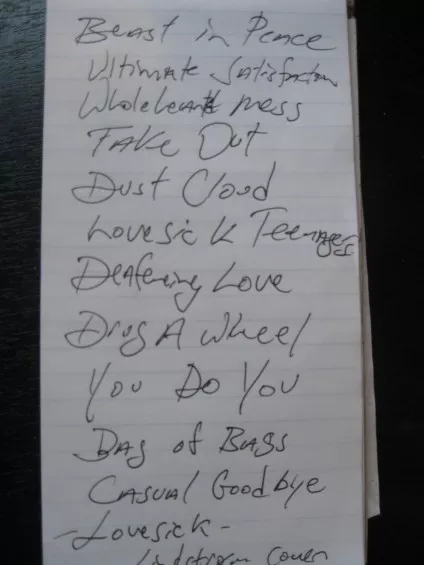 Setlist penned by Philpot himself.
Random note: Local electronic musician Ra Cailum, aka Anthony Engelhardt and his friend Jake Leech opened the show. Only caught a few minutes of their promising set, Engelhardt said it was his first time playing out in a legit venue and so keep your eyes peeled for Ra Cailum dates.