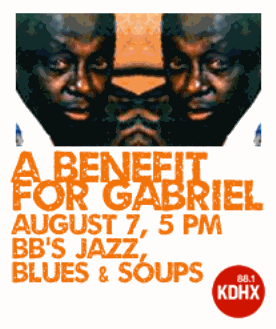 Roy Kasten
The unofficial flyer for Gabriel's benefit
In the days of Clear Channel-dominated radio, KDHX is a beacon representing what radio used to be, what radio could have been. It's the one station on the dial where anything under the sun could be played -- from a poetry reading and controversial news to scratchy records or just songs you might not expect to get radio play. And that's where Gabriel comes in.
On August 7, 88.1 KDHX and BB's Jazz, Blues and Soups are teaming up to host a fundraiser event. The station will be requesting aid from their listeners -- not for its bi-annual membership drive, but perhaps for an even worthier cause.
In June, a fire ravaged Gabriel's home in East St. Louis. The fundraiser aims to help him as he tries to recover from the devastation.
A $10 minimum donation is requested for entrance to the show, which will feature Marquise Knox, the Arthur Williams Band, Silver Cloud with Ron Edwards, the Cryin' Shame Band and more acts to be announced.
Aside from being a fundraiser for a great cause and a talent-packed show, rumor on the facebook event page is that there may be a reissue of Gabriel's own out-of-print recordings available at the benefit.
Gabriel has long been considered by many to be the voice of the blues in St. Louis. That one-of-a-kind voice and lyrical speech style have long filled the airwaves on his late Sunday night/early Monday morning radio show, Gabriel's Tin Pan Alley.
So here's your opportunity to make a donation and help Gabriel through this tough time; after all, he's helped many of us through some rough, late nights.