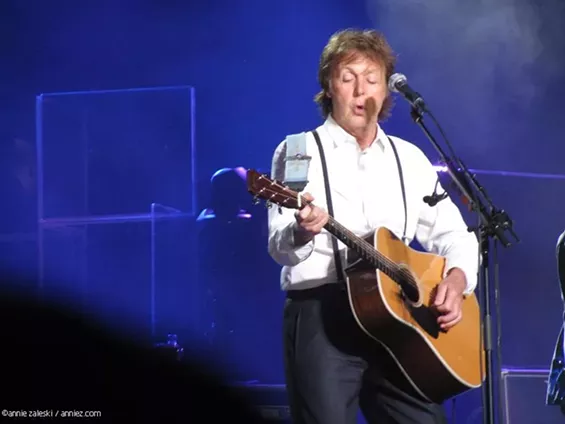 Among other things, the members of the Beatles have taught us that we should never take them for granted. While their (relatively) brief time as being part of the world's biggest band cemented them as musical untouchables, as human beings John, Paul, George and Ringo are (or were) entirely fallible.
That's why a Paul McCartney tour is a must-attend event. Macca doesn't tour very often -- this year's "Up And Coming Tour" is his biggest North American tour since 2005 - and there's no logic to when he does decide to go on the road. But he certainly gives audiences their money's worth: On Saturday night at the Sprint Center in Kansas City, Macca roared through over two-and-a-half hours of music.
The 68-year-old switched between acoustic guitar, electric guitar and piano, although he strapped on a mandolin for the levity-introducing "Dance Tonight" and also played the ukulele. Unsurprisingly, the piano tunes - and "Lady Madonna" and "Let It Be" in particular - were highlights. During "Live and Let Die" he even borrowed some metal moves: As the song built to the racing chorus, a jaw-dropping wall of flames shot up in front of the band - followed soon after by sparking fireworks. McCartney was moved to stand up while banging on the keys as the song neared its conclusion.
Now, at this point in his career, McCartney could craft a neat, hits-laden Beatles/Wings revue and send everyone home happy. And while the setlist contained plenty of familiar tunes, it wasn't safe. "Highway," a introduced as "a song by my alter-ego" - a.k.a. the electronic-driven The Fireman - was a funky, bluesy romp, like the Rolling Stones covering Talking Heads. Wings' "Nineteen Hundred and Eighty Five" was a jaunty, piano-driven highlight; the marching Wings at the Speed of Sound single "Let Em In" faded down as in the studio version and then finished with a loud crash. And the Beatles' brisk folk strums "I've Just Seen a Face" and "Blackbird" were as delicate as calligraphy.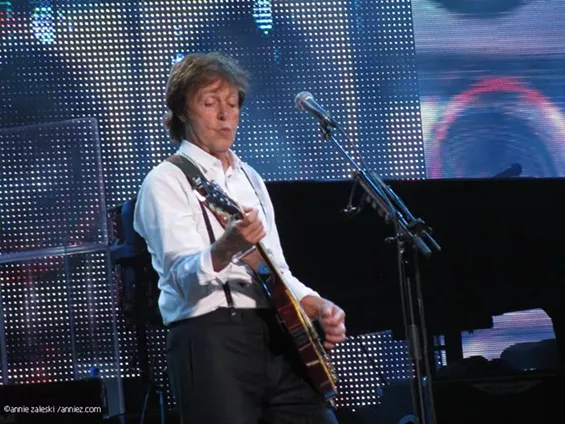 McCartney was in jovial spirits all night; in fact, it was a delight watching how much joy he derived from performing and interacting with his band. (Drummer Abe Laboriel, Jr., who was always dancing or mugging playfully with McCartney, was a particularly amusing comic foil.) Macca's band seemed just as thrilled to be there: Guitarist Rusty Anderson and guitarist/bassist Brian Ray were consummate professionals who constantly grinned and hopped around the stage, like two kids let loose in a candy store.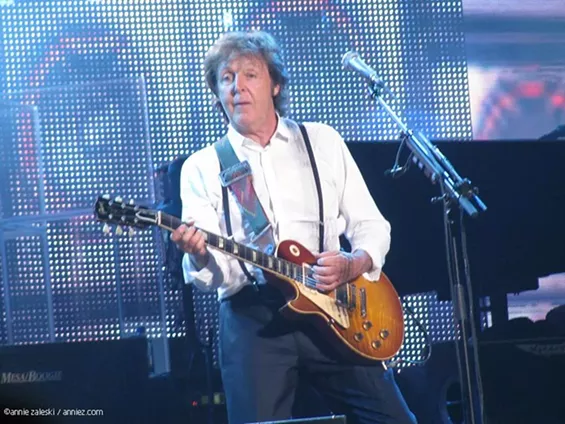 McCartney frequently joked with the audience -- "Thank you, that is the big wardrobe change of the evening," he said after removing his sport coat. "Well, as far as we know." -- when he wasn't telling stories in a still-prominent accent. He danced little jigs and looked like a dorky dad or a triumphant underdog boxer. After nearly every song, he soaked up the audience's rapturous applause like an honest politician, while holding his guitar in the air in victory. But he never took himself too seriously: "If you wonder why we're switching guitars, it's because we're showing off," he quipped at one point.
McCartney's time in the Beatles ensures his place in the rarefied air -- and after all, he is a knight. But he's the rare superstar who feels approachable, who comes across just like anyone else in the crowd. After performing a snippet of Jimi Hendrix's "Foxy Lady," McCartney told an amusing story about how Jimi - and he called him Jimi, no last name - once whammy-bar'd his guitar so out of tune in a concert that he resorted to asking the audience if Eric (that would be Clapton) was there to help him re-tune it. (Amazingly enough, he was.) Only McCartney could tell such an anecdote without sounding like a lame name-dropper.
The show acknowledged his departed Beatles band mates in simple, but moving ways. McCartney prefaced "Here Today" with "I wrote this song after John died," and he didn't need to clarify who he meant -- the crowd knew. It was impossible not to get chills as he described how the song was framed as a "conversation we never had"; the ensuing performance, solo on an acoustic guitar, allowed poignant lyrics to sail out over the attentive crowd. Later, he brought out a ukulele and said how much "George" loved to play the instrument - and in fact, the one he was holding was a gift from Harrison. He began playing "Something" on the uke, but soon the song morphed into a heavy psychedelic jam.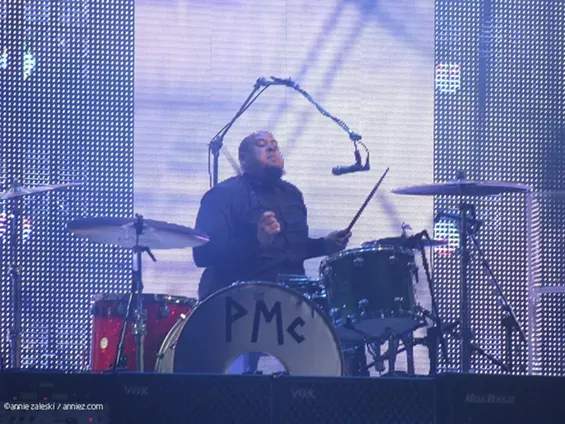 Occasionally, it felt strange hearing harmonies or guitar licks played by non-Beatles. But the band's songbook is so familiar, so cherished, that they've become standards; the band's songs belong to all of us. Without guilt, we can enjoy the jangly "Paperback Writer," the playful "Ob-La-Di, Ob-La-Da," the nuanced "A Day in the Life," the pensive "Eleanor Rigby" or the raw "Day Tripper."
And at the end of the night, McCartney looked tired; his hair was a bit rumpled and his voice croaked during a chaotic, disorienting "Helter Skelter." When he sang "Yesterday," the wise-beyond-his-years lyrics felt even truer than normal. But the 68-year-old had put on a show that most musicians a third of his age couldn't come close to equaling.
Setlist: Venus and Mars/Rock Show Jet All My Loving Letting Go Drive My Car Highway Let Me Roll It/Foxy Lady The Long and Winding Road Nineteen Hundred and Eighty Five Let 'Em In My Love I've Just Seen A Face And I Love Her Blackbird Here Today Dance Tonight Mrs Vandebilt Eleanor Rigby Something Sing the Changes Band on the Run Ob-La-Di, Ob-La-Da Back in the U.S.S.R. I've Got a Feeling Paperback Writer A Day In the Life/Give Peace a Chance Let It Be Live and Let Die Hey Jude
Encore one: Day Tripper Lady Madonna Get Back
Encore Two: Yesterday Helter Skelter Sgt. Pepper's Lonely Hearts Club Band (Reprise) / The End