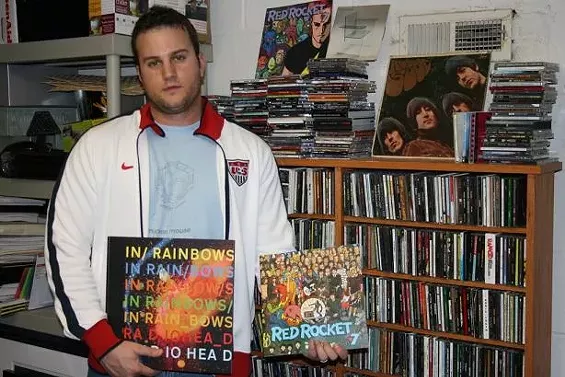 The "pretentious record store guy" has long been the bane of the record shop. Despite their wealth of archaic knowledge, music lovers were never sure whether these pompous clerks were an asset or a plague to their shopping experience. Local comic artist and graphic designer Carlos Ruiz draws from his real-life experience as a record store clerk and exploits the trivialness of music knowledge with his comic, Pretentious Record Store Guy. We met up at his University City home that he shares with his wife Amy and 15-week-old son, Gabriel, and hung out in his basement art studio where he stores boxes and boxes of records, CDs and comics. There we discussed the nature of the "pretentious record store guy," Matt Groening and Red Rocket 7.
Last Collector Standing: What's your favorite record of all time? Carlos Ruiz: I don't know if I could say just one record. Probably, if I had to pick just one, I would say Radiohead's The Bends because I've listened to the album more than any other album I've ever owned. Also, it would be the Lemonheads' It's A Shame About Ray and Come on Feel The Lemonheads. The reason with those two would be because I listened to those two albums on tape in my parent's car and wore them out.
When did you first start listening to music? I first started listening to music when I was a little kid. My sister bought Michael Jackson's Thriller. I would sit there and look at the album. It had Michael lying down with a tiger next to him. That was pretty fucking awesome! The first album that my parents actually bought for me was Europe's The Final Countdown. I remember (hums opening keyboard line to The Final Countdown) that was pretty awesome. I just loved that song so I made my dad buy it for me. The first CD I ever purchased myself was Milli Vanilli. I'm ashamed to admit it, but at the time I loved it. I wanted to buy the Beastie Boys' "Fight For Your Right (To Party!)" [Off the album Licensed to Ill] but my parents wouldn't let me because they saw my sister and me watching the video and said no. It was one of the first albums to have the parental warning so that got the ixnay. I was disappointed about that.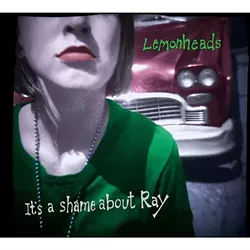 When did you start collecting in earnest? I started getting heavily into collecting when I was in high school, and I joined the Columbia House music club and started buying CDs from there. I was also working, so I had my own money. I was refereeing soccer games, calling baseball games, life-guarding. I had some cash, so I could go and pick up a CD or two at the store. There was Disc Jockey at the mall. It was the best record store that we had. It was a small record store where I lived in Vicksburg, Mississippi. It closed down.
Once I went to college and started working at Slackers, it snowballed from high school.
How did you come up with the name Pretentious Record Store Guy for your comic? That was a pretty easy one. Working at Slackers in Columbia, Missouri, during college and being around a lot of my friends who were really big into music, a lot of them DJ'd at KCOU. My ex-girlfriend at the time was a DJ for the college rock radio station. I would go to her show and hang out with her. Every time I would hang out with her and her friends what they would say about music was completely and utterly pretentious.
I based my character on my experiences working at the record store and conversations I had with different people, both in the store [with other clerks] and with people who came in. You go to a record store, and you try to ask a question and get flipped some pretentious answer.
"You don't want to buy that album. They sold out by that point. You want to get their first album from the indie record label."
Yeah, I know what album I want to get. Thanks for your pretentious input. That's where Pretentious Record Store Guy came from. The character wrote itself pretty much.
What's Pretentious Record Store Guy about? It's about a lot of stuff. Obviously, it's about music. Fitting into a scene. Making your own way in the world. It's about growing up and maturing. It's about going out and seeing shows and all these people staying the same while you get older. Everything you want out of life, the opportunities and doors [that] are closing. In the [main] character's case, it's about being in a rock band and making it big. By the time he is in his early 30s, he is relegated to playing Rock Band with his friends, and that's the extent of his dream and what it's become. [It's about] re-seizing the day and doing something before time runs out.
It is also just about insulting people who come into a record store (laughs). I don't know how successful that is.
Do you think the stereotype of the "pretentious record store guy" still haunts the last remaining record stores? Having worked at a record store and worked [in other jobs] with a lot of people who [also] worked at record stores, I have to say that most people who work at record shops are some of the most creative people that you will ever find. Matt Groening worked at a record store all through college. Gary Larson, creator of The Far Side, he talks about in one of his Far Side books [about] working at a record store and [him] getting fired from there and then getting a job making comics. All these guys were essentially pretentious record store guys. I think Matt Groening wrote a quote saying something like if for not a couple chances and big breaks he could have been a manager at a record store listening to Yo La Tengo.
What I'm trying to say is that "pretentious record store guys" exist, but they are a reason to go to a record store. Unless you know all the bands that are coming out - I would always ask, "What are you guys listening to? What do you guys sell a lot?" - a lot of times I would get a pretentious recommendation, but a lot of times you would get a good one. You don't know everything that's out there until someone sort of lets you in on it. I think that's a good thing. That's the reputation of a record store guy. It does suck if some of them are just assholes, but if you watch High Fidelity, you've got the John Cusack character and the Jack Black character. The Jack Black character is a jerk and you don't want to deal with him, but the John Cusack character turns you onto the good stuff.
How do you think going in to get a recommendation from an actual person has changed with the trend towards digital music? I think there are two parts to that. One part is that digital music and social networking sites are great for promoting bands. When I was in college and you wanted to see a band you would go to a show. To find out about it - most bands didn't have websites - so you'd find out about it through a magazine or Pollstar, which would give you list of the shows coming to your town. You go to the see one of your favorite bands and not a lot of people knew about them and there would be like 15 people at the show. You would be disappointed because they probably weren't going to come back because the turnout wasn't good. Meanwhile, MySpace comes out and all of the sudden the show sold out in a couple of days. How did all these people know about it? Well, all these people from surrounding areas found out about it and made the drive. It's easy for a band to promote itself.
At the same time, as far as music goes, I think iTunes is terrible for music. The iTunes sound quality is bad because of the compression. You listen to a CD at home on stereo it's a huge difference. It sounds so much better. And you're not going to get that tangible, physical copy in your hand. Listening to an album is a very different experience than listening to a song. iTunes is great for bands that put out singles. Most bands that I like put out albums.
When you worked at Slackers, how would you describe your attitude behind the counter? (Laughs) When I worked at a record store I would like to say that I was a pretty friendly guy and outgoing. I tended to believe in customer service. I was there to help the store sell CDs and help the customers get what the wanted, regardless of whether it was the new Limp Bizkit album or the new Superdrag EP. You had to detach yourself. If someone asks you whether the new Limp Bizkit was good I would say, "I haven't heard it, but I know it's selling well." You were there to facilitate the sale. If someone asked me my opinion on something, I would tell them what I like. I would tell them the type of music I didn't listen to, like some of the heavy metal cookie monster music, and that's not really what I'm into, so I can't really tell you.
In one word, how would you describe your attitude as a record store clerk? Unpretentious.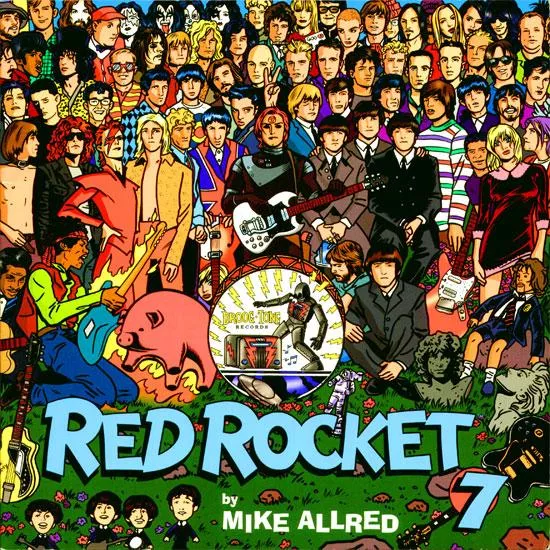 Do you have a favorite experience with a "real life" pretentious record store guy? (Laughs) The first time I was in New York I was in the East Village in this hole-in-the-wall record store. I was talking to the clerk about one of my favorite bands, the Verve and Richard Ashcroft. We got into what I like to call a hipster battle. He started naming off B-Sides. I started naming off B-Sides. We started getting in an argument over a song. He said it was on one EP and I was saying it was on the No Come Down EP. He begged to differ. We kind of went tit for tat on it. Finally, he was like, "I have a copy right here. I'll go check it out." It turned out I was right and he was wrong. The way that it ended was instead of say I was right, he said "Oh, I must have had that confused."
Do you collect anything else? I collect comics, books, CDs. What don't I collect?
If I find a CD that I like, I have to buy all the CDs that that band has put out. I'll dig around and find out which one was first. I'll try to buy them in order, or from the best recommended to the least. I won't have one Talking Heads album. I'll hear Songs About Buildings, and then I'll go buy '77. Then the next thing I know, I'll have every single Talking Heads album.
Are there any other comics about music you would recommend? The number one comic about music is Red Rocket 7. It's by Michael Allred. It's a sci-fi trip through the history of rock & roll through the eyes of Red Rocket 7.
The other one I would recommend is Phonogram. I was working on Pretentious Record Store Guy and they were referencing a lot of the same stuff that I was referencing. I was like, "I can't read that." The cover was like a reference to the self-titled Elastica album. Once it came out, I did read it. You can't go wrong with Phonogram. It's about music. It's about magic. It's about pretentious music-loving magicians (Laughs).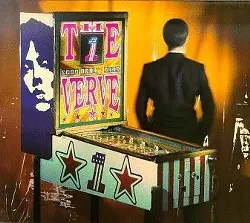 You recently had your first son, Gabriel. How do you think he will listen to music in the future? Will he be exposed to vinyl? He will definitely be exposed to vinyl records through his dear old dad, and my dad has a ton of vinyl that he'll get a chance to listen to. Plus all the CDs that I have, I'm not getting rid of any time soon. I'm sure for a long time he'll think they are these weird discs that are just occupying space in the basement. I'm sure in high school he will be able to just download music digitally to earphones that are implanted into his head. (Laughs) I have no idea.
It will be just like Red Rocket 7.
So what does the future hold for the "real life" pretentious record store guy? Well, I hope he's got some other skills that he can use, because he is not going to be too in demand. He might be working at the Apple Store.
Pretentious Apple Store Guy? That's right. I think the Apple Store is the new record store. You can tell because of all the release parties. Record stores use to have midnight releases and people would be around the block waiting to get the newest CD. Now, you get the newest iPhone or iPad, and there are lines out the mall. That's replaced the record store.