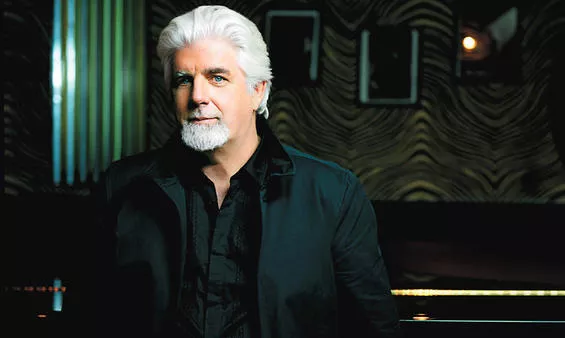 On Friday night, Ferguson, Missouri's own Michael McDonald is returning to the area for a solo show at the Blanche M. Touhill Performing Arts Center. The concert is a benefit for the St. Louis-area branch of the National Council on Alcoholism and Drug Abuse. Tickets are still available here. In this week's paper, Christian Schaeffer interviewed McDonald about his time in the local music scene and touched on the forthcoming tour with Donald Fagen and Boz Scaggs, his Motown covers and much, much more. Outtakes from their chat -- ranging from McDonald's memories of listening to music with his dad to collaborating with Grizzly Bear -- are below. Enjoy!
Christian Schaeffer: You haven't played in St. Louis in a few years, so this will be a little bit of a homecoming. Are these hometown shows different for you? Michael McDonald: Yes, they're a lot of fun. We have a lot of friends and family still in St. Louis. Unfortunately I'm gonna be pulling out that night to go to Louisville - we play in Louisville the next night - but I'm looking forward to at least getting on stage and getting a look at everybody and hopefully meeting while we're there. But it will be a pretty quick in-and-out for me, unfortunately. But it's always fun to be there and to play for a hometown crowd.
This concert in St. Louis is a benefit for the National Council on Alcoholism and Drug Abuse. Why does this cause stand out for you? Well, it's a cause that's near and dear to my heart. In this country [I really believe]...the biggest problem with addiction is not that it happens, but that people don't have the information readily at hand, except through organizations like the Council. I'm a firm believer, through my own experience, that recovery is sometimes a gift. I hear people say "I'm a grateful alcoholic," meaning that they were in recovery and they had a perspective on life that they didn't have prior to the help with addiction. But I came to appreciate that; I came to realize that in recovery that I'm a better person than I was had I never experienced it. And through the grace of God I still go one day at a time. But I'm one of the lucky ones. I was guided towards and I found the opportunity to get into recovery.
For so many people, even though they may be guided, we're the lucky ones. Because the odds still aren't that great; I think something in the realm of 30 percent of people actually get sober and stay sober for any length of time. But what happens is, it's a wonderful movement that perpetuates itself, and the more information that gets out there the better it is for everybody. People that are recovering many times go into the profession, and no one can bring the experience and strength and hope to another addict than an addict can. The more we support it as a community, whether you're an addict or not, you can rest assured that you're supporting something that perpetuates itself in many ways, and has spread throughout the world.
There's nowhere in the world I can go where I don't find recovery, whether it's AA or the National Council on Alcoholism and Drug Abuse. It's one of those great enigmas, where as long as it's been around - as long as it's been a malady in civilization and mankind - we know so little about it to this day, and it comes down to a willingness on the part of the person, all by themselves, to not live this way anymore. And they need someplace to go and need a bigger entity to be a part of, in any case. And that's all we need, one day at a time. So anything I can do to support that, I'm there.
Michael McDonald, "I Knew You Were Waiting for Me":
Steve Scorfina is going to be opening the show, and I know you two played together when you were growing up in St. Louis. What was the music scene like when you started playing in your teens? You know, funny enough, looking at it now, [it was] very innocent. I mean, we were just playing in places that we probably had no business playing in - we were too young. It was a thrill; it was absolutely thrilling back then. I looked so forward to it, to everything to do with it. I was just hooked. It's just a place I found that was really fulfilling to me and my friends. It was our relationship that was built on music. So many of the people I met growing up in St. Louis were other musicians.
I started off singing with my father, who had a beautiful voice. He sang in a lot of the saloons around St. Louis and stuff, so I grew up watching him. Then veering off into bands by the time I was twelve, and by the time I was fourteen we were playing the Club Imperial and things like that. We were very lucky that it was such a fertile ground. There was just one way of doing things back then. Now, there's a million different ways - I kinda feel for these young kids who have to do it themselves, and they have to create their own following in the music business. The days of booking agents and A&R people and record companies have changed dramatically. "Kid Charlemagne" with Steely Dan, 2006
In my mind, much of your career has been hallmarked by the many collaborations with Steely Dan and the Doobie Brothers and Kenny Loggins and all those duets. I wondered if throughout those collaborations if there's one relationship that stands out as fruitful or a lot of fun.
They're all special in their own way. I don't say that to be politically correct - they really are. Kenny and I have written some of the best songs I've ever written. He's just a great songwriter and a great recording artist in his own right. You know, Donald and those guys got me out of LA and on the road. They were probably my favorite band at the time and to actually get that gig for me was a dream come true. I've always been a huge fan of Donald's writing and their music with Steely Dan. So to be any small part of that was a big deal to me, and a big part of my life. And Boz and I - I remember hearing Boz's rough mixes in [late Toto drummer/legendary session musician] Jeff Porcaro's apartment when he and I were sitting around on a Saturday morning with nothing much to do. I played him the rough mixes from the
Takin' it to the Streets
record and he played me something he was working on, which was [Scaggs' watershed LP]
Silk Degrees
. That's a real vivid memory for me. I loved Jeff so much. I miss him a lot; everybody does. He was such a great guy.
Ray Charles and Michael McDonald, "Hey Girl":
So those are all big memories for me -- working with Patti LaBelle, getting the chance to work with Ray Charles. That was like a fantasy come true, working with a 40-piece orchestra, singing next to Ray Charles. I had a hard time paying attention to what I was doing. I just kept staring at him, thinking "I can't freaking believe I'm doing this." And I remember thinking "God, if my Dad could be here now." He just loved Ray Charles and Frank Sinatra and Tony Bennett.
My earliest memory with my Dad driving around in his old Ford Fairlane being shorter than the dashboard, and Ray Charles would come on with "Born to Lose" on the radio, and my old man would crank it. It was like the whole world filled up with Ray Charles through that Delco radio. For me, he was my idol. I thought if someday I could make that kind of magic or come close to making a record that sounded like that, that would be a dream come true. For me, to be standing next to him in a studio - this was just before he passed away, and we had kinda become friends over the past few years, and it was, for me, a great time in my life and something I'll never forget.
Grizzly Bear featuring Michael McDonald, "While You Wait for the Others":
I heard the Grizzly Bear song that you sang on, "While You Wait for the Others." How did that come about? Are you finding that this generation of musicians is more in tune with your music? I find it really interesting, because it's so different than what I thought would be going on at this point in time with pop music. I'm so intrigued by it, because it is so off the radar. It's not like these guys are trying to be pop radio heroes -- they're making records that they believe in, and I really admire that whole direction. Frankly, I don't always get it, but when I first got that track, I thought, "Wow, this so unusual." I didn't even know what I would do. Then [Grizzly Bear bassist/producer] Chris Taylor kinda gave me an idea of where to go and mapped it out for me, what they hoped I would do. I just went with that. Then almost as a fluke, as a joke, they said, "Why don't you sing lead on a version, and just send us that so we can use it as b-side, as kind of a joke." I said sure, I thought that was funny. So I put the lead down, and that became kind of a cultish, fiendish fascination of some sort, for very few people [laughs].