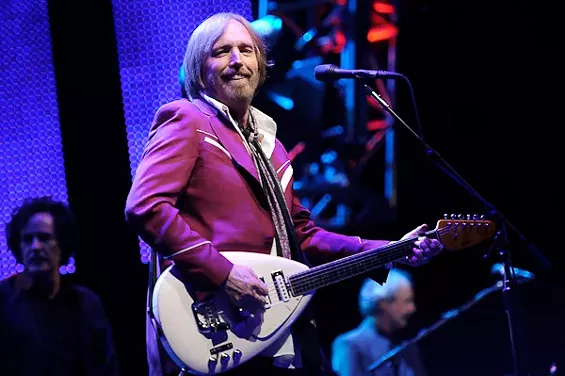 A Tom Petty & the Heartbreakers summer tour is as American as baseball, apple pie and fireworks. Last night at the Verizon Wireless Amphitheater, the band once again proved why, by turning in a predictably solid set full of familiar hits and musicianship.
"We've got a hot and steamy night for a rock and roll show," Petty noted in his inimitable drawl, which has settled into something between "pothead uncle" and "coherent Dylan." He wasn't kidding; the stifling humidity hung over the crowd and venue like a wet blanket. The band kept the crowd alert with early sing-alongs: the rapscallion-funk party ode "You Don't Know How It Feels" and a lofty "Free Fallin,'" described by Petty as a "love song for all the lovers - especially if you're here with someone you shouldn't be with."
View a slideshow of Tom Petty & the Heartbreakers/Drive-By Truckers right here
The show wasn't without its hiccups, though. About ninety minutes into the set, after "Don't Come Around Here No More," Petty thanked the crowd for coming and seemed to be setting up the final song of the main set. Suddenly, he looked around, said a hasty good-bye and abruptly went offstage. The crowd buzzed in confusion. At the side of the stage, however, you could see long-time guitarist Mike Campbell being propped up and helped off stage by several people.
Petty returned a few minutes later and told the crowd that Campbell had become sick and was with the doctor. He reassured that if all was well, the band would "come back and play a lot longer," so they should stick around. True to his word, after a short break he and the Heartbreakers did return -- for three more songs, starting with the classic "Refugee." [Update, 11:55 a.m.: Just spoke with Tom Petty & the Heartbreakers' publicist, and he said that it appeared that Campbell was suffering from dehydration.)
Campbell certainly was working hard enough last night. Called the Heartbreakers' "co-captain" during band announcements, he was especially energized last night. During a cover of Fleeetwood Mac's "Oh Well," as caveman drums galloped from the back of the stage, he unleashed a wicked, searing guitar solo. He directed the Heartbreakers to a stop after a raucous, encore-worthy version of "Mary Jane's Last Dance." And a drawn-out "Breakdown" was more ominous than usual, mainly thanks to Campbell's evil-tinted, meandering solo melody; the song felt like it was going to steal your whiskey and your girlfriend.
The band also seemed to move to the back of the stage out of deference as Campbell soloed during a steamy new blues number, "Good Enough." Petty and the Heartbreakers are touring behind their first album in eight years, the bluesy, jammy Mojo, and the band chose to clump these new songs together in the middle of the main set. Having to sit through five largely unfamiliar, non-pop songs in a row asked a lot of the audience, though - especially since these songs appeared after a string of hits. People grew more and more restless as the mini-set progressed, and the momentum created at first dissipated into the humid air.
And the new tunes were hit or miss: "Takin' My Time" was boring and disconnected, although the brisker, Texas roadhouse burner "I Should Have Known It" grooved.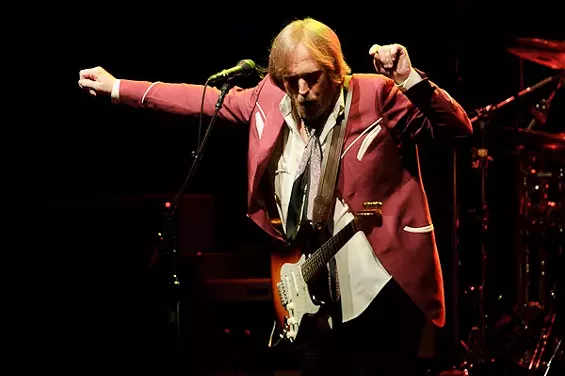 Still, playing the blues and jamming together has seemed to revitalize the Heartbreakers. They're always a well-rehearsed live band, but last night they felt particularly tight - from Benmont Tench's soul-drenched piano and bassist Ron Blair's bedrock foundation to drummer Steve Ferrone's nuanced thunder and Petty's pinpoint conductor ringleading. The ghostly psychedelic rock groove "Don't Come Around Here No More" - always a favorite - last night was a monster, with its booming drums and white-hot strobe-light ending.
And after all these years, the band is still clearly having fun onstage - "Oh Well" found Petty picking up maracas and walking around stage shaking them around like a goofball, to match the spoken-word lyrics he spat. During "You Don't Know How It Feels" he spun around on his heels and extended his arms with mincing precision. And as per usual, Petty grinned and soaked up the riotous cheers from the crowd with salutes and arms wide open.
At Tom Petty & the Heartbreakers' 2008 St. Louis show, an air of vulnerability permeated the set. But after last night- and despite Campbell taking ill -- the Heartbreakers felt granite-solid. Once again, it was Petty and his merry band of desperados moving across America, conquering town after town.
Drive-By Truckers opened the show with a generous hour-long set. The band wouldn't exist had Tom Petty & the Heartbreakers never formed, but its spin on Southern rock is grittier - a bottle of Jack and pack of Marlboros to Petty's party-favors weed and beer. The latter's longing and wistfulness ultimately feels optimistic; one has the sense that everything will be okay. With the Drive-By Truckers, though, there are no guarantees.
As the glaring sun set over the lawn, the band introduced character after character burdened by life. The minor-key, twang-curled "A Ghost to Most" and a laid-back, snarling new song "Ray's Automatic Weapon," felt especially poignant. "Santa Fe," dedicated by grizzled vocalist/songwriter Patterson Hood to a few band wives in attendance as being about homesickness, had appropriately lonely pedal steel.
Co-vocalist/songwriter Mike Cooley received many turns on lead vocals; the barn-burning "Birthday Boy," from the band's latest, The Big To-Do, was especially searing. (That same album's "Drag the Lake Charlie" also smoked.) The set built in intensity and frenzy - and while it's unclear whether Petty's fans warmed to the dirty rock boogies, the Drive-By Truckers gave them no reason not to.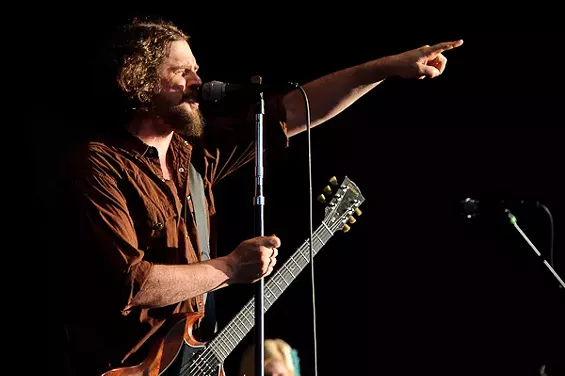 Setlist: 1. Listen to Her Heart 2. You Don't Know How It Feels 3. I Won't Back Down 4. Free Fallin' 5. Oh Well (Fleetwood Mac cover) 6. Mary Jane's Last Dance 7. Going Down to Georgia 8. Breakdown 9. Jefferson Jericho Blues 10. Good Enough 11. Running Man's Bible 12. Takin' My Time 13. I Should Have Known It 14. Learning to Fly 15. Don't Come Around Here No More -- break to tend to Campbell -- 16. Refugee 17. Runnin' Down a Dream 18. American Girl