Anyone who came to Scottrade Center last night as a Lady Gaga enthusiast left a disciple. Boys kissed boys, girls kissed girls, freak flags flew high and there wasn't a single person in the audience who wouldn't have jumped happily into bed with Gaga after the show. Her presence was electrical, magical and fantastical.
The Westboro Baptist Church was outside protesting the smutty starlet, but inside the arena, not a single one of the near 15,000 people in attendance felt anything but love and adoration for the Lady. Creed be damned, everyone worshiped at the Gaga altar and loved every minute of it. Despite the protest, she took the stage on time, ate hearts - and after two hours and ten searing minutes, she burned the motherfucking house down.
View an entire slideshow of Lady Gaga and Semi Precious Weapons photos here.
The show - which was immaculately timed and exquisitely executed - was rehearsed to perfection. From her first pose to the four-minute collective orgasm that was "Bad Romance," the diminutive diva kept the crowd spellbound. Everyone wished for more room to dance, more lung capacity so they could scream louder and longer, stronger arms and legs -- and more freedom and energy to express the cascading devotion that Gaga inspires.
"I created the Monster Ball so my fans would have a place to go," she said at one point. "Tonight, all the freaks are outside, and I locked the fucking doors! Tonight and every night after you can be whoever you want to be."
And again, later: "Some people preach messages of hatred and divisiveness, but here tonight at the Monster Ball, we preach love and unity.
When she spoke about the hate at the door, she looked nearly in tears, telling the crowd to let go of their insecurities and reject anyone holding them back from being the superstars they were all born to be. And indeed, the crowd dressed to impress: They came in six-inch stilettos, postage-stamp dresses, bodysuits and caution tape, torn fishnets and hairbows. Some were exact replicas of the world's most infamous popstar. Drunk boyfriends and husbands ogled the spike-heeled jailbait, and the girls nodded their appreciation of each others interpretations of Gaga fashion.
Three things are necessary to understand the following: The show was better than anything you can imagine, better than anything any journalist can write. The dancers were incredible and the lighting, design and creativity of the whole endeavor was unlike anything you've ever seen. Over the top, grandiose, outrageous, luxe - all of these adjectives apply but none of them fit.
Anticipation was palpable as a gigantic half-moon screen obscured the stage. As a countdown began on the white screen, people began clapping, shrieking and screaming in anticipation. Suddenly, a synth, drum machine and backing vocals vamped the opening of "Dance in the Dark," which was interspersed with a sample of CeCe Peniston's "Finally." Finally, indeed. Finally she appeared, an impossibly thin black shadow lit from behind by purple light, her image projected on the half-moon screen. The screams were deafening as Gaga struck her first pose, looking like a raptor. Though she stood stock still, holding varied poses, you could actually see a slight tremble every time she inhaled; she was actually singing.
The shade went up to reveal a complicated, two-story set with dancers in cages, a bombed-out lime-green car - inside, a dancer was getting a faux blow job - a harpist and a handful of musicians. She wore a greyish-purple leopard bodysuit under a massive purple jacket adorned with a glitter cross. The jacket's shoulders were so big, it looked like she was equipped with a jet pack.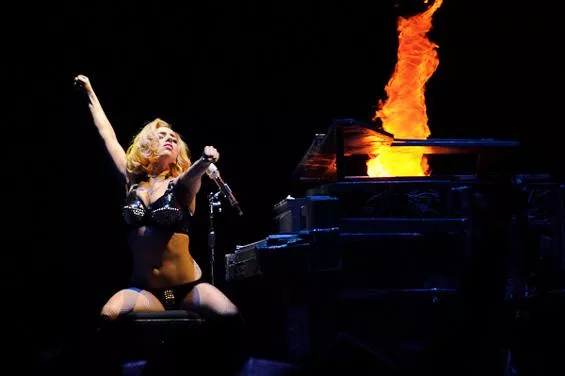 She lifted the hood of the green car, smoke billowed out and the crowd roared when they realized there was keyboard underneath. The first notes of "Just Dance" were like a shot of pure cocaine to the crowd; the entire place was dancing.
"Missouri!" she screamed. "Did you guys come to party? I'm going to set you free, St. Louis."
She disappeared in the middle of "Vanity," but the dancers and musicians on stage were entertaining enough on their own. After "The Fame," Gaga disappeared in a cloud of smoke, and the white shade came back down and projected a bizarre visualization of Gaga repeatedly biting into a gushing human heart, like the haute interpretation of Andrew W.K.'s I Get Wet album cover. The second act began with the dancers in white simulating a dance-orgy in a subway car, signifying the journey to the Monster Ball. Gaga came out in a clear plastic dress and nun habit for "LoveGame" with white crosses obscuring her nipples.
Holding a crystal light torch, she turned her attention to the crowd, and surveyed them with the elaborate flashlight. She cooed "Let me get a look at you. Look how pretty you all are!" She poked fun at the hermaphrodite rumors. "I don't know if you heard, but I had a pretty tremendous cock, get your dicks out. I heard they have some pretty big cocks in St. Louis. Now dance you mother fuckers!"
There's something to be said for a generation of pro-gay young Americans who believe in freedom, beauty and equality - and judging by the response Lady Gaga elicited from the crowd, everyone was pro-gay and pro-freak. She introduced the '80s ode "Boys Boys Boys" by asking "all my Missouri gays" to get loud. A shirtless troupe of male dancers broke it down on the runway during the song. The message was gay pride all the way, which was somewhat undercut by the image projected behind the spectacle: ten semi-automatic weapons pointed at the audience.
But Gaga understands the link between sexual orientation and violence - and backs up her words and imagery with positive action. Every night of Gaga's tour, Virgin Mobile donates $20,000 to her favorite charity, RE*Generation, an organization that aids homeless LGBT youths. After announcing this, Gaga called one lucky member of the audience from the stage -- as is her custom -- and gave the girl and her friends better seats. "Hold on, Beyonce is calling," Gaga said, hanging up with the girl. Heads whipped around, hoping against hope that Beyonce would join Gaga on stage. It didn't happen, but "Telephone" was amazing.
"Put down your phones and cameras and enjoy this moment," Gaga advised just as the song began. The crowd obliged and danced themselves silly.
Gaga sat down at the piano for "Speechless," a song she wrote about "how all the men in my life drink too much whiskey. But I love whiskey too. Fucking hypocrite...I'd rather just die in a bar drunk with my friends too." The top of the piano was covered in yellow flames as she began to play, and as the song progressed, the flames grew into a column of fire, whipping back and forth like a twister while she crooned into the mic. A lot has been said about Gaga's voice, but in front of the piano she proved she's got as much soul as Aretha, the raw vocal power of Christina Aguilera if not the range, and she puts Britney's girlish pipes to shame.
There was a jazzy digression in between "Speechless" and a new song, "You and I." Gaga played the piano with one gam laying across the keyboard, hitting the high note with the tip of her stiletto while her guitarist and drummer whaled on their instruments. She said she wrote "You and I" for her fans, and that it was inspired by how she feels like "a fucking loser" whenever she's swimming at a mansion with "$8 million dollar roses in the flower pots...But when I'm drunk at a bar in New York with all my friends, I feel like a winner. This is for you, little monsters."
The third act continued with Gaga and friends traipsing down the Glitter Way - a catwalk into the crowd -- in search of the Monster Ball. Giant, spiky metal trees representing the "deepest, darkest part of Central Park" adorned the stage. But then, a giant mesh cage enveloped them on the catwalk, simulating a twister. The crowd stared, enchanted as the cage lifted, and Gaga's glitter latex bra and panties had been replaced by a white and silver dress made out of fiber optic wire for the anthemic "So Happy I Could Die." The robotic dress waved, grew, fluttered and sprouted wings, she looked like a futuristic wedding cake topper or the White Witch from Narnia.
A massive bioluminescent fish was the monster for spindly synth blitz "Monster," Gaga laid down in front of the monster, screaming "Eat me you motherfucker!" and sang horizontally when not dancing around in her black bodysuit, her chest smeared with fake blood. In the middle of the dance, the floor opened up and Gaga sunk into it, only to be catapulted back out of the hole a split second later. She landed like a cat without missing a beat.
"Do you think I'm sexy? I think you're sexy. I wasn't very cool in high school so, sometimes I abuse this part of the show," she said. "Do you think I'm sexy?" she asked again, feigning shyness. She told the crowd that she was like Tinkerbell, she needed their screams to keep her alive. "Do you want me to die?!" she bellowed, throwing herself on the ground. "Scream for me St. Louis!" And scream they did, getting nasty for the bombastic, bottom-heavy "Teeth."
A flame-shooting, blood dripping replica of the angel statue at Bethesda fountain in Central Park was brought on stage for "Alejandro," which furthered the heavy religious overtones of the evening. With the monster was vanquished and the Ball imminent, Gaga came out in a green glittery dress that looked hewn from Kryptonite for the final two songs of the set, which were, predictably, "Poker Face and "Paparazzi."
"When people ask you how the Monster Ball was, you tell them we burned the place to the fucking ground!" Gaga screamed to uproarious tumult.
Fans screamed and clapped until their little monster paws were numb, and when the curtain went up for the last time, the flashes of literally thousands of digital cameras blinded those who weren't already blind from screaming. The drum machine blazed to life for the diabolical encore of "Bad Romance," and Gaga appeared in the center of a spectacular gyroscope in a mirrored dress and headpiece.
Few people on this little blue marble have the ability or the opportunity to affect so many people on a daily basis. She stole 15,000 stole hearts, ate them, and then vomited them back up whole, but improved; recharged with her tremendous ambition and passion for her fans.
While her Italian heritage, fake blonde hair and subversive megastar status is akin to Madonna's heritage, hair and career, Madge just inspired people to have more sex openly. Gaga inspires her fans to achieve their dreams like she did hers, and to willfully choose a world where freak equals freedom. Madonna hasn't been accessible since before Gaga was born and hasn't had a sense of humor about herself since, well, ever. But Gaga's appeal is based on her own vanity; she loves you because you love her. It's just that simple, and that's how it should be.
Lady Gaga Setlist: Dance in the Dark Glitter and Grease Just Dance Beautiful, Dirty, Rich Vanity The Fame Love Game Boys Boys Boys Money Honey Telephone Speechless You and I So Happy I Could Die Monster Teeth Alejandro Poker Face Paparazzi
Encore: Bad Romance
Critic's Notebook: Though she gave the performance her all, at times the Jumbotron did Gaga a disservice, she looked haggard and exhausted, though her voice never showed it. The production coordinator told us after the show that they'll be doing this tour until May 6, 2011, if you can freaking believe that. I will sucker punch anyone who doesn't agree that Gaga is that hardest working woman in music.
Personal Bias: This review may be influenced by the fact that I had the best fucking time imaginable.