Jason Stoff
Isaac Brock of Modest Mouse at the Pitchfork Music Festival, Friday, July 16. More photos coming tomorrow.
The Scottrade Center may have hosted a bigger light show last night, but everyone left the Pageant satisfied after Modest Mouse performed with fervor and nuance before a sold-out crowd.
Before doors opened at 7 p.m., long lines snaked down the sidewalks from both the over- and under-21 entrances, a reminder that one huge album - or one enormous single - can push a band through to generations of young people. The crowd was in high spirits, and even the seated balcony rose to greet the opening act.
The curiously named Morning Teleportation opened the night with an eclectic set of psychedelic indie rock. The five-piece, a Portland, Oregon-via-Bowling Green, Kentucky, group of long-haired young dudes, had its debut produced by Modest Mouse frontman Isaac Brock on his record label Glacial Pace, a subsidiary of Epic. Tiger Merritt and Travis Goodwin reportedly met Brock in Chicago in 2007, and a friendship developed over the course of a few buzzed hang-outs, ultimately leading to the band's relocation to the Pacific Northwest to work on the album.
You could hear echoes of Brock in Morning Teleportation's set, such as lead singer Merritt's ragged rapid-fire yelp on "Expanding Anyway" and the collision of multiple musical ideas within a single song. Yet Morning Teleportation at times leaned more towards a funkified freeform rock, stretching a groove in ecstatic - bass solo! - but never over-long freak-outs. Conversely, a few songs displayed radio-ready hooks, with sunny, hipsters-go-hiking singalong choruses.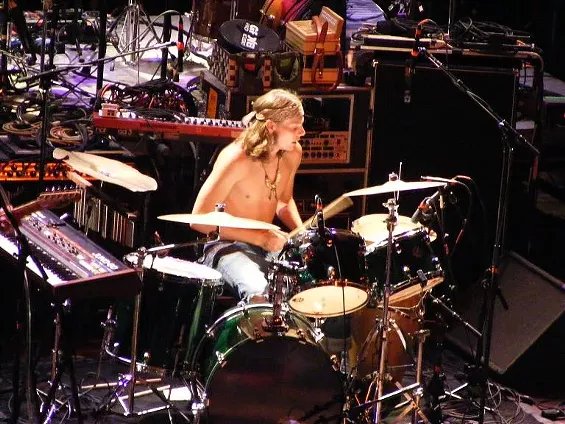 Katie Moulton
Tres Coker of Morning Teleportation
The band seemed like they were having a blast, especially Goodwin working overtime on keyboards and synths, swaying and squatting on top of his stool. The crowd fed on this high-times energy level, and by the time the room vibrated with a few thousand people singing "Happy Birthday" to shirtless drummer Tres Coker, it's safe to say Morning Teleportation had won us over.
As has been noted a million times, Modest Mouse are unlikely conquerors of the mainstream. Despite a band history pocked - but never completely derailed - by depression, substance abuse, legal trouble and death, its popularity persists and prevails: The show sold out in advance, impressive for a band that hasn't released a new full-length since 2007. And for a band leader known for his fuck-off, loose cannon persona, the only abrasive element of Isaac Brock was his string bending, his guitar and banjo running against the grain in all the right places.
Execution is the key word for last night's show. From the moment the six members took the stage amid a metal jungle of instruments to the last chord 75 minutes later, Modest Mouse was focused with dead-on intensity. Though the set spanned multiple albums, and the crowd responded enthusiastically to everything, the biggest tremors occurred during songs off the massive 2004 album, Good News For People Who Love Bad News. If Good News was the only album you were familiar with, you would not have been disappointed, as they played - expertly - seven tracks from that album.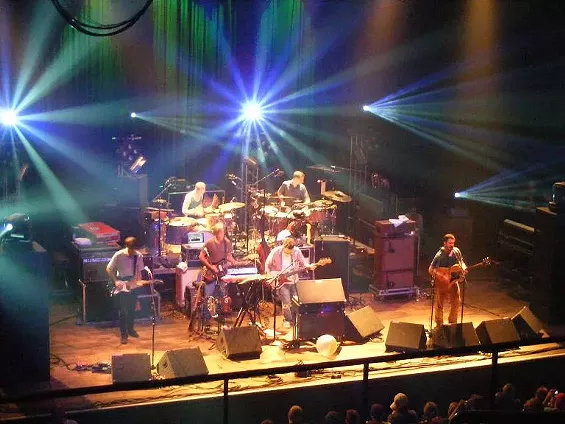 Katie Moulton
Modest Mouse, last night at the Pageant
Brock put his formidable howl to work almost immediately in jerky, jump-starter "Bury Me With It," with percussionists Jeremiah Green and Joe Plummer pounding the skins in sync, elevated side by side at the back of the stage. Watching the parallel drummers work in tandem and then diverge, only to pick up matching rhythms later in the song was just, well, cool.
The stuttering rhythms and more danceable sensibility of songs like "We've Got Everything" off 2007's We Were Dead Before the Ship Even Sank kept the crowd moving. Brock, too, seemed more engaged with the crowd than expected, pausing to make friendly muffled comments on the heat or take note of a beach ball that had bounced onstage. It was a gentler image, but he attacked the vocals with his idiosyncratic rawness, whatever undertone, lilt or growl each song required.
Much of the set was electric guitar-heavy, but at different times band members employed accordions, pump organ, violin, upright bass and acoustic guitar, often when Brock took up the banjo. Two such changes of pace were the wry-smiling dance-stomp of "The Good Times Are Killing Me" and "Bukowski," the unhinged downer shamble that reminds the listener that though Modest Mouse might be lauded and well-known, they have never shied from tapping into the strange.
At the one-hour mark, Brock said thank you to end the regular set. Returning five minutes later to sustained applause, the band breathed new life into beautiful versions of "The World At Large" and "Float On." As stage searchlights skimmed the balcony, Brock and the band turned up a furious performance of "Fly Trapped in a Jar," and then it was over. While "The Ocean Breathes Salty" was missed, it was a hell of a show from a band that manages to be mainstream yet feel underground, thanks to world-class musicianship and the quotidienne danger of being inside Isaac Brock's head.