Jon Gitchoff
Mary J. Blige, live at Lilith Fair
"This is so much better than I could have ever imagined," exclaimed Mary J. Blige, as the Lilith Fair crowd cheered wildly for her. The same could be said about yesterday's all-day show at the Verizon Wireless Amphitheater. While negative publicity has dogged Lilith Fair all summer - in the form of artist cancellations, show cancellations and rumored low ticket sales -- the concert itself was solid. Better yet, the day's music wasn't enjoyable because of (or in spite of) gender; it was just enjoyable, period.
Blige stole the show with her 55-minute set. Wearing a jumpsuit with a strapless top that threatened to become a wardrobe malfunction - she even had to go offstage for more tape to hold it up at one point - the R&B diva had the entire pavilion up and dancing. (In fact, a large portion of the crowd seemed to come to Lilith just to see her.) The well-paced show focused heavily on Blige's later material, from the upbeat club jams ("Just Fine") and sleek R&B twinkles ("I Am," "Be Without You") to her mega-hits ("Family Affair," "No More Drama"). She frequently told the crowd that she "felt blessed" to share the night with them, and only occasionally did her voice falter on higher notes.
Because Blige was backed by a ten-piece(!) band comprised of four keyboardists(!!), four back-up singers, a drummer and a guitarist -- and because all of them were cranked high in the mix -- the sound could be occasionally overwhelming. But they were useful on her gospel-tinged cover of U2's "One," and a cover of Led Zeppelin's "Stairway to Heaven" was jaw-dropping. Blige played up the tension and suspense in the moody parts of the song by restraining her voice -- and so by the time the song built to the frenzied, loud climax, she was warmed up enough to let loose. Crouching on the stage and glistening with sweat, she poured her entire self into the cover.
Court Yard Hounds' set also impressed. Fronted by two-thirds of the Dixie Chicks, sisters Martie Maguire and Emily Robison, and backed by a five-piece band, the group mashed together country, bluegrass and rock. The live versions of songs from its self-titled release were fuller and livelier -- especially the jaunty, Aimee Mann-like "Then Again" and "It Didn't Make a Sound," which showed off Robison's banjo skills. New single "The Coast" was a sliver of breezy, California jangle-rock, and the mellower "Fear of Wasted Time" was gentle and moving.
Jon Gitchoff
Court Yard Hounds live at Lilith Fair, July 16, 2010
Robison also flashed some serious guitar mojo on a heavy untitled new song, which had the lyrics, "I try to sing, but it comes out wrong." Maguire's livewire fiddle was equally vibrant, especially on the set-closing "Ain't No Son," during which two towheaded little girls (likely hers) came out to play shakers. Despite the (at times) weighty lyrical subject matter, the set was relaxed and fun - Robison said that Maguire won $500 at a casino when the Chicks opened for the Eagles a few weeks ago at Busch Stadium. And Maguire told a hilarious story about the time Robison's tube-top slipped down under one "bosom" when the Chicks opened for George Strait - and that her sister was wearing a "20-times-washed bra" instead of a fancy one.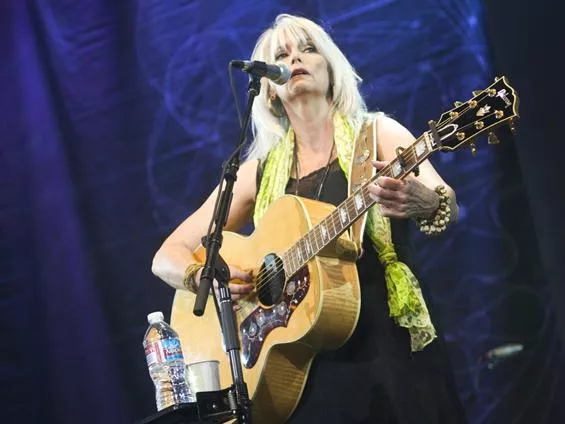 Jon Gitchoff
Emmylou Harris live at Lilith Fair, July 16, 2010
Legendary singer-songwriter Emmylou Harris performed next. Despite an inattentive crowd - the hum of conversation was an irritating presence alongside the understated music - Harris was as regal as ever. Sporting huge lime-green high heels and a matching scarf as accents to an all-black ensemble, she and her band (the "Red Dirt Boys," who contributed mandolin, accordion, bass, piano and drums) opened with the mission statement "Here I Am," from 2003's Stumble Into Grace. "Orphan Girl," from 1995's Wrecking Ball, and "Love and Happiness" - which appears on her 2006 album with Mark Knopfler, All the Roadrunning -- followed.
Other highlights included "Even Cowgirls Get the Blues" and a rollicking cover of a song by Bill Monroe, a frequent collaborator. The set's highlight, however, was a piano-driven cover of Kate McGarrigle's "Talk To Me of Mendocino." Performed in honor of the late folk singer, the mournful tune was gorgeous and moving. Harris' iconic homespun warble - both cracked and sweet - was majestic and firm, although a bit forlorn in the spacious venue. Her presence was luminous, however - she even said she was at Lilith "representing the grandmothers of the world" and mentioned that no matter how old your kids are, you never stop being a mother. In fact, she said that she lives with her 89-year-old mother, who still tells her to wear a bike helmet.
By this time, the pavilion had started to fill in somewhat. The same couldn't be said for sets earlier in the day - even around 5:30 p.m., when Ingrid Michaelson on the main stage, the venue was rather empty. This was perfectly understandable: By and large, the age of the fan bases for the Lilith acts skewed older - and people seemed to come to the venue only after work.
Metric made the best of having to perform in front of a sleepy late-afternoon crowd - and its brief, five-song set left fans wanting more. Although last year's Fantasies contains manicured electropop with mini bursts of noise, the Lilith set skewed toward sonic booms of new-wave noise-punk. (Sonically, it was akin to 2005's Live It Out.) The quartet opened with "Black Sheep," which is set to appear on the soundtrack to the new movie, Scott Pilgrim vs. the World. Thundering-hooves drums and traffic-jam guitars collided, as front woman Emily Haines - who strutted around the stage wearing a silver-sequined miniskirt -- added howling keyboard noise.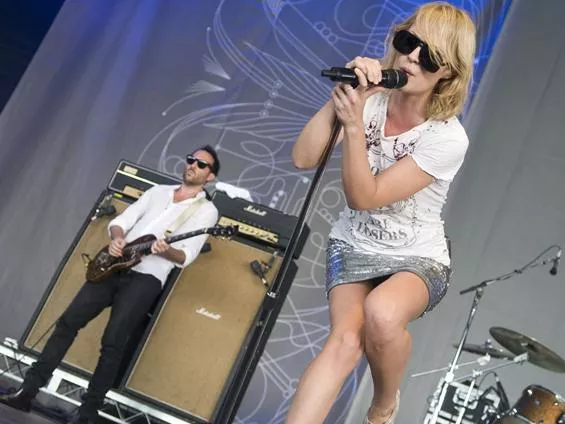 Jon Gitchoff
Metric live at Lilith Fair, July 16, 2010
The middle three songs, "Help, I'm Alive," "Gold Guns Girls" and "Gimme Sympathy," hailed from Fantasies. Like the opening tune, this triptych stretched out - echoing vocals, yawning jags of blurting guitars, shuddering bass. Haines was the focal point of the performance - whether she resembled a zombie supermodel while singing the "heart beating like a hammer" lyric of "Alive" or moving like a knock-kneed robot at the mic. The set-closing "Dead Disco" - like Duran Duran on a crime-spree - devolved into scribbling synth effects and abstract comet-trails of noise. In other words, the band deserved the standing ovation it received.
At one point, Haines mentioned the band's Canadian heritage and gave a heartfelt thanks to another Canuck, headliner and tour founder Sarah McLachlan. (Incidentally, Metric also added a snippet of Neil Young's "Hey, Hey, My My (Into the Black)" before "Gimme Sympathy.") In fact, nearly every artist on stage praised McLachlan for reactivating Lilith Fair and for her personal generosity. And so unsurprisingly, a matriarchal air permeated her night-closing set, which began with her on the piano playing a soft-glow version of "Angel." (As a nice bonus, Harris joined in on background vocals.)
She picked up an acoustic guitar for "Building a Mystery," a tune that also functioned as an introduction to her stellar band, like expert session drummer Matt Chamberlain. New songs were hit or miss - the bouncing piano chords on new song "Loving You is Easy," while catchy, were a dead-ringer for Sara Bareilles' "Love Song," and the midtempo, soul-driven "Forgiveness" dissipated into the ether. Her voice remains clear and velvet-goth-lined - "Adia" and "I Will Remember You" pierced the humid air -- and her music is beautiful and comforting: a glass of warm milk, a Monet painting, a wool blanket. But because her performance came directly after Blige's set, the mellow music felt like somewhat of a let-down.