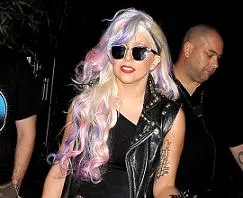 Sato/WireImage -- Image via
Gaga's Rilke tattoo, visible on her left upper arm
We're not going to lie to you, avid A to Z readers: We love Lady Gaga more than we're comfortable admitting in broad daylight. She taught us ignore the hipsterification of, well, everything. She gave us universal permission to embrace our latent slutty sides, dust ourselves in glitter and rejoice in guilty-pleasure pop. She made it okay to look like a girl in drag. We've always loved Rilke, but somehow, Gaga's love of Rilke and corresponding tattoo legitimized our appreciation of the Austrian poet. We've always had a serious girl crush on Beyoncé, and Gaga made that okay too. Gaga loves whiskey and men and Bowie, and we love whiskey and men and Bowie. Gaga is us, and we are her. So you'll have to forgive us for obsessing even further, we've culled a few of her choice tweets from 2010, highlighting the bizarre, the humorous and delightfully wacky side of the 24-year old's well-produced persona. Love her or hate her -- you know where we stand -- Gaga is the hardest-working woman in music.