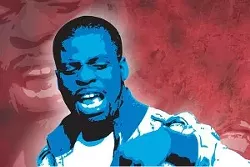 The Gramophone
Che Smith (a.k.a. Rhymefest)
This Friday, national hip-hop artist Rhymefest comes to the Gramophone. The Chicago-based artist is known for his solo work as well as his collaborations with Kanye West -- he co-wrote the Grammy-award winning song "Jesus Walks," and also contributed to several other tracks on West's debut, The College Dropout. He's won Scribble Jam (the largest Hip-Hop festival in the U.S.) twice.
In addition to Rhymefest, local favorites Gotta Be Karim, Vandalyzm and Tef Poe will also perform. The show starts at 9 p.m. and goes until 1 a.m. Tickets are $8 in advance, and $10 day of show.
*Official video for "Brand New," by Rhymefest featuring Kanye West