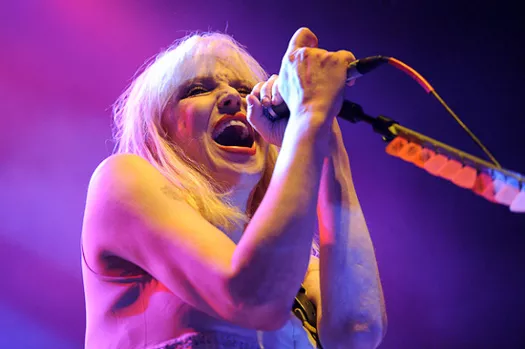 At about 10 p.m. - 50 minutes after the set was scheduled to start - Courtney Love and her backing band strolled onto the Pageant stage. Wearing a flimsy, light-colored dress and clutching pink flowers, the Hole front woman breezily said, "Sorry I'm late. We'll just have to play longer."
She paused.
"Fuckers."
Cue a way-too-short snippet of the Sonic Youth-styled outburst "Pretty On the Inside," which morphed into a cover of the Rolling Stones' "Sympathy for the Devil" and a new, hard-rock lurch, "Skinny Little Bitch."
View an entire slideshow of the night here
Love was just teasing the audience with the promise of a longer set, though. Hole played for roughly an hour - and that included a four-set encore. And unfortunately, the raw beginning was also a tease: Only songs from the band's pre-2000 career displayed that same spark of energy. The one-two punch of the grunge pogo "Miss World" and a bruised "Violet" thrilled the crowd, while the punk bash "Plump" was a raging snarl. And nobody screams quite like Courtney Love. Her guttural howl - as heard at the end of the Celebrity Skin cut "Reasons to Be Beautiful" -- remains a noise that still raises hairs.
Now, her voice isn't traditional; that's part of its charm. And she's always made it work, because Hole's rougher music compensated for any shortcomings. Last night's show, however, contained more rough spots than normal. At worst, Love's croak sounded like Elmer Fudd or a cross between Carol Channing and Marianne Faithfull; at best, she channeled squeaky-voiced Clare Grogan of Altered Images.
And in 2010, it's safe to say that Love's musical ambitions diverge from her strengths. This year's Nobody's Daughter is a perfectly pleasant album full of well-produced, jangly rock and high-gloss songwriting contributions from Linda Perry and Billy Corgan. When performed live, however, new songs magnified this narrow vocal range. Hearing her wobble through the ballads "Someone Else's Bed" and "Letter to God" was wince-inducing, while a cover of Leonard Cohen's "Take This Longing" caused the man behind me to note that it was the "worst cover he's ever heard."
"Letter to God" last night at the Pageant:
Love herself was charming and largely coherent. She noted several times that she was hungry and hadn't eaten, and asked for cranberry juice. (The break between the main set and the encore, she said she ate a cupcake.) "We're in a bar, right?" she asked at another point, before lighting up a cigarette. She's also been polling every city about their credit scores, and said that all of the sub-550 people in St. Louis were losers, "her people" - and that it was nice that Hole's fan demographic hadn't changed. Yet another time she engaged an audience member: "Is that your boyfriend? He's cute! Keep that one!"
She also asked the crowd if they had seen the "VH1 thing" - a reference to her recent Behind the Music - and noted that it looked like a lot of "TV people" were in the audience. It was a rather astute observation: While there were large pockets of die-hards in the pit, many in the audience seemed there for the curiosity factor - to see if Love would melt down - or simply for the sake of nostalgia. When she ended the main set by saying, "Merci beaucoup, let us know if you want us to come back," the response from the crowd was muted and indifferent.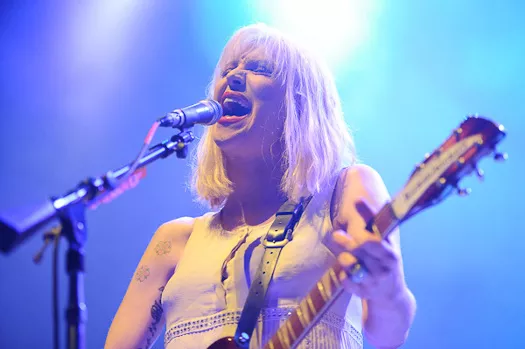 Perhaps that's why the encore was such an afterthought. "Malibu" lost its power without the studio slickness, the otherwise power-pop gem "Boys on the Radio" dragged, and a cover of Big Star's "Thirteen" - featuring just an acoustic guitarist as accompaniment - was rickety. At the end of the song, Love and her guitarist had a brief discussion, because it looked like he was trying to coax another song from her. But she prevailed, and the concert ended.
Really, the problem with the show was how it was billed. For anyone who was a fan in the '90s, it wasn't a Hole show. While Love was - and remains - the band's focal point, that incarnation featured other personalities, such as Melissa Auf der Maur, Patty Schemel, Samantha Maloney and Eric Erlandson. Hole was a band -- and fans had emotional attachments to members other than Love.
Last night should have been marketed as a Courtney Love solo show. Although guitarist Micko Larkin and drummer Stu Fisher have played with her for several years - and each has pre-Hole band experience -- they felt like faceless collaborators. Love never even introduced who they were, which made them seem like nothing more than talented, competent session musicians. And each man was talented; having them be part of Hole was just incongruous to the spirit - and memory - of the band.
Overall, the show wasn't the trainwreck many in attendance surely hoped it would be. And it was entertaining. But it was also infuriating, and often felt lazy. Love's loyal fans adore her, and will defend (and excuse) her actions and outbursts. That she showed up for an hour, tossed off some quirky banter - and oh yeah, remembered the words -- is good enough. And that's heartbreaking -- especially because Love built her career on being a strong, smart woman who pushed boundaries and didn't settle for mediocrity. Too often, that's exactly what the concert did.
Critic's Notebook: A pal who had wanted to see Hole since seventh grade summed up the night like this: "It was like losing your virginity. But it kind of hurt. And it was kind of bad."
A review of Foxy Shazam's opening slot is right here.
Overheard in the bathroom: "Courtney Love - hell yeah! Makes you want to turn lez."
Seen in the Street: Love threw one of her cigarettes into the crowd. An audience member snagged it and was walking around outside the Pageant taking pictures featuring it - and random fans.
Setlist: "Pretty On the Inside" > "Sympathy for the Devil" (Rolling Stones) > "Skinny Little Bitch" "Miss World" "Violet" "Letter to God" "Pacific Coast Highway" "Reasons to Be Beautiful" "Take This Longing" (Leonard Cohen) "Plump" "Someone Else's Bed" "Celebrity Skin" "Doll Parts"
Encore: "Malibu" "Play With Fire" (Rolling Stones) "Boys on the Radio" "Thirteen" (Big Star)