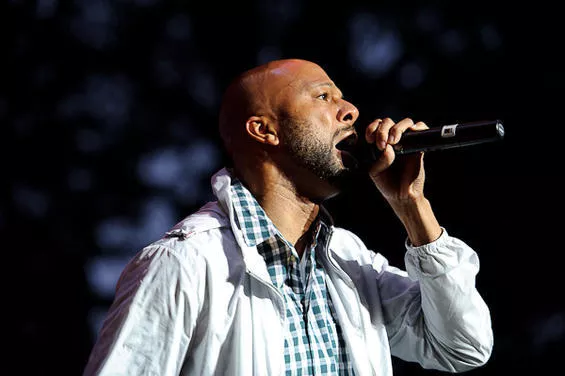 Although this year's mammoth Celebrate St. Louis concert series has been moved off the levee due to high water levels on the Mississippi (and is therefore no longer called Live on the Levee), the change of venue had little effect on the huge turnout. Fans piled into Soldiers Memorial Park to see Chicago rapper Common rock the mike, with DJ Needles and a host of local talent affiliated with the Force collective warming up the crowd.
The show began promptly at 6 p.m. with University City native Nato Caliph in the lead-off spot. After performing "Physics 720 (And the Universal Laws Of ...)," from his 2007 album Cipher Inside, he gave way to local favorites Tef Poe and Corey Black, who performed Poe's single "Show Stealers," featuring DJ Spec on the turntables. The ever enthusiastic Rockwell Knuckles also played a (very) short set that included his single "Government Name (Spontaneous Lover)."
Following a brief intermission, DJ Needles entertained the audience with an excellent mix of vintage hip-hop that went as far back as Slick Rick and Doug E. Fresh's "The Show." He included several Gang Starr records back to back as a tribute to its MC, the late, great Guru, who died in April.
After another intermission, this one much longer than the first, Common took the stage in front of the anxious crowd at around 8:40, by which time the park was almost full. He kicked things off with the up-tempo single "Go!," from 2005's Be, followed by the more recent cuts "I Want You" and "Punch Drunk Love (The Eye)." Common's smooth vocals and Kanye West-produced beats sounded great toward the middle of the crowd, where I was standing; his vocals were articulate and the bass wasn't too "boomy." There were, however, certain spots off to the side where you could hear a ton of echo reverberating off of St. Louis' downtown high-rises.
Much of Common's set was identical to his show here last October, when he opened up for Maxwell. He once again performed the lyrics to "Come Close" over the music for D'Angelo's "Lady," but to change things up a little, he invited a woman from the crowd to dance with him onstage, and later gave her the hoodie he was wearing. He also gave a repeat performance of his freestyle rapping with a verse that name-checked several St. Louis landmarks and people. It went over well with the audience, even if seeing it twice spoiled the illusion of a true "freestyle."
The setlist was much more robust than last time. Common touched on all of his most popular hits, along with some I'd almost forgotten about, like "Get Em High," off Kanye's 2004 album The College Dropout. Be's "Testify" remained a crowd favorite, and equally loud responses were heard during "The People" (from 2007's Finding Forever) and "Make Her Say," a 2009 Kid Cudi track featuring Common and Kanye. Other highlights included an old-school medley, a live drum solo, and a battle-style set from DJ Gully. I was expecting Common to do a backspin when he closed the show with 2008's "Universal Mind Control," like he did last year, but I was left hanging.
It was definitely a remarkable show, and I recommend anyone who hasn't taken advantage of the free Celebrate St. Louis concerts to check one out this summer.