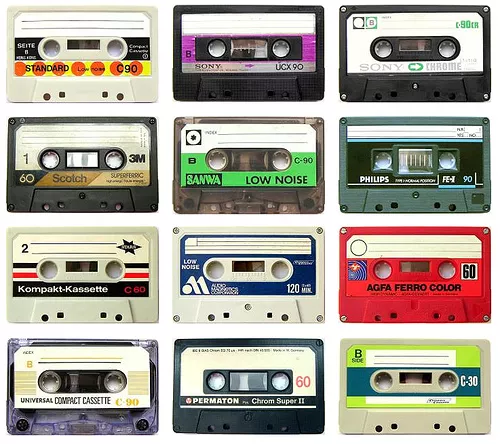 Nothing quite compares to receiving a mixtape. Whether it's from an unrequited love or a dear friend, a music mix is an intimate and compelling glimpse into what makes its maker tick. A group of young music lovers from south city recently decided they want the pleasure of receiving such a token of kindness on a regular basis, even if it's from a complete stranger. To ensure this, they started their very own Mixtape Club.
"There was talk of starting one for a while, and then it just kind of got to the point where it's like, fuck it, let's actually do this. So we just set a date, told everybody. At the first meeting we had 20 people there, and 15 traded. It was awesome." That's how Luc Michalski, cofounder of Mixtape Club, describes its origins. He started it with Ashley Hohman, a friend and fellow DJ at the Pin-Up Bowl.
She explains, "It was actually Luc's idea. Amongst friends we trade tapes a lot, but we thought it would be a good idea to get a group of people together who are really into making mixtapes and expand it to a larger audience -- people who had never made a mixtape before or have never received a mixtape. So, I just kind of opened it up to a larger group. It was his baby, and he asked me what I thought of it. I thought it was a great idea."
For the past four months, a group of close friends and strangers have met to exchange tapes. According to Michalski, "You make a mixtape however you want to, and then you show up. We put our names in a hat, and you draw a random name, and that's whose tape you get. That's pretty much it."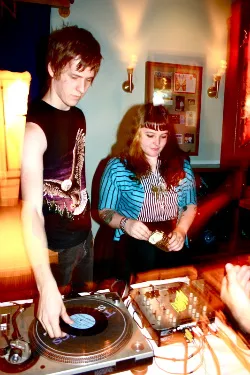 Chrissy Wilmes
Michalski and Hohman at a recent Pin-Up Bowl spin
He explained that sometimes there are guidelines for mixtape making, though they're optional. "We've done it before where in your tape you put a theme. So, if you get my tape there's a piece of paper inside that says your theme is 'cars' or whatever. Then you would have to show up next time with a tape all about cars, [or] however you interpret whatever you get. That's just something we've done once and will probably do again."
Hohman elaborates, "The tape that I got said that I had to make a movie soundtrack, and that was my favorite theme I've ever done. You can do so much with it. The themes that I gave out were songs about food, and teenage anthems." Michalski adds, just prior to the club's fourth meeting, "I've done a tape about girls. I did one tape that the A side was all about clothes and the B side was all about monsters. And I've also done a tape all about drugs. Those are the three that I've made so far."
Is anyone welcome at Mixtape Club? Michalski asserts, "Absolutely. Yeah. As long as someone's willing to take the time into making a tape, hell yeah, please come out. Even if you don't have a tape and you wanna hang out ... hell yeah, please come out." Hohman says, "We just want a group of people who kind of have the same passion for it that we do. It's not necessarily like we're excluding anyone from joining Mixtape Club. We've also talked about encouraging people to start their own mixtape clubs."
The process of mix making is something the members of the club feel very strongly about. Hohman especially loves making cassettes, as well as the artwork for them. "It's more personal, I think. Definitely in the 21st century anyone can make a mixed CD from their iTunes. But when you make a cassette mixtape you have to sit down and actually go through your records and pick out the songs you think are most important. It's kind of creating a little piece of you to share with someone else. And there are also other great things involved in making a mixtape. Mixtape art is something I value a lot; it's my favorite part."
All in all, the club's purpose is to celebrate the personal experience of sharing music with another individual, and to introduce that experience to people who are unfamiliar with it. "A lot of people show up and they've never made a mixtape before, and that's okay, and that's great," says Hohman. "We're really happy that people want to be a part of it and are getting involved in it."