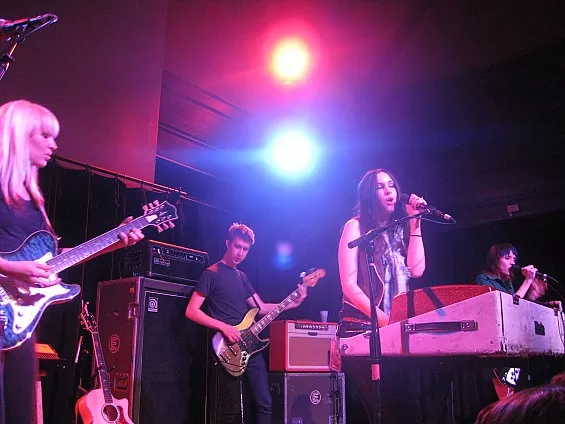 Diana Benanti
Eisley at the Old Rock House
While most of the free world was queued up at one of the local cinemas to take in the latest installment of the Twilight saga, about 160 people were treated to a fantastic show by Texas indie-poppers Eisley.
But no vampires, not even sparkly ones, could produce such dreamy sounds. And it would be hard to find five people more qualified to be singing about people made out of gumdrops, snowflakes in crystal air and little birdies flitting across dreary skies. Such fairy-tale fodder would be inexcusable from any other band, but every Eisley song is like opening a story book, and glimpsing a fairy land where home is always near, sisters are always close and a quick trip through the magical "Trolley Wood" will take you wherever you need to be. It's not all daisies and unicorns though; no fairy tale would be complete without a fight against good and evil, and Eisley delivers enchantment and haunted sadness in equal measure.
The quintet is made up of five DuPrees: siblings Stacy, Sherri, Chauntelle, Weston and their cousin Garron. Chauntelle and Sherri formed Eisley in 1997. Then-8-year-old Stacy was deemed too young to join the band, but she persevered and now fronts the band with sister Sherri while Chauntelle churns out the guitar hooks and occasionally contributes vocals. The band cut its teeth playing hundreds of shows throughout Texas before gaining notoriety by opening for bands such as Coldplay and Hot Hot Heat.
Despite its tender ages, the band is a well-oiled machine -- which is a testament, surely, to its cohesiveness as a family as well as a band. Stacy and Sherri have distinctive, silken voices; I'd go so far as to say they have two of the most beautiful voices in the business. Their voices could buoy you up from the depths of despair, only to throw you back down with the heartbreaking beauty of their music. Little sister Christie DuPree, the only sister not in Eisley, opened the show with a stripped-down set that further cemented, at least in my mind, that the DuPrees are one of the most talented families in the industry.
Eisley played a twenty-song set, highlighting some of its best songs from its debut, Room Noises, and 2007's Combinations. They introduced a few new tracks from their 2009 EP Fire Kites, and a forthcoming full length, to be released later this year. "Ambulance" and "The Valley" were the stand outs of the new stuff; Eisley has matured but has kept the sugarcoated lyrics and incandescent harmonies which set the band apart from other indie pop groups.
Diana Benanti
Eisley's setlist last night
The entire crowd sang along to every song; even the guys in the audience lent their voices to the night. "My favorite part is watching all the guys sing 'When I was a young girl,'" Sherri laughed after playing "Tree Tops."
Ironically, right after Stacy sang "Please don't make me cry," in the middle of crowd favorite "Telescope Eyes," something went terribly wrong and someone's equipment started shrieking with the most ungodly feedback, like the sound the Devil's teakettle would make if there was a banshee trapped inside. It was impossible to judge how long it went on, it could have been 25 seconds or 75, but it felt like several minutes of prolonged torture. All three girls had something to say about the aural assault: "I think that's a sign we're not supposed to play that song ever again," Sherri said.
"I don't think I've ever heard anything that scary in my whole life," Chauntelle added.
"That's it, that's the number one weird thing that's ever happened on tour," Stacy said. They abandoned "Telescope Eyes" and recovered gracefully with "Marvelous Things," after the feedback incident, and finished their set with gusto.
"We're not into the whole fake hype encore thing, this is supposed to be our last song, but we've got three more," Sherri said. They rocked solid on the paranoiac "Invasion" and ended the damn near perfect set with the slow burning "Ambulance," from Fire Kites. Eat your hearts out, Twilighters.
I wanted to like The Lion and The Sail, as I always want to like bands I've never heard. This doesn't always work out, though. The female vocalists were no match for the five guys playing their hearts out on guitars and drums. The vocals were just shy of completely lost in the aggressive drums and Explosions in the Sky style progressive guitar work, with none of EITS's consideration for sonic peaks and valleys. Thankfully, on the last two songs, the four guys on guitars supplied the chorus, finally connecting the rest of the band to the girls manning the keyboard and xylophone.
Notebook Dump: Hearing some in the crowd talk about missing Eclipse got me thinking: Hey, these girls on stage would have been great choices to play the female roles in Twilight. They're certainly photogenic enough, and Stacy could be Bella with her long brown hair, Sherri's pixie haircut and diminutive stature would make her Alice, and Chauntelle's flaxen locks would perfectly suit Rosalie.
Tweets From Last Night: Eisley: @OldRockHouse is perhaps one of the best new clubs in the country. Bands will flock in hordes to play here. http://twitpic.com/214nu2
lindsaygeorge89: @Eisley was great! What sweet, talented people!
Eisley: The screech from hell will forevermore be the benchmark for calamitous, awkward ice-breakers. [Had to be there]
SharQubus2012: Made it home safe and sound. For the record:Eisley concert trumps midnight Eclipse any day. Glad I'm not in the theatre with you crazies :)