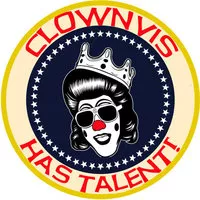 It doesn't matter what they say!
[Update! Watch video below, courtesy of Creative Saint Louis.]
After seeing Clownvis Presley's performance on tonight's episode of America's Got Talent, it's obvious why it was chosen to be televised.
Clownvis took the stage with his handlers, right after having said he was about to win the hearts of America. He climbed atop his signature patriotic platform and began a rendition of "Old McDonald Had a Farm." A few seconds passed before he was buzzed once, twice, three times, and a resounding "boo" filled the theatre.
That's when his performance really began.
Piers informed Clownvis that his act "is without any doubt the worst act [he'd] ever seen," which made Sharon giggle.
Clownvis' favorite Howie Mandel work
Clownvis responded to Sharon's giggling by saying she had a "contact high from living with Ozzy too long." Sharon did not take kindly to this comment, saying "Nobody disrespects my husband, so, fuck off!"
Howie also kindly suggested the King of Clowns "fuck off," after Clownvis stated that "Howie Mandel hasn't made a good thing since Little Monsters."
Oh well. Three assertive "no"s and two irritated "fuck off"s won't get Clownvis down. When it comes to Elvis impersonating party clowns, he's the best around -- and he's pretty resilient.
Video from America's Got Talent: