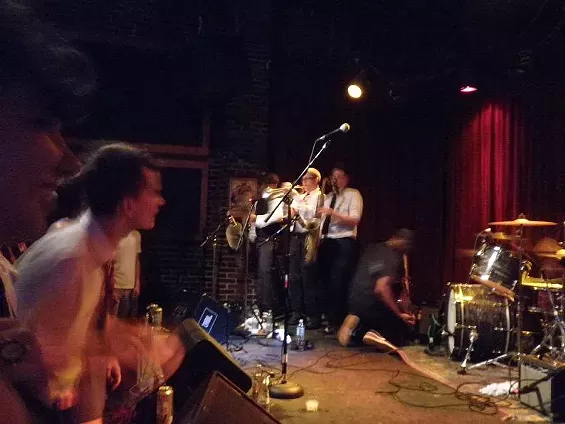 Katie Moulton
Good luck trying to capture anyone still at a Black Joe Lewis show
With every music writer in America comparing Black Joe Lewis to shout-it-out soul idols Wilson Pickett and James Brown himself, I expected last night's show at Off Broadway to be all about the man and his vocals. Instead, Lewis made it all about his band, the Honeybears, and its big-ass garage soul sound.
Hacienda, a four-piece out of San Antonio, Texas, jump-started the night with the kind of energy, musicianship and throwback attitude the crowd wanted from a Black Joe Lewis show. The combo played '60s-style surf rock with Dante Schwebel's enthusiastic and excellent guitar-work forming the centerpiece of the sound. (Full disclosure: I was standing right in front of the guitarist and his speaker, so it definitely seemed from there that it was all about the guitar.) Championed by Dan Auerbach of the Black Keys since early in its career, this family act of cousins and brothers makes updated references to the Beatles, the Beach Boys and Chan Romero. There's a reason that music persists - Hacienda put on an engaged, unpretentious set that had people dancing. Plus, bassist/vocalist Rene Villanueva looked and moved like Lou Diamond Phillips in an Elvis biopic.
The evening kicked up a torrential downpour that may have delayed some concert-goers, but by the time Hacienda finished, the room was packed in and primed. The seven-piece out of Austin took the stage modestly, Black Joe Lewis in a black T-shirt and black pants and nearly all the other members in crisp white shirts and glasses. Picking up a guitar taped up with photos of half-naked ladies, Lewis and the band immediately launched into a multi-layered groove. From then on, the music didn't stop; it merely paused between snatches which referenced -- and then subverted -- classic R&B, funk, soul and rock riffs, such as the Bar-Kays' 1967 essential "Soul Finger."
Though their clothes might have appeared buttoned-up, the Honeybears are tight but not neat. The three-piece horn section did occasionally dip and step in sync, but there was no whiff of the slickness of pre-packaged nostalgia about this band. Bearded bassist Bill Stevenson quick-stepped and danced on the stage floor. Drummer Matt Strmiska's black-rimmed glasses kept sliding down to the tip of his nose while he pounded away. Lewis' brash, comically profane lyrics and dirty blues riffs kept anyone from taking themselves too seriously, as the crowd shouted back lyrics in call-and-response number "Big Booty Woman."
The band's abandon and gusto in fraying the edges on songs - like crowd-pleaser "Bobby Booshay" off 2009 debut Tell 'Em What Your Name Is! - lent it an almost jam sensibility. Indeed, there seemed to be no written set list, with Lewis calling out the next song as they went along.
Lewis was de facto leader in all aspects. For the crowd, he was an easy and captivating onstage presence. His often fiery, bursting vocal delivery could change in a moment to a begging croon, as on "Where There's a Will, There's a Way." On this instance of horndog-jokes-aside, Lewis' guitar ditched the grind and matched the pleading sentiments. For a guy known for his frontman vocals, and who famously taught himself how to play while working in a pawnshop, Lewis is no slouch on guitar (not to mention harmonica). Could James Brown say that?
What sets Lewis apart in the soul revival scene is that he is not trying to duplicate his idols, but maintains the raw sensibilities of a punk and hip-hop emcee in his sound and stage performance. He played three raucous encores, including an Iggy Pop cover, for the adoring, sweaty crowd, and through it all, he stayed loose.