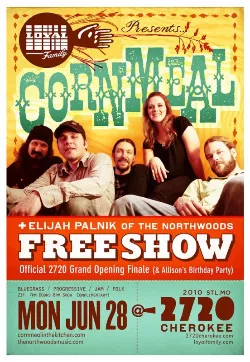 2720Cherokee.com
Tonight's free show with Cornmeal closes 2720 Cherokee's Grand Opening Weekend
Although 2720 Cherokee records September 9, 2009 (09-09-09) as its birthday, it wasn't fully up and running until November of last year. Since then, the new Cherokee Street venue has actively hosted music, art and party events. In recent months, 2720 Cherokee has been picking up momentum, and now hosts several shows each week.
It's appropriate that they decided to wait to hold its official grand opening, as Pridefest St. Louis and Cherokee Street's Bizarre Bazaar were both filling the South City streets this weekend.
The grand opening event spills over into the work week with a free Cornmeal show tonight. Earlier this year, the bluegrass/roots-rock band from Chicago released Live in Chicago, IL Vol. I; they're known throughout the windy city for their live performances, and are gaining such recognition nationally.
Don't miss an opportunity to see them here for free and support a new(ish) and unique St. Louis venue.