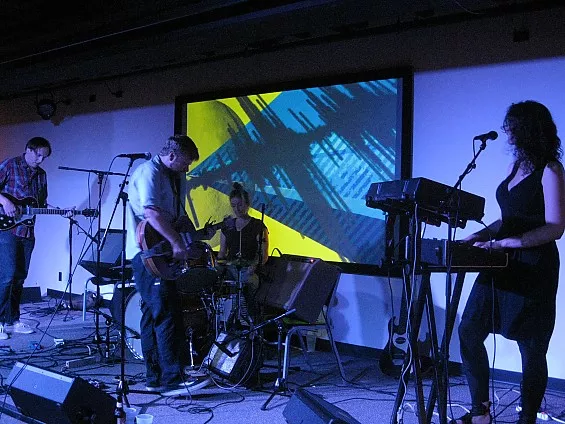 Frog Eyes exists in a distinct musical ghetto that no other band has the talent or the gall to occupy. Its serpentine song structures, high literary motifs and unpredictable vocals sets the group apart from the rest of the Canadian indie rock scene -- and hell, from every other band ever.
The Canadian quartet drew an intimate crowd of about 50 people last night at the Luminary Center for the Arts, and the audience couldn't have asked for a more cohesive bill. Art Majors set the tone with its fuzzy, unpretentious alternative rock and Jumbling Towers upped the ante with its vaudevillian tendencies; in fact, the latter's playful spookiness acted as the perfect foil for Frog Eyes' operatic intensity. It was the last show for a while for all three bands (look for Art Majors and Jumbling Towers shows in August; last night was the end of the current Frog Eyes, but it just announced dates with Japandroids) and it put on a fantastic show from start to finish.
"It's great to be back in St. Louis -- we were on tour all weekend," quipped Jumbling Towers bassist Nate Drexler. The band opened with the glorious earworm "Gilberta" off Kanetown City Rips. Frontman Joe DeBoer held his own, and his vocals may have even out-shone Frog Eyes mastermind Carey Mercer's vocalizations. DeBoer should consider moonlighting as the voice of a lovable cartoon villain. Jumbling Towers played two new songs "Severe" and "Ramifications of an Exciting Spouse." The former is what we've come to expect from JT, a tune punched up with glistening keyboard top notes and lyrics such as: "You're gonna make it even though you're sick, you're gonna make it even though you're not fit. Soon enough you'll be on top, you never need to be what you're not." "Ramifications" had an almost ELO flair to it, and the band delivered the goods on its older stuff, the always excellent "Cowards," "Pure Jew" and "Vice Rake."
It was almost shocking to see Frog Eye's equipment: a small drum kit, keys and two guitars. I don't know what I was expecting, but how the band manages to create such a wholly original sound with such a sparse set-up is totally baffling. Of course, Carey Mercer's voice is the most important weapon in its arsenal, his erudite songwriting the second and highly emotive delivery the third. Frog Eyes was once described by a critic as "a poetry slam for the criminally insane," though its live sound was less deranged than recordings.
Mercer's voice cascades, retreats and surges back with tidal ferocity against the sonic onslaught of Melanie Campbell's drums and Ryan Beattie's guitar. The group opened with "Odetta's War" off their 2010 release Paul's Tomb: A Triumph, which was just nominated for the prestigious Polaris Music Prize.
At times it seems like the enigmatic front man is a thing of the past. Not so with Mercer: If the guy wasn't a brilliant songwriter, he'd surely be able to find work as a stand-up comedian: "I haven't mentioned LSD or corralling the rich people in New York in a pit with truffle fries and throwing some gasoline on them...I was trying to get the hard working people of Philadelphia on my side...I'm going to lose my job as a youth motivational speaker."
Mercer joked about St. Louisians hating Chicago, but the crowd corrected him. "I went to rivalcities.com and they totally fucked me over. Who do you hate? Kansas?...Everyone in St. Louis is so nice, you're like, 'Oh no, they're pretty okay too.'" Someone said they hated Canada and Mercer replied, "So do I--it's on stolen native land so fuck it."
"Lear in Love" is a fervid, antithetical love song that starts hard and trips down a winding path of delicate reassurance: "I kissed a girl, she was the only one who seemed to own a shard of light/She's all right, she's all right, she's all right and it's all right." Mercer introduced the oldest Frog Eyes song, "A Latex Ice Age," saying it was "a love song for me, my woman, and a bunch of fucking trees somewhere."
There was a polite pause at the end of nearly every song, the crowd waited a few seconds before applauding to see if Mercer had truly finished caterwauling. "Ship Destroyer" showed Mercer's ability to jam a million words and sounds into a postage stamp of a song. "Violent Psalms" featured new member Megan Boddy's ethereal vocals and understated keyboard accompaniment. The band closed the set with the grandiose slow jam "Cloud of Evil," but Mercer thankfully reneged on his promise that it would be their last song.
"Frog Eyes exited the stage in the most dignified fashion, went back stage and had iced lattes and biscotti and returned fully energized," Mercer joked before delighting the crowd with a performance of what's arguably its most popular song, the sweeping, nine-minute epic "Bushels."
Personal Bias: Jumbling Towers are one of my favorite local bands. I don't know why they aren't famous. "Soon enough you'll be on top..."
Critic's Notebook: No matter how intimate the show or the venue, it's never okay to take your shoes off in public.