Someone sprinkled fairy dust on the Pageant last night. There's no other explanation for it, and not enough superlatives exist to describe the sold-out Passion Pit/Tokyo Police Club/Brahms show last night. I did see a girl with a wand -- maybe she was responsible for generating the most vim and vigor I've seen from a St. Louis crowd in a long time. From the balcony to the pit, the mere mention of Passion Pit by the opening acts sent the crowd into paroxysmal delight.
See a slideshow from last night's Passion Pit show at the Pageant.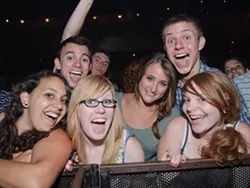 The enraptured crowd proved white people can jump -- and they can jump really high for entire sets. The whole place was dancing, and the bands were quick to mention how great the response was. "St. Louis, this is fucking awesome, I had such a shitty day until I stepped on this stage," said Passion Pit's banter-happy frontman Michael Angelakos. Added Tokyo Police Club vocalist Dave Monks: "I'm glad we got to come to St. Louis, it's been, like, the best show so far."
Openers Brahms completely blew my mind. I loved the band's remix of Neon Indian's "Psychic Chasms," and a couple of other cuts, but I didn't know what to expect from the NYC trio. Brahms doesn't have an album, it's not signed to a label, only been a band for about six months -- and this is its very first tour. Opening for Passion Pit, no less!
Eric Lyle Lodwick, Drew Robinson, and Cale Parks rock the synths like Depeche Mode, but this is thoroughly modern dance music: straight-to-the-veins pop, heart-palpitating jungle-drum beats and well-timed samples. Its set ranged from pulsing slowcore to clap-happy, Tanlines-esque standout "Brought it Out."
Tokyo Police Club is the most weathered band in the bunch: It formed all the way back in 2005 and has more than one album under its belt, a distinction which neither Brahms nor Passion Pit can claim. This experience contributed to the quality of Tokyo Police Club was stellar. Its brand of post-Strokes indie rock was in stark contrast to the electro-pop perfection of Passion Pit. The Canadians played a few new songs from their 2010 release, Champ, such as "Favourite Colour" and "Wait Up (Boots of Danger)," along with crowd-pleasing older such as the wasted-youth anthems "Breakneck Speed" and "Tessellate."
During TPC's set, the crowd was doing what can only be called neo-moshing. The bodies on the floor were undulating back and forth and side to side to the music, creating a trippy human ocean that had many leaning over the balcony to figure out how the hell they were doing it.
Passion Pit had an MDMA-like effect on the crowd, and it delivered every song with a maximal raw energy that was surprising, even for such a deliriously happy band. The band opened with the fantastic "I've Got Your Number," from 2008's Chunk of Change. Angelakos' crystalline falsetto was so impossibly consistent during the 75-minute set, it drew disbelieving comments from the crowd. (Overheard from one incredulous attendee: "He's talented to a point, but there's no way he sings that high naturally if he has balls." We were all thinking it.)
Angelakos' frequent requests that those sitting comfortably in the balcony get on their feet actually worked. At the end of the set, it wouldn't have been a surprise if stretchers were necessary for a good number of audience members. It's virtually impossible to pick a crowd favorite from Passion Pit's set; people greeted every song with the same bone-rattling fervor. "I'm seeing more people having fun than pulling out cameras and filming it. When I go to shows, I go to watch the band, not to prove that I was there on YouTube," Angelakos commented.
The blogs have been blowing up with Passion Pit's unexpected odes to the 90's; they've been covering Smashing Pumpkins' "Tonight, Tonight," and The Cranberries' "Dreams" on this leg of the tour. Only "Dreams" appeared, and the version revealed the audience's vast age range: Quite a few of the young'uns in attendance were still carrying lunchboxes around the time "Dreams" was on heavy radio rotation - and the rest of us just sung our hearts out. The instant cult classic "Sleepyhead" was, of course, the last song of the night. Passion Pit could have drawn it out a bit more, it's not like the crowd wasn't ripe for a meandering 10-minute version.
Angelakos made light of the fact that the quintet has only been touring professionally for a year after their meteoric debut in 2009. "People keep asking us to play new stuff, but we're trying to get better at the old stuff." Commendable certainly, and since they have this down pat now, we'll see if they can keep it up long-term.
Critic's Notebook: Angelakos needs to work on his diction, or I need subtitles. A lot of the lyrics were lost in the swirl.
Personal Bias: I'm for the liberal use of percussion and the recent drum machine revolution. I could have used more drums from Passion Pit. Brahms impressed the shit out of me, and it may or may not have been due to the drum machine and Lodwick's separate drum set up. I want drums on top of drums, give me a drum machine, a full live drum kit and more drum machines!
Random detail: Never noticed how many times Passion Pit uses the word "God" before last night.
Passion Pit setlist: I've Got Your Number Make Light Better Things The Reeling Moth's Wings ?Swimming in the Flood Eyes As Candles Let Your Love Grow Tall Live to Tell The Tale Cuddle Fuddle Smile Upon Me Little Secrets Encore Kingdom Come Dreams Sleepyhead
Tweets From Last Night: @jeneverettart: I don't know who passion pit is, but they got the pageant on LOCK!"
@PatrickQueensen: An electronic band that can actually play instruments and preform live? Could it be true? Passion pit. They came They saw They conquered stl"
@ivebeanwaiting: I wish TPC were big enough to come to STL and play as the main, instead of opening for Passion Pit. Will tagging help? #tokyopoliceclub"