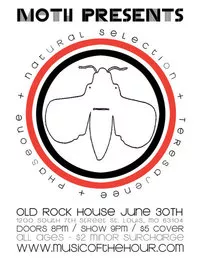 Anyone who has recently said or thought, "Damn, the St. Louis music scene is blowing up right now" can rest assured that you're not alone. Shit's going down! Consider this our Almost Famous moment; all we're missing is a scantily clad Fairuza Balk or Kate Hudson walking around proclaiming "It's all happening!" Because it is. There's a different show every night, we're getting more national acts that people actually want to see, music blogs are popping up all over the place and well, we're refilling our Adderall prescriptions just so we can keep up with everything.
Add another one to the growing list of must-dos this summer: Our friends over at Music of the Hour are kicking off their new monthly concert series, the Music of the Hour Showcase, on June 30 at the Old Rock House.
"We want an event where people can come in and meet other fans of independent music in St. Louis, and if someone who attends isn't familiar with the independent music scene in St. Louis that they know they can come to one of our shows and see the latest of what's happening in local music," said Justin Price, who co-founded MOTH with Berrek Thompson.
He further notes that the goal of the showcase is to "put together a series of performances that shift the pre-conceived notions of 'shows' ever so slightly out of focus, and put the emphasis on putting together artists who share the same spirit of independent and progressiveness in music." In the spirit of that, the inaugural show features an eclectic line-up: Phaseone is a producer, Teresajenee is a big-voiced chanteuse and Natural Selection shakes up a funky, disco-rock cocktail. Although each act is distinctive, Price assures "they'll fit together like puzzle pieces when seen in a live setting."
What's on tap for the next installment of the showcase? A possible collaboration between hometown heroes So Many Dynamos and an as-yet unnamed member of the Force. Says Price: "We're going to do our part in ensuring a very interesting summer for local music in Saint Louis."
The details: Music of the Hour Showcase featuring Phaseone, Teresajenee, The Natural Selection. June 30 The Old Rock House, 1200 South Seventh Street All-ages $5