Clad in a kitschy, long-sleeved black cowboy shirt, Jay Farrar barely flinched from the heat as he plowed through a 100-minute set loaded with Son Volt's recent catalog and a few classics in front of a sold-out crowd at the Old Rock House.
View a full slideshow from Jay Farrar's solo gig at the Old Rock House.
The Col. Ford Duo, with Dade Farrar (Jay's brother) on upright bass and Gary Hunt on electric guitar, started the night with their mix of classic country swing and Hunt originals. "We play pop music," Dade said. "Music your pop probably liked." Dade's strong vocals and bass antics - he swings it around like an underweight dance partner - highlighted classics such as "Moanin' the Blues" and "Dim Lights, Thick Smoke".
Jay's the more subdued Farrar brother. He countered Dade's high energy and broad smile with a solid foundation based on classic acoustic guitar and his impeccable lyrics. Mark Spencer, the multi-instrumentalist who's a part of the current Son Volt line-up, gave Farrar's foundation color and flair with keyboards and pedal steel, acoustic and electric guitars; he stayed glues to his fort of instruments.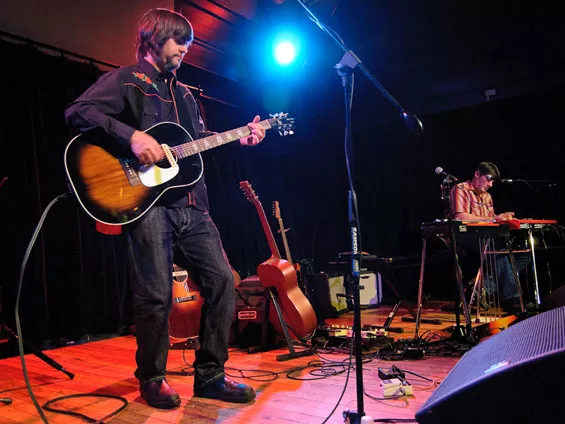 The set started with a heavy sampling from Son Volt's 2009 album, American Central Dust. Farrar dedicated he fossil fuel warning cry "When the Wheels Don't Move" to BP. He created the deep roots and rhythm of a funeral march with Spencer's keyboard as high, tinkly piano. Spencer moved to pedal steel for the following "Cocaine and Ashes," where he managed to evoke Stones riffs in traditional country mourning. Farrar's vocals remain as emotive and steadfast as they did two decades ago.
At times Spencer's keyboards overpowered Farrar, particularly on "No Turning Back" and "The Picture"; they sounded too synthesized for the songs. The venue's sound system didn't help, either -- throughout the show Farrar had to request audio tweaking.
The keyboards worked more often than not, though. On "Dynamite," Farrar remained unwavering while Spencer turned the keyboards into calliope, reminiscent of the accordion in Springsteen's early Jersey boardwalk ballads. Before "San Francisco" from Farrar's Jack Kerouac-inspired collaboration with Ben Gibbard, he noted, "This song mentions God. When I think of God, I think of Willie Nelson." It seemed more like he's been studying from the Book of Neil Young, what with its raucous acoustic guitar and harmonica jam. He waited until the end of the show to haul out the Trace-era Son Volt classics everyone expects, such as "Tear-Stained Eye" and "Windfall." For "Still Be Around," the only Uncle Tupelo song in the set, Farrar and Spencer both played acoustic guitars that were more jazz than cowpunk, showing both the classic quality of Farrar's writing and his growth as a musician.
The set ended his contribution to The Devil at the Confluence, "Outside the Door." He asks, "Can you hear the hum outside the door?" and conjures the ghosts of Dime D. Morgan, Gaslight Square, and other disappeared vestiges of St. Louis' music history. It would have been a somber -- but fitting -- note to end the night; after all, he was playing in a building that's almost 200 years old and the Gateway Arch shimmered in the heat outside the windows. Instead, Farrar followed with a rollicking "Afterglow 61": "There's no reason to feel downhearted. There's music in the wheels."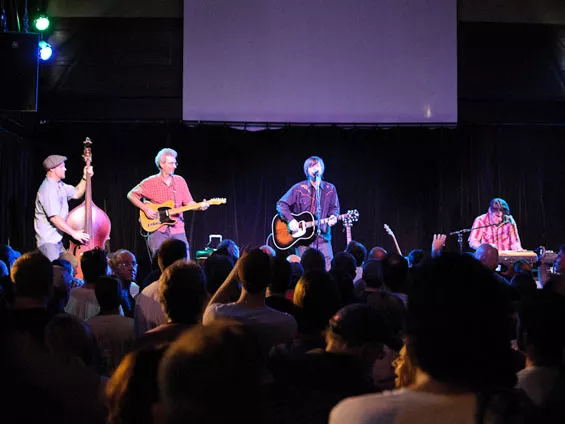 With a break lasting less than five minutes, Farrar and Spencer returned with Dade and Gary Hunt for Buck Owens' "Made in Japan," classic honky-tonk stomp and romp. They ended with the Townes Van Zandt heartbreaker "White Freight-liner Blues." While Jay murmured "Lord, I'm going to ramble til I get back to where I came," his more jovial brother turned his high spirits into a furious rhythm of his stomping foot and a fist on the bass' wood, leaving no doubt that the brothers are home.