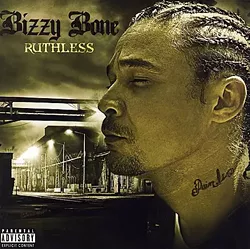 Three months ago, Bone Thugs-n-Harmony played to a sold-out crowd at Pop's while touring to promote its latest album, Uni5: The World's Enemy. Bizzy Bone was notably absent from the tour, as he was reportedly dissatisfied with the financial arrangements. Last night, Bizzy headlined at Pop's without the rest of the group, which makes the odds of a tour with all five BTNH members look pretty slim.
While quite a few die-hard Bizzy Bone fans came out to support him, the turnout was a far cry from the packed house that showed up in March to see the group. Only a corner of the stage and a fraction of the floor was used, and it was easily enough to accommodate the event. (Under-promotion, unfortunately, may have been a factor.)
I wasn't familiar with most of the opening acts except J-Red, who opened for Bone in March. But from what I saw, these acts were decent, just not particularly memorable. A couple of the warm-up groups (K9 Squad, Raw Elements) had a hyper-fast style similar to BTNH.
Bizzy Bone went up around 10:50, leading off with his verses on Bone tracks such as "1st of tha Month," "Notorious Thugs" and "Crossroads." He chatted up the audience a little before getting into his solo projects. "I was supposed to be on celebrity rehab, but they said my drinking problem wasn't bad enough," he announced, before ordering a drink from the bartender. That got a laugh from the fans, although there has been much speculation over the years about his dependencies playing a role in the separation of the group.
Bizzy vaguely addressed the fact that he's not appearing with BNTH, but offered no real insight as to the reasons why he isn't. He's currently promoting an upcoming solo album, Crossroads 2010, and he left the distinct impression that he's more focused on his solo career than any upcoming Bone projects.
"Thugz Cry":
Assisting Bizzy onstage was Bay Area rapper/singer Ta Smallz, who acted as hype-man and sang on the hooks as needed. A hype-man was definitely in order, as Bizzy's performance was extremely laid-back, and his stage presence was understated -- to say the least. On the upside, his lyrics are as good as they ever were, and his lightning-fast delivery remains unchanged.
Bizzy performed his better-known solo material such as "Fried Day" and "Thugz Cry," and threw in some more obscure verses such as "Money," his collaboration with Twista. His set lasted about 35 to 40 minutes; a much shorter set than when the rest of the group was here. Tickets were only $15, so I imagine with the small turnout, Bizzy figured he'd given his money's worth.
All in all it was a fun concert, and it was great seeing Bizzy perform his material live. Still, it's a little disappointing to see such a world-class talent doing shows on such a small scale.