Darth Vader Pez Dispenser: "Impressive."
Have fun this weekend, but don't go broke. Here are our ten suggestions for weekend entertainment that will cost you $10 or less.
Eighteenth-annual National PEZ Convention at the Marriott St. Louis West (Saturday) If you remember our 2007 feature story "PEZheads," you know that the national Pez dispenser collectors' convention is a big deal. On Saturday, the public is invited. It's just $5 from 10 a.m. to 1:30 p.m.
Soo Sunny Park: liminal possession (Opens Friday) Writes Alison Sieloff: "Once a lecturer at Washington University, Soo Sunny Park now is an assistant professor of studio art at Dartmouth College. This summer, she returns to our fair city for liminal possession, an exhibition of her art at Good Citizen Gallery (2247 Gravois Avenue; 314-348-4587 or www.goodcitizenstl.com). The free opening reception for liminal possession will be held from 6 to 10 p.m. Friday, June 18, and the exhibition remains on view through Saturday, July 17. Good Citizen is open from noon to 5 p.m. on Friday and Saturday." Read more of Sieloff's preview.
Megafun at the Lemp Arts Center (Friday) "Promo pictures confirm what the banjo plucks and serene harmonies of the new song 'Volunteers' imply: The three men collectively known as Megafaun all have beards.," observes Ryan Wasoba in his preview of this band's show on Friday at the Lemp Neighborhood Arts Center. It's just $7. Read more about Megafaun's show at the Lemp.
World Naked Bike Ride in St. Louis (Saturday) "Protest the notion that 'America + Oil = BFFs' by participating in the World Naked Bike Ride tonight on the streets of St. Louis," writes Brooke Foster in her preview of the third annual ride through St. Louis. "Riders begin gathering at 7 p.m. behind Commerce Bank (3134 South Grand Boulevard), and the birthday-suited peloton rolls out at 9 p.m." It's free. Go as "bare as you dare." Remember to bring a bike (and maybe a cloth, or something.) Find out more about the 2010 St. Louis World Naked Bike Ride.
The World Cup, at Wherever There's a TV (All Weekend) The World Cup is on. Watch games all weekend (get up early) and prepare for Wednesday morning's U.S. vs Algeria match at a bar or restaurant near you. Check out our St. Louis World Cup Soccer Bars Directory for a full guide of where to go before you head out the door. Also be sure to check our the dispatches from bars across the city, filed by our World Cup soccer bar traveler, Keegan Hamilton, in World Cuppage.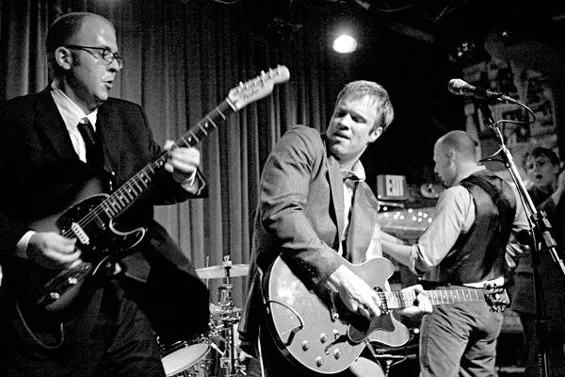 Jon Hardy and the Public at the Old Rock House (Saturday) "It's been a long year for Jon Hardy & the Public," writes Roy Kasten in his preview of the band's show on Saturday night. "After building serious momentum with the release of Working in Love and an EP of Randy Newman covers, as well as a triumphant set at Twangfest 13, the soul-charged pop band lost its drummer to California and has retreated from regular performing in St. Louis. Nevertheless, the recent Sugar EP, which includes a shockingly gorgeous cover of the Supremes' "Where Did Our Love Go," makes it clear that the band is far from giving up." The show is just $7. Get directions to the Old Rock House.
St. Louis Uncorked: A Wine & Music Festival (Saturday) "Head downtown for St. Louis Uncorked: A Wine & Music Festival," writes Alison Sieloff in this week's issue. "Held from 11:30 a.m. to 10 p.m. at Soldiers Memorial Plaza (12th and Market streets), this party offers more than enough to keep you out-of-doors and occupied (with things to do other than those items on your to-do list). Local wineries provide some of the sips -- including Vintner's Cellar Winery and many Hermann-area wineries -- and various restaurants serve up the eats." Admission is free. Get more details about St. Louis Uncorked.
The Mourners: Tomb Sculptures from the Court of Burgundy at the Saint Louis Art Museum Paul Friswold writes of this traveling exhibit, which opens on Sunday: "Magnificent treasures of another age travel from France to America on a nationwide tour, The Mourners: Tomb Sculptures from the Court of Burgundy, a tour that stops (almost too briefly) from Sunday, June 20, through Sunday, September 5, at the Saint Louis Art Museum in Forest Park (314-721-0072 or www.slam.org). Admission is is $4-$8, and free on Fridays. Get plenty more details on this exhibit here: <em>The Mourners: Tomb Sculptures from the Court of Burgundy.
Father's Day with the Trip Daddys at Off Broadway (Sunday) "Even with a new rhythm section, the Trip Daddys still sound like the Trip Daddys -- mainly because of Craig Straubinger's strength of vision and his red-hot guitar playing," writes Christian Schaeffer of the local rockabilly stalwarts. The show on Sunday is $7 those older than 21 and $10 for those younger than 21. Read more about The Trip Daddys at Off Broadway on Father's Day.
Oh My Gatos! The Show at Cranky Yellow (Saturday) Enjoy sharing disgusting, ridiculous and outlandish true stories about what's going on right here in St. Louis? You may want to head down to Cherokee Street on Saturday night. Admission is $5 to Oh My Gatos! The Show, which is described as "a mysterious traveling side-show where YOU get to choose your own adventure and they make it happen. But be careful, they're magic!" and "Free gin and a chance to tell your own most ridiculous and unbelievable stories, in any way you see fit. Also, free gin. Free gin. You are also free to bring your own free gin." Drink, tell stories, hear stories, drink, meet new people. More details about Oh My Gatos! The Show are on the event's Facebook page.