(New albums are typically released on Tuesdays, i.e., today. What can you spend your hard-earned pennies on this week? Find out below.)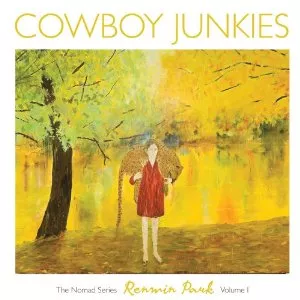 amazon.com
Cowboy Junkies' latest release, Renmin Park, is part one of a three-part series.
*Cowboy Junkies, The Nomad Series Volume 1: Renmin Park In the magazine Wears the Trousers, Michael Timmins calls Renmin Park "a fictional love story about two people whose two worlds will forever keep them apart. It's a thank you letter to an obscure city and the people who opened up their lives to five very strange strangers. It's a document about a bewilderingly complex culture that is, once again, experiencing a massive upheaval." It's also volume one of a four-part series, which will include a Vic Chesnutt tribute album.
You can stream the full album here. The Junkies' visit to St. Louis this summer, originally set for June 27, hasn't yet been rescheduled.
*Devo, Something for Everybody Devo's first album in twenty years is streaming for free via Colbert Nation. There have been some interesting promotions surrounding the release.
amazon.com
Drake's new album, Thank Me Later, features a wealth of top-notch guest appearances
*Drake, Thank Me Later Drake's highly anticipated release features Alicia Keys, Nicki Minaj, T.I., Young Jeezy, The Dream, Jay-Z and Lil Wayne. You can stream the entire album here.
*The Gaslight Anthem, American Slang Listen to American Slang as part of NPR's First Listen series. The band's at Pop's on July 16.
*Foals, Total Life Forever Total Life Forever is streaming in its entirety on Foals' MySpace page.
*Check out the video for Foals' "Miami" below.
amazon.com
Light Pollution's first full-length album, Apparitions
*Light Pollution, Apparitions "Good Feelings," the first single from Apparitions, is available for streaming on its Myspace page. *The Steve Miller Band, Bingo! Stream the entire album here.
*Tom Petty & The Heartbreakers, Mojo Tom Petty and the Heartbreakers gets its mojo back after an eight year album break. Stream "Good Enough," the album's first single, here. The band's in town July 18.
*Robyn, Body Talk Pt. 1 Robyn's latest effort is a highly danceable, perfectly-timed summer album. Stream "Don't Fucking Tell Me What To Do" on her MySpace and see for yourself.
*Below is the official video for Robyn's "Dancing On My Own"
*We Are Scientists, Barbara Stream Barbara from We are Scientists' Myspace page. The band just announced a show in St. Louis for August 13.
*Check out the video for "Rules Don't Stop," one of the singles from Barbara.