Edward Sharpe and the Magnetic Zeros is a project birthed by Alex Ebert after a break-up and a stint in rehab. Appropriately, the music is themed around a fictional savior figure who Ebert says "was sent down to Earth to kinda heal and save mankind...but he kept getting distracted by girls and falling in love." The band is known for its large and ever-growing number of musicians, '60s-era style, rousing live performances and the folky single, "Home."
The band recently acquired a new violinist, Nathaniel Markman, who's a Washington University graduate and St. Louis native. I spoke to Nathaniel on Saturday, following his first experience performing at Bonnaroo.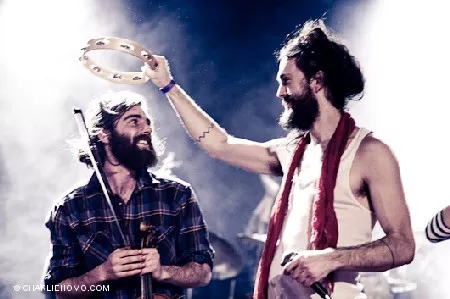 Thebaybridged.com
Nathaniel Markman with Edward Sharpe and the Magnetic Zeros' Alex Ebert
Chrissy Wilmes: So, you're still at Bonnaroo? Nathaniel Markman: We're in Nashville, not at Bonnaroo. One of the band members is from Nashville, and a couple of other people wanted to come over to Nashville and just get showers following Bonnaroo. We're just gonna spend today and tomorrow kind of relaxing before we come to St Louis.
When did you start playing with Edward Sharpe and the Magnetic Zeros, and how did that happen? It started the day after my birthday. I was in San Francisco. I had just moved to San Francisco from St. Louis, and I saw that they were playing a show in the city. I was actually already a big fan of theirs when I was still living in St. Louis. And so when they were playing in San Francisco, I decided to go with some friends. It was a completely sold out show, and so we brought a bunch of instruments and we went on the street and we were just kind of street performing in this long line to get any leftover tickets. I guess we met up with the band in San Francisco during that. We ended up getting tickets, and during their show, [which] was on my birthday, I got floated onstage with my fiddle. That was kind of the start, and I guess that was technically my first show with the band.
We hung out a little bit afterward, and they invited me and my friends to come along with them on their tour through California -- the leg of their tour through Santa Barbara. And so we came, and we opened for them. And then I would come up for the first couple of shows just for a song, and then eventually just for the whole set. And, um, now I'm kind of playing with them around at different venues on their summer tour. So that's how it started.
The more interesting fact is that I actually covered one of their songs. I was living in a co-op in St. Louis the last couple of years, and I ran a little music venue in the basement called the Co-op Café. I put together a bunch of friends to cover this song. I was like, "There's this great song. It's by Ed Sharpe and the Magnetic Zeros!" We got together and we played it one Monday night for people and afterward I just kind of told a friend, "I think this would be a great band to play with," and the funny thing is like five months later I ended up on tour with them. Pretty serendipitous event.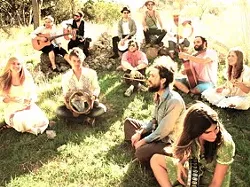 examiner.com
Edward Sharpe and the Magnetic Zeros
What was the song that you were covering? We covered the song "Home," which is their big popular one.
That's a great song. What initially brought you to California? I made a bunch of friends from California during a year off between high school and college and over this summer, I'm kind of balancing working at this summer camp near Yosemite and touring with the Edward Sharpe band. So that's kind of the things that brought me there. Friends, graduation, and I was initially just traveling when I came out to California right after graduation and I wanted to play music and record a CD, which I did do on my own, and then the Edward Sharpe thing happened. I ended up staying.
Nathaniel with his other band, Swanman Travels
Your CD that you recorded on your own, what is it called? That's "Swanman Travels." I recorded that CD right around the time I was first starting to play with Edward Sharpe. I got it recorded and got to perform that with some good friends at a music fest in California. We all kind of dispersed and went our separate ways. So, that band exists sometimes.
More about Edward Sharpe and the Magnetic Zeros. Correct me if I'm wrong... there are eleven members in the band at the moment? It kinda comes and goes. I'd say there's ten. And then we have who jump on at times. But there's ten solid [members].
Are you guys touring with the full band? Will they all be at the Pageant show? The full band is touring right now. We're travelling on a bus with twelve beds, actually. And they're kind of like triple-deckers. It's a lot like being on what I imagine a submarine would be like.
What's that like? It's intense. The whole bus kind of like vibrates. It just feels like there's this huge engine that keeps the air running. Especially in Nashville, where it's so humid there's this air conditioning that runs right under the bus, and it just kind of shakes the whole thing. We're trying to find alternative ways of sleeping because when you put twelve people in a closed capsule, I think you just suck each other's oxygen. Last night I think a lot of people didn't sleep very well because the air's very stale. We got another room somewhere else to balance. Sleep's pretty important when traveling.
So, generally how was Bonnaroo? I kind of picture a few people dancing hand-in-hand in circles like in the video that plays on the website. Were people pretty interactive and dance-y? Oh my God. It was incredible. I'm just new to the band. They've played a lot of big festivals like Coachella and Sasquatch, but I personally have never played in front of so many people. Yeah, definitely very interactive, lots of dancing. So packed, but I could still look out over the sea of people and see people dancing. It was a pretty amazing sight.
Do you have anything special planned for your St. Louis appearance? I kind of wanna show the band around St Louis. They all brought their bikes on the trailer, so I wanna before the show take them on a bike tour around some of the gardens in St. Louis and some of the cool sites around the loop.
So if we see a troupe of twelve people on bikes, we know it's you!
*Edward Sharpe and the Magnetic Zeros performing "Janglin'," "Home" and "40 Day Dream" for the Tiny Desk Concert series at NPR.