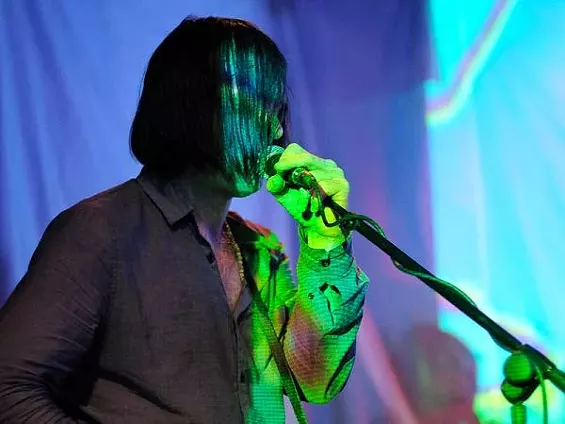 Just be glad the birthday cake got dropped -- or tossed -- late in the set, after "Whoever You Are." Following that mishap, the climate turned Chernobyl on stage for the last few songs. (More on that in short order, but needless to say, there was not an encore.) Up until then, however, at a very sold-out Off Broadway last night, Brian Jonestown Massacre -- eight-membered, five-guitared, deafening as a jet turbine -- droned and jangled for two and a half enthralling hours.
For almost two decades and throughout rotating lineups, bandleader Anton Newcombe has remained the center of attention. Much of that attention was acquired via drug-induced meltdowns and sourpuss temper tantrums. Since 2004's cult documentary Dig!, which captured Newcombe's erratic behavior as well as his enigmatic prolificacy, the myth and mystique of BJM has grown to eclipse the music of BJM. (One sure bet would be that few in the crowd last night own any BJM records from the last decade; all, though, have probably seen Dig! multiple times.) If anyone's responsible for that eclipse, it's Newcombe.
See a full slideshow from last night's Brian Jonestown Massacre show.
Last night Newcombe kept his own counsel at the rightmost of the stage (on which was projected screensaver-level psychotropic visuals), drinking only Red Bull and solemnly plucking his vintage Gibson. The band, like the set, was mostly '90s throwback: Matt Hollywood, Frankie "Teardrop" Emerson, Ricky Maymi on guitars; Collin Hegna on bass; Dan Allaire on drums; Rob Campanella on mellotron and acoustic guitar; and Joel Gion on tambourines (he had three), maracas and anything uttered to the audience.
Derived from '60s British rock and psychedelia and '80s shoegaze, those '90s songs (none from the just-released twelfth album, Who Killed Sgt. Pepper?) midtempoed-and-feedbacked along while Newcombe delivered the lyrics in his underwater Anglo-slur. "Super-Sonic," from 1997's Give It Back!, was a good place to begin. With so many sound possibilities on stage, the song built its Eastern flavor with guitar strata (and Hollywood on bongo) and set the tone for the performance: more is more.
BJM songs have always been about excess -- of length, of layer, of latitude. Last night "Servo" almost drowned under the five guitars, while songs like "Who?" and "That Suicide Girl" became typhoons of noise and riff. Ending with an extended jam, "When Jokers Attack" didn't pack the original's stiff punch, though Allaire and Hegna's tight rhythm work -- as it did all evening -- kept the song from drifting into outer space. (Drift and outer space would be the keywords for Floorian, the Ohio-based opener. Other words for its songs would be wordless, formless and soporific.) For reasons both obvious and obsolete, the songs Hollywood sang were some of the set's best. "Got My Eye on You," from 1998's Strung Out in Heaven, and closer "Oh Lord" lapwinged on a higher plane by virtue of their propulsive oomph and their vocal clarity. "Not If You Were the Last Dandy on Earth" still had the tang of a kiss-off to Courtney Taylor-Taylor (of the Dandy Warhols), though that matter seems long settled and the song, consequently, an obsolete curio.
Hollywood himself looked subdued all show; his T-shirt, reading "Old Fart," might have indicated why. After a birthday cake was brought on stage and promptly dropped (or thrown) on the floor, Newcombe's mood -- and his stern commands to "clean it up" -- visibly soured. The cake was left to molder. Where ten years ago that might have detonated a brawl, what happened last night -- Newcombe quietly sulking, then abruptly exiting the stage after "Oh Lord" -- was almost quaint, a PG-reminder of his yesteryears. Nevertheless, it didn't appear to warrant that reaction. Hollywood, after all, was the poor bastard with the birthday.
If you want to cry over spilled cake, just make sure to put on a combustible rock show -- steady, excessive, reliable -- that leaves ears ringing and necks aching. Lesson learned, and lukewarmly received.
Setlist Super-Sonic Vaccum Boots Wasted Got My Eye on You Here It Comes Let Me Stand Next to Your Flower Servo Anemone When Jokers Attack Sailor Jennifer Cabin Fever Nevertheless Prozac vs. Heroin Wisdom Going to Hell Not If You Were the Last Dandy on Earth Who? That Suicide Girl Whoever You Are Hide and Seek Oh Lord